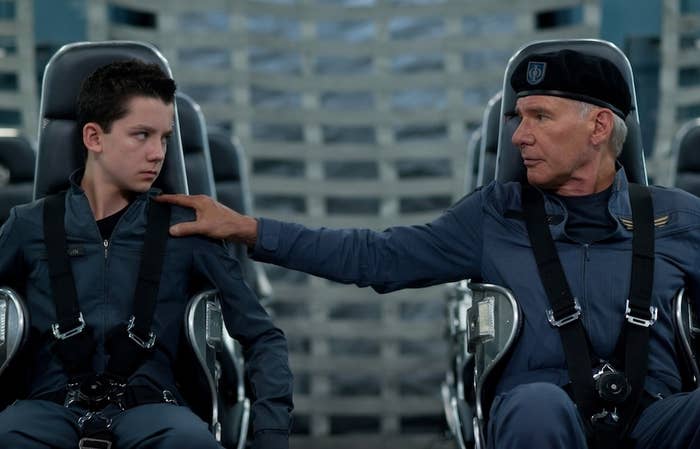 For months, Ender's Game has toiled under a cloud of controversy that few feature films ever have to endure, let alone sci-fi spectacles designed to launch a major new feature film franchise. Orson Scott Card, the author of the 1985 young adult novel the film is based on, has such a long and well-documented history of making anti-gay statements that a call for an organized boycott against the film this past summer gained a great deal of media attention — and a New York Times editorial that likened the boycott to "blacklisting." Despite strongly worded statements denouncing Card's views by both Ender's Game's studio and filmmakers — statements that reinforced the (mostly undisputed) fact that there is no overt homophobia in Ender's Game itself — the boycott's organizers remained steadfast, determined not to financially reward Card by purchasing a ticket to the movie. Even a report from The Wrap earlier this week that Card would receive no money from the film's box office take did not appear to deter the boycott.
After all that hullabaloo, Ender's Game finally opened this weekend, grossing an estimated $28 million for the top spot at the box office. So did the boycott succeed? Or did it fail?
On its face, this is an impossible question to answer. A rep for Summit Entertainment called the debut "in line with the studio's pre-weekend expectations," but there is no way to know for certain how many people would have bought a ticket to Ender's Game had the social politics of the story's author not been at issue. And even if Card had been the most pro-gay author on the planet, Ender's Game was always going to be an unusual movie with which to launch a major franchise. Yes, the novel was a beloved literary phenomenon onto itself for decades before writer-director Gavin Hood (X-Men Origins: Wolverine) began production — unlike several other failed YA film adaptations of late that felt like their movie studio marketing plans were stapled to the authors' unpublished manuscripts. (RIP Eragon, I Am Number Four, The Host, The Mortal Instruments: City of Bones, Beautiful Creatures, and The Seeker: The Dark Is Rising — we hardly knew ye.)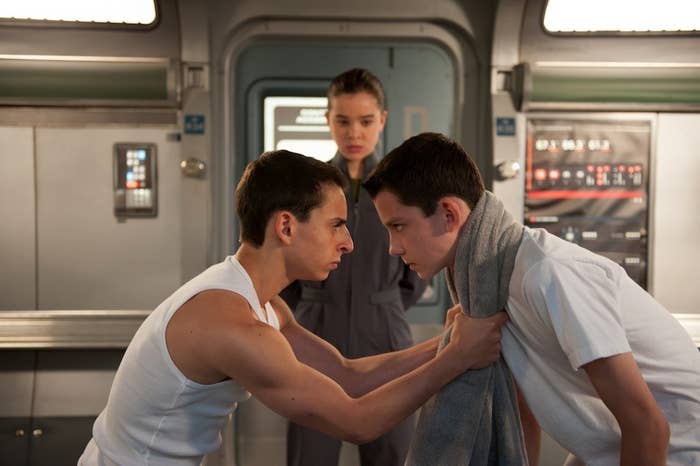 But unlike The Hunger Games and Twilight and even Harry Potter and the Sorcerer's Stone, there is no romance in Ender's Game — either in the sense of two people in love or in the sense of being swept up in a grand fantasy adventure. A tale of the young titular genius drafted into a brutal and unforgiving military training school to defeat a possible alien threat, the film is a story of intellectual prowess, of a kid triumphing not through brawn or magic or love, but through ruthless cerebral know-how. Hood faithfully brings that brainy quality to the film, staging its action scenes with a welcome intelligence and logic instead of the usual haphazard visual assault. But successful movie franchises are not dour intellectual experiences — they are exciting and visceral ones. Hood seems to understand this need (a mild SPOILER alert is in order, probably), because in the film's ending, he pushes hard on the potential for a more emotional and redemptive arc in any subsequent films.
Whether there are any sequels, however, remains very much an open question. On the one hand, Ender's Game's box office debut was stronger than those aforementioned failed YA adaptations, and it is just about on par with 2010's Percy Jackson & The Olympians: The Lightening Thief, the rare YA adaptation that successfully spawned a sequel, this past August's Percy Jackson: Sea of Monsters.
Both Percy Jackson films, however, proved their box office potential overseas — in the U.S., they have been lackluster performers at best, and Ender's Game, which has only opened in three overseas territories so far, looks like it could be on the same domestic box office path. Consider After Earth and Jack the Giant Slayer. Both are sci-fi/fantasy films aimed at the same audience as Ender's Game; both opened this year just under Ender's Game debut numbers; and both limped to a total domestic gross of $60.5 million and $65.2 million, respectively. Even if Ender's Game enjoys better word-of-mouth than those films, it will have to contend with some heavy box office competition in the next few weeks from Thor: The Dark World and The Hunger Games: Catching Fire.
What does any of this have to do with the boycott? As I said before, it is impracticable to put an exact dollar amount on any boycott of a feature film, but I'm going to risk this hypothesis anyway: next to nothing.
Organized movie boycotts have often proven to be ineffective at swaying the box office. Talk of Catholics shunning the Dan Brown adaptations The Da Vinci Code and Angels & Demons didn't keep those films from worldwide grosses of $758 million and $486 million, respectively. Similarly, the enormous controversy surrounding Mel Gibson's The Passion of the Christ didn't keep it from pulling in $611.9 million worldwide.
There have been times, however, when dissatisfaction with the film has appeared to make an impact on the film's box office. A former New Line Cinema exec told The New York Times that he estimated 2007's The Golden Compass lost as much as 50% of its domestic gross after Catholic groups protested the film's alleged anti-Catholic agenda. And controversy surrounding an "electric cars are gay" joke in 2011's The Dilemma may have been a factor in the film's disastrous $48.8 million domestic gross.
Then again, perhaps these movies were not successful because audiences did not want to see them.
People can be remarkably stubborn when it comes to their entertainment. They can make a "hard sell" like Gravity into a global phenomenon that just passed $400 million worldwide. They can make movies with the world's biggest stars — like Will Smith's After Earth and Johnny Depp's The Lone Ranger — into outright flops. Over the past decade, Tom Cruise and Mel Gibson both saw their box office plummet (the latter much more than the former) — not because of some organization's concerted effort to make people actively boycott their films, but because their behavior turned people off.
Even the psychological effect of the Ender's Game boycott is difficult to pin down. Say there aren't any more movies about Ender Wiggin. Will it be because the boycott scared off the studio from wanting to deal with this PR headache all over again? Or because the studio concluded there wasn't enough of a global audience for any more movies? Card's subsequent novels in the series, by the way, do not follow the kind of linear storytelling path we've come to expect from franchise movies; any delays in subsequent films could easily be due to the challenge of trying to make them work as a coherent experience.
Speaking of Card's books, despite all the recriminations about their author's anti-gay views, they continue to climb the sales charts. As Card himself said in a recent TV interview, "My sales go up with such attacks." How can you boycott someone's work when the boycott itself causes that work to succeed? It's a dilemma that would stymie even the strategic expertise of Ender Wiggin.
Here are the estimated top 10 box office figures for Friday to Sunday, courtesy of Box Office Mojo:
1. Ender's Game* — $28 million
2. Jackass Presents: Bad Grandpa — $20.5 million
3. Last Vegas* — $16.5 million
4. Free Birds* — $16.2 million
5. Gravity — $13.1 million
6. Captain Phillips — $8.5 million
7. 12 Years a Slave — $4.6 million
8. Cloudy with a Chance of Meatballs 2 — $4.2 million
9. Carrie — $3.4 million
10. The Counselor — $3.3 million
*Opening weekend