Daniel Radcliffe Explains His "Trainwreck" Cameo
"I said, 'Yeah! Ab-so-f***ing-lutely, I'll go in and screw around for a day with Judd Apatow!'" the actor told BuzzFeed News.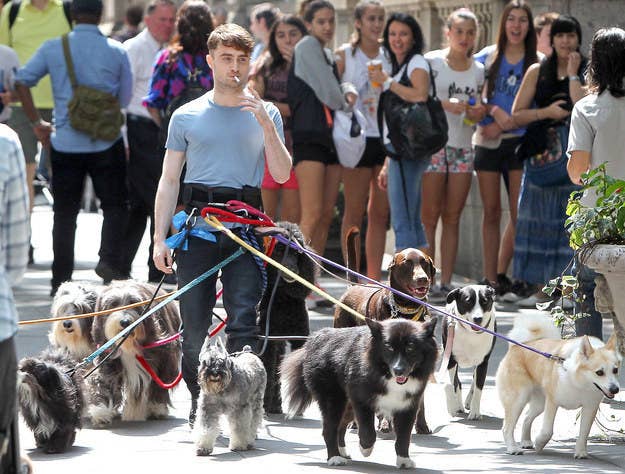 Yes, WWE wrestler John Cena and NBA superstar LeBron James deliver surprising standout performances in Amy Schumer's new romantic comedy Trainwreck, but one of the most delightful and far less recognized appearances is a meta-turn by Daniel Radcliffe. The Harry Potter actor stars in a movie within the movie — a black-and-white art film about a dogwalker who romances his clients, including a sultry Marisa Tomei — that Schumer and Bill Hader's characters watch at various points in Trainwreck.
The part came to Radcliffe one night last summer, when he was a few months into the 2014 Broadway run of the comedy The Cripple of Inshmaan, and Judd Apatow, who directed Trainwreck, paid him a visit backstage.
"He said, 'Hey, do you want, like, to do a bit in our film?'" Radcliffe recalled to BuzzFeed News earlier this month. "I thought he was joking, honestly, because I'd never had such a casual job offer in my life. I was like, 'If I say yes now, am I committing?'"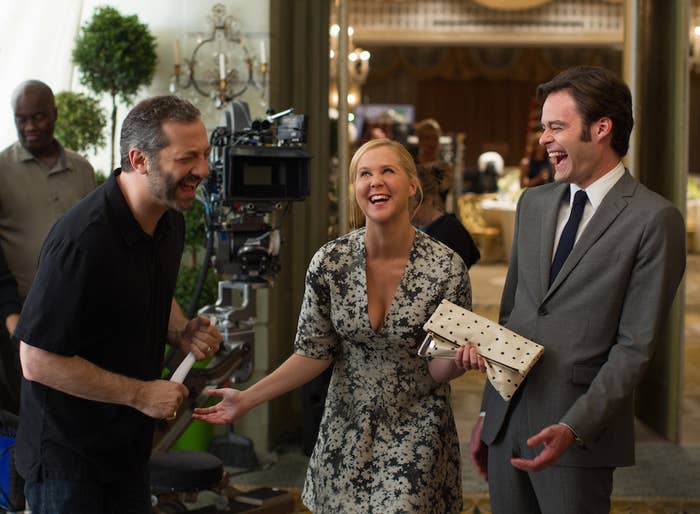 The next day, Radcliffe's agents got a call that the offer was indeed real, and he jumped at the chance. "I said, 'Yeah! Ab-so-fucking-lutely, I'll go in and screw around for a day with Judd Apatow!'"
Radcliffe's done comedy before, like his 2006 episode of Ricky Gervais' series Extras and his criminally under seen romantic comedy What If in 2014. But once he arrived on the set of Trainwreck, he realized he was in completely unfamiliar territory. "I was very nervous," he said. "I'm not from a background in improvising. Particularly improvising comedy is something that I haven't done. You want to make a good impression."
Seemingly, he did. The spectacle of Radcliffe surrounded by dogs attached to a harness around his waist was enough to draw some paparazzi attention — a flourish that was Radcliffe's idea.
"I'd seen somebody on the West Side Highway have dogs on a belt," he said. "I was like, that's funny. And I said it to [Apatow], and he's like, yeah yeah, that's really funny. And then I got to set, and I felt really bad, because the prop guy had been up all night making it, because they hadn't been able to get one. I was apologizing to him all day."
Radcliffe hadn't seen his work yet in Trainwreck, but he had caught wind of the movie's rave reviews. "Evidently, the movie is awesome — like, no thanks to me," he said with a laugh. "I'm very, very pleased to be a minor moment in it."