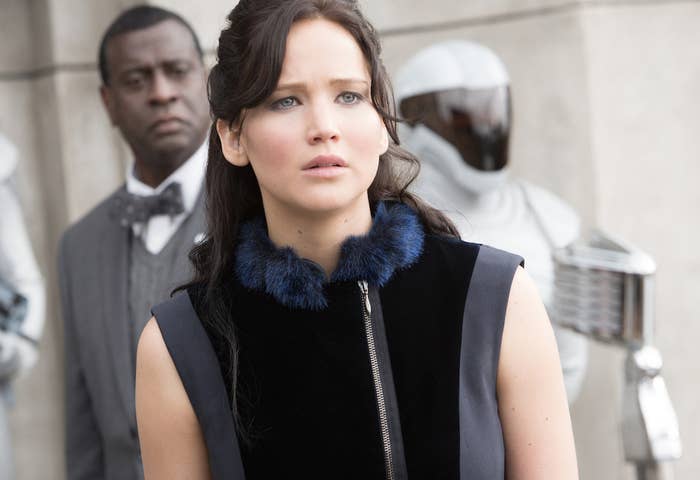 The Hunger Games: Catching Fire made history on Thursday, surpassing Iron Man 3 as the top domestic grossing film released in 2013, with $409.4 million at the box office. It's a remarkable achievement for the sequel, especially since, as Lionsgate crowed in a release on Friday, it is the first time two films in a franchise have both grossed more than $400 million in the U.S. (The first Hunger Games made $408 million domestically in 2012.)
But Catching Fire reached an even bigger milestone on Thursday, and it is a doozy. As entertainment journalist Mark Harris first pointed out on Twitter:
Insane.
To be fair, since The Exorcist opened in 1973, there have been films featuring women in arguably lead roles that have topped the domestic box office for the year: 2011's Harry Potter and the Deathly Hallows: Part 2 and 2001's Harry Potter and the Sorcerer's Stone both starred Emma Watson; 2009's Avatar starred Zoe Saldana; 1997's Titanic starred Kate Winslet; and 1978's Grease starred Olivia Newton-John. But all of those movies also featured a male actor either as a co-lead or the film's main protagonist (respectively, Daniel Radcliffe, Sam Worthington, Leonardo DiCaprio, and John Travolta).
Jennifer Lawrence, by contrast, is inarguably the sole protagonist of Catching Fire. Josh Hutcherson, Liam Hemsworth, Woody Harrelson, and Sam Claflin fill in the main supporting roles, but we do not track their emotional story in the movie. We only track Lawrence's Katniss Everdeen.
In truth, The Exorcist just barely qualifies as a film with a solo female protagonist. The Oscar-winning horror film starts off following Chris MacNeil's (Ellen Burstyn) terror at the deteriorating health of her young daughter Regan (Linda Blair). But the second half of the film essentially drops Burstyn's role as two priests played by Max von Sydow and Jason Miller perform the titular exorcism on Regan.
If you want to find a No. 1 movie with a woman as the clear, unambiguous lead, you've got to go back to 1968's Funny Girl, starring Barbra Streisand as groundbreaking comedienne Fanny Brice. (Omar Sharif plays Brice's first husband Nicky Arnstein, and though the film tracks the arc of their relationship, it does so from Brice's point of view.)
The fact that it's taken four decades for a film driven solely by a female character to be the most popular movie of the year in the U.S. is yet another damning indictment of both American moviegoing taste and where Hollywood chooses to invest the bulk of its filmmaking capital. It should also perhaps indicate once more to studio chiefs that modern-day audiences are not allergic to female-driven movies — if they didn't have enough hints already.
Meanwhile, even though Catching Fire's current total global gross of $832.8 million is a 20% improvement over its predecessor, it isn't enough to beat Iron Man 3's $1.2 billion worldwide box office number — and global box office is increasingly what drives Hollywood's bottom line. But if the next two Hunger Games films, 2014's Mockingjay Part 1 and 2015's Mockingjay Part 2, follow the same global box office trajectory, the franchise could very well soon be the biggest in the world, as well.