"Bullet To The Head" Opens With Sylvester Stallone's Worst Weekend Box Office In 32 Years
It was even worse than Stop! Or My Mom Will Shoot! Meanwhile, Warm Bodies ruled Super Bowl weekend.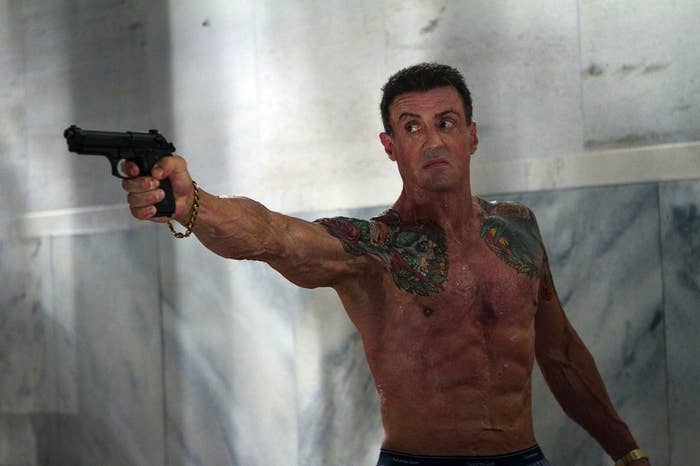 After roaring back into relevance with his aging-action-hero cattle-call franchise The Expendables, Sylvester Stallone just witnessed his revenge thriller Bullet to the Head — his first film as a solo star since 2008's Rambo — sputter through Super Bowl weekend with an estimated $4.5 million for 6th place. That's his worst wide opening since 1981's Nighthawks; adjusting for inflation, Stallone has never had a worst wide-release weekend at the box office. So: Ouch. Stallone's Expendables buddy Arnold Schwarzenegger just suffered a similarly ignominious box-office beating with The Last Stand, so it's probably just as well that they're re-teaming for their next film, September's The Tomb. (Though they may want to re-think that fate-bating title. Between "The Last Stand," "Bullet to the Head," and "The Tomb," what are you trying to say here, guys?)
Meanwhile, the teen-skewing zom-rom-com Warm Bodies topped the weekend, opening with a healthy $19.5 million — not the best Super Bowl weekend in history, but far from the worst.
Here's the full top 10, courtesy Box Office Mojo:
1. Warm Bodies — $19.5 million
2. Hansel and Gretel: Witch Hunters — $9.2 million
3. Silver Linings Playbook — $8.1 million
4. Mama — $6.7 million
5. Zero Dark Thirty — $5.3 million
6. Bullet to the Head $4.5 million
7. Parker — $3.2 million
8. Django Unchained — $3 million
9. Les Misérables — $2.4 million
10. Lincoln — $2.4 million