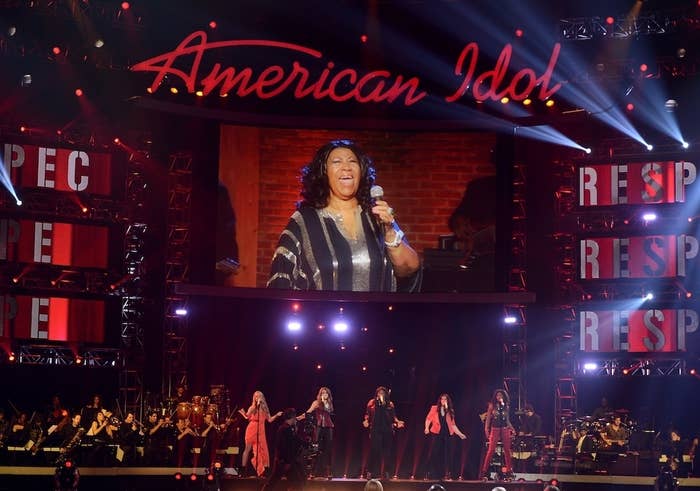 LOS ANGELES — Aretha Franklin may be the Queen of Soul, but she's also seemingly clairvoyant.
Appearing via satellite from New York on the season finale of American Idol, Franklin appeared to spoil whether Candice Glover or Kree Harrison had won the 12th season of the long-running reality competition series.
"Candice, you're a winner," Franklin said from a giant screen in the Nokia Theater.
After a pause, Franklin added, "Win or lose — you're a winner," but the moment was awkward enough that host Ryan Seacrest felt compelled to ask Franklin if she had the results. "I do," Franklin answered, "but I won't tell you."
To be clear: A Fox rep tells BuzzFeed that Franklin "did not know the results." But after Glover, Harrison, and the other female contestants sang backup while Franklin went through a medley of her best hits — and former Idol judge Jennifer Lopez performed with Pitbull — Seacrest did end up crowning Candice Glover the winner.
It remains unclear why Franklin would say she knew the results if she did not actually have that information. But the 23-year-old Glover was the favorite to win the season, so Franklin could have just felt like she knew what many others also expected would happen.
For her part, Glover couldn't even comprehend Franklin knew who she was. "I couldn't understand that Aretha knew my name," she told press backstage after the show when asked what it felt like to have Franklin call her a winner. "Oh my gosh, that just felt great."