Anne Hathaway And Jennifer Lawrence Pick Food Before Fashion
At the Oscar Nominee Luncheon on Monday, the Les Miz and Silver Linings Playbook stars deflected fashion questions by talking about food. And the Super Bowl.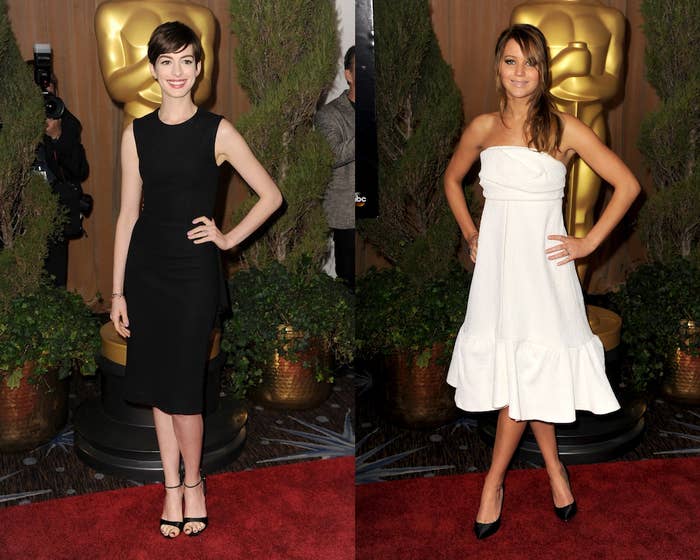 The annual Oscar Nominees Luncheon is often cited by the nominees themselves as their favorite part of the entire awards season marathon — there's no pressure to win, no speeches to sit through, no gauntlet of red-carpet press to endure. Even the relatively small press room at the event, which was held Monday at the Beverly Hilton in Los Angeles, is a love-fest of softball questions and polite laughter. Well, except when the questions turn to fashion.
Because if you're an actress nominated for an Academy Award, whether you like it or not, there is no bigger consideration in your life than what you will wear on the Big Night. So how did Best Actress nominee Jennifer Lawrence (Silver Linings Playbook) and Best Supporting Actress nominee Anne Hathaway (Les Misérables) handle the sartorial inquiries of the dogged entertainment press corps? By talking about food.
Hathaway appeared a bit startled to be asked about her red-carpet fashion preparations, chirping, "Yeah, I need to get on that, don't I?" She then insisted she'd done no prep at all so far. "It was the Super Bowl," she said. "I couldn't think about dresses with all that delicious fried food around." (Hathaway's answer would seem to indicate that she regarded last night's barn burner between the 49ers and Ravens as a multiweek affair; or, thanks to the blackout, maybe it just felt that way.)
Lawrence at least noted that there were some "sketches" of her Oscar night look that exist on some lucky stylist's iPad, but nothing beyond that. When pressed for details, the 22-year-old said whereas her simple red dress to the 2011 Oscar ceremony was about "comfort," this year she was going to "suck it up," literally. "I'm going to wear a corset," she said. "I'm going for fashion this time." Let's just hope she doesn't get nervous. "Eating normally calms me down," Lawrence said, and to prove it, she retold her 2011 Oscars anecdote that she'd wolfed down a Philly cheesesteak before that year's ceremony. "I had to double my Spanx."
Meanwhile, Best Actress nominee Jessica Chastain (Zero Dark Thirty) handled the hard-charging inquiries into her Oscar night dress plans with aplomb. "Most girls dream about their wedding dress," she said with an unabashed grin. "But I dreamed about my Oscar dress! Probably because I like color."