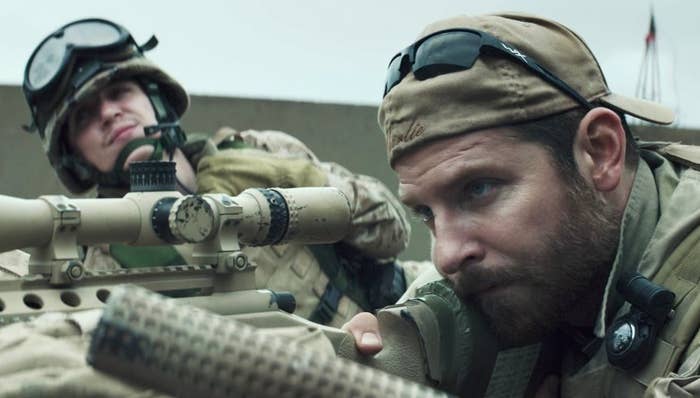 American Sniper has joined the unlikely company of The Hunger Games, 300, and The Passion of the Christ as one of the biggest surprise blockbusters of the last 15 years.
The film — based on an autobiography of same name by the late Navy SEAL Chris Kyle, who was credited as the deadliest sniper in American military history — has earned an estimated $90.2 million in the U.S. over its three-day wide-release debut. By the end of the four-day Martin Luther King Jr. holiday weekend, the film is projected to make roughly $105 million at the domestic box office.
This shatters so many box office records, it's hard to know where to start. It is the best wide-release box office opening for star Bradley Cooper, and director Clint Eastwood. For Eastwood, this is especially unprecedented — Sniper topped his 44-year directorial career after its first day in wide release. It is the biggest opening weekend for a studio drama ever, not to mention a war movie. And it is by far the biggest debut wide-release weekend for a film in January, and over the MLK weekend — in raw dollars, and adjusting for ticket price inflation. Nothing really even comes close.
The film reached these heights in part by "getting people to see the movie who are not regular moviegoers," Warner Bros. EVP of domestic theatrical distribution Jeff Goldstein told BuzzFeed News. There have been anecdotal reports of armed services groups attending the film en masse (in and out of uniform), and Goldstein noted that the film has performed better in Southern states than usual. In 2004, The Passion of the Christ followed a similar pattern of pulling in audiences who rarely if ever visit a multiplex, as well as church groups buying tickets in bulk, for an unexpectedly enormous opening ($83.8 million, or roughly $109 million adjusting for inflation).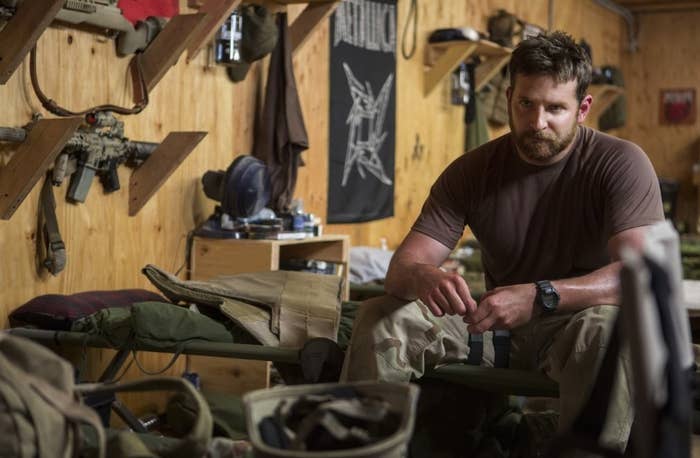 But Goldstein also stressed that Sniper is a nationwide hit. "There's no question that we're doing a little more business particularly in Texas, but it's playing east and west, north and south," he said. "And that's the only way you can get to $90 million." The film's top five markets were, in descending order, Los Angeles, New York, Dallas, Chicago, and San Francisco — fairly standard for major wide-release films.
Sniper had already made a significant box office impact when it opened in four theaters on Dec. 25 for an Oscar-qualifying run, grossing $3.4 million, with astronomic per-theater weekend averages ranging from $158,000 to $169,000. Despite those figures, Warner Bros.' projections for Sniper's expansion to 3,555 theaters this weekend were nowhere close to $90 million.
"About half," Goldstein said with a laugh. "Literally, half. … We're in uncharted waters."
Over the course of its limited run, the film has also already weathered significant controversy after it came under criticism for its depiction of Kyle — who made no effort in his book to hide his disdain for Iraqis, referring to them as "savages," nor his belief that his mandate during his service in Iraq was to "[k]ill every male you see" — as an unqualified hero. Critics of the film subsequently reported receiving death threats. On Wednesday, Cooper defended the film, telling The Daily Beast, "[T]his movie was always a character study about what the plight is for a soldier. … It doesn't go any farther than that. It's not a political discussion about war, even. It's a discussion about the reality. And the reality is that people are coming home, and we have to take care of them."
Meanwhile, on Thursday, Sniper earned six Academy Award nominations, including for Best Picture, Best Adapted Screenplay, and Best Actor for Bradley Cooper's performance as Kyle. Considering its Oscar prestige, cultural buzz, and a rare "A+" rating from CinemaScore — indicating powerful word-of-mouth — there is no real telling how high Sniper could reach at the box office.
Here are the estimated top 10 box office figures for Friday to Sunday, courtesy of Box Office Mojo:
1. American Sniper* — $90.2 million
2. The Wedding Ringer* — $21 million
3. Paddington* — $19.3 million
4. Taken 3 — $14.1 million
5. Selma — $8.3 million
6. The Imitation Game — $7.2 million
7. Into the Woods — $6.5 million
8. The Hobbit: The Battle of the Five Armies — $4.9 million
9. Unbroken — $4.3 million
10. Blackhat — $4 million
*Wide opening weekend
This story has been updated to reflect American Sniper's full estimated opening weekend grosses, as well as the top 10 grosses from Friday to Sunday.