For the first time since 2004, five songs from five separate films have been nominated in this category — last year, only two songs made it to the big show. And that isn't the only nugget of Oscar trivia tucked inside this year's crop of Best Original Song nominees: Prior to James Franco co-hosting the Oscars (with Anne Hathaway) the same year he was nominated for Best Actor (for 127 Hours), the last Oscar host who was also a nominee was Paul Hogan, who emceed the 59th Academy Awards (with Chevy Chase and Goldie Hawn) the same year he was up for penning Crocodile Dundee. So, Seth MacFarlane, you can now cross "Have something in common with the guy from Crocodile Dundee" off your bucket list.
It's also only the fourth time a song from a James Bond movie has been nominated for an Oscar. The other three were "Live and Let Die" (from 1973's Live and Let Die), "Nobody Does It Better" (from 1977's The Spy Who Loved Me), and "For Your Eyes Only" (from 1981's For Your Eyes Only). Adele wasn't even alive when those movies came out.
Nominees:
"Before My Time" from Chasing Ice, (Music and Lyric by J. Ralph)
"Everybody Needs A Best Friend" from Ted, (Music by Walter Murphy; Lyric by Seth MacFarlane)
"Pi's Lullaby" from Life of Pi, (Music by Mychael Danna; Lyric by Bombay Jayashri)
"Skyfall" from Skyfall, (Music and Lyric by Adele Adkins and Paul Epworth)
"Suddenly" from Les Misérables, (Music by Claude-Michel Schönberg; Lyric by Herbert Kretzmer and Alain Boublil)
Should win: "Before My Time," "Pi's Lullaby," and "Suddenly" are lovely songs that are also, alas, pretty boring. But as tempting as it is to single out Ted's snazzy, jazzy ditty "Everybody Needs A Best Friend" (performed by Norah Jones), Adele's "Skyfall" is the only one of these nominees to permanently lodge itself in our skulls. It doesn't hurt that the song's lyrics work both as a chart-topping torch song and as an allusion to James Bond's skewed relationship with his mentor, boss, and maternal figure M.
Will win: You might think the song from Les Miz would have a fighting chance here, but the Academy hasn't bestowed a statue upon a new song written for a feature adaptation of an established stage musical since 1995's Evita. The smart money is on "Skyfall" — which would make it the first Bond song ever to take home an Oscar.
Best Visual Effects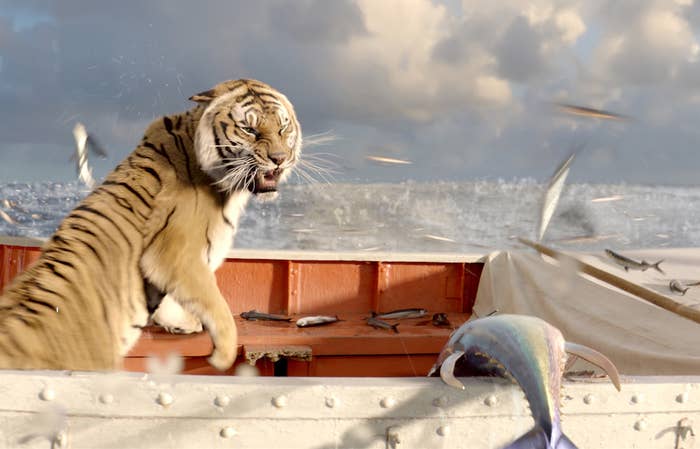 Other category predictions: