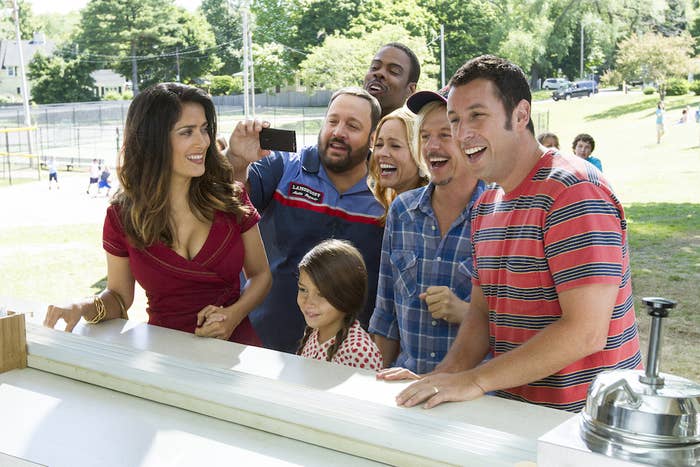 For 13 years, there was scarcely a more reliable box office draw in Hollywood than Adam Sandler — and this weekend, that exceptional reputation was in serious jeopardy.
From 1998's The Waterboy to 2011's Just Go With It, any time the Saturday Night Live alum produced and starred in a straight-up comedy, its studio — usually Sony Pictures — could bank on that movie opening at around $40 million and grossing over $100 million in the U.S. (The high-concept bomb Little Nicky was the only exception.) Occasionally, Sandler would seek out a more dramatic role produced by someone else — like in 2009's Funny People, 2004's Spanglish, or 2002's Punch-Drunk Love — and the resulting box office was much less buoyant. But when Sandler was at the reins, his films were the definition of a sure thing.
Until Jack and Jill. Starring Sandler as both an affable brother and his aggressively grating sister, the film eked out $74 million domestically in 2011 — and enjoyed the dubious honor of being the first film to sweep the annual Razzie Awards, which salute the worst in filmmaking.
It was a single disappointment, however, and Sandler could have weathered it. Instead, the following year, he witnessed his first major bomb since Little Nicky, when That's My Boy — starring Sandler as a washed-up man child and Andy Samberg as his put-upon grown son — pulled in just $36.9 million in the U.S.
Sandler's sterling box office winning streak was in the toilet, thanks to a pair of films in which he had cast himself in pointedly unlikable roles. But despite his on screen persona, Sandler is no doofus. Hollywood insiders have long regarded him as a savvy industry player — there is a reason his films have been this consistent. Faced with the prospect that he'd "lost" his audience, Sandler regrouped and attempted something he'd never done before: A sequel.
Believe it or not, Grown Ups 2 is indeed Sandler's very first sequel — and, not surprisingly, it paid off, opening with an estimated $42.5 million this weekend, one of Sandler's very best debuts. It certainly didn't hurt that Chris Rock, Kevin James, and David Spade pitched in their collective appeal; together with Sandler, they proved stronger than Guillermo Del Toro's robots vs. monsters extravaganza Pacific Rim, which opened with a tepid $38.3 million. (Neither film, however, could surpass the runaway freight train that is Despicable Me 2, which pulled in another $44.8 million for a killer two-week total of $229.2 million. By next weekend, it should surpass Monsters University as the biggest family film of the year.)
As it happens, for his next film, the romantic comedy Blended, Sandler is keeping to the formula of working in an appealing location with a popular former co-star: Drew Barrymore. She'll play a divorced mother who ends up on a blind date with Sandler's divorced father at a resort for families. Expect it to open around $40 million.
Here are the estimated top 10 box office figures for Friday to Sunday, courtesy of Box Office Mojo:
1. Despicable Me 2 — $44.8 million
2. Grown Ups 2* — $42.5 million
3. Pacific Rim* — $38.3 million
4. The Heat — $14 million
5. The Lone Ranger — $11.1 million
6. Monsters University — $10.6 million
7. World War Z — $9.4 million
8. White House Down — $6.2 million
9. Kevin Hart: Let Me Explain — $5 million
10. Man of Steel — $4.8 million
*Opening weekend