"42" Breaks The Box Office Curse Of The Baseball Movie
But Scary Movie 5 is just cursed.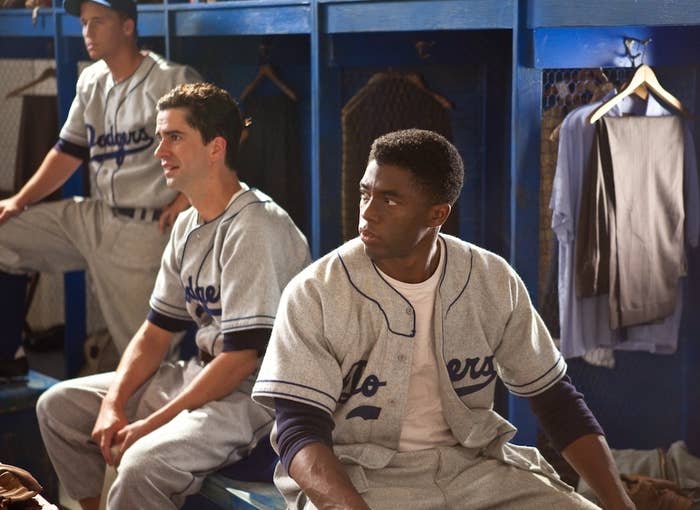 There may be no crying in baseball, but there's definitely little money in baseball movies. For some strange reason, America's favorite pastime has never gone over all that well at the multiplex: Not one single film about baseball has opened past the $20 million mark at box office. Until now.
The Jackie Robinson biopic 42 just made Hollywood history, debuting this weekend with an estimated $27.3 million, the best U.S. opening for a baseball movie ever, even when adjusting for inflation. (It's also one of co-star Harrison Ford's best opening weekends in years that didn't involve aliens or Indiana Jones.) The film earned a rare "A+" rating from the audience-polling firm CinemaScore, which suggests some serious word-of-mouth momentum that will serve the film well through the rest of the month. It could easily join 1992's A League of Their Own as the only other baseball film to gross over $100 million total. Apparently, audiences like their baseball movies spiked with a heady degree of trailblazing.
On the other side of the box office spectrum, Scary Movie 5 couldn't even manage to scare up half its predecessor's debut, banking an estimated $15.2 million this weekend against Scary Movie 4's $40.2 million opening weekend in 2006. Now, that is scary.
You could blame the fact that the first Scary Movie movie in seven years was missing franchise stars Anna Faris and Regina Hall. You could blame the fact that the film was largely marketed on the off-putting presence of tabloid staples Lindsay Lohan and Charlie Sheen. You could blame the fact that the horror movie genre isn't currently dominated by a single franchise or trend, which makes it harder to find overused horror tropes ripe for spoofing. (Perhaps that's why the film also shoe-horns in parodies of Inception, Rise of the Planet of the Apes, and The Help?) Or you could blame the fact that the horror spoof movie audience had been sated by the January horror spoof movie A Haunted House, which opened with a slightly better $18.1 million.
Basically, there is a lot of blame to go around. The Scary Movie franchise used to be a reliable cash machine for Dimension Films, but with this performance, the micro-studio may be wise to keep it locked away in the cellar for the rest of eternity. Please.
Here are the estimated top 10 box office figures for Friday to Sunday, courtesy of Box Office Mojo:
1. 42* — $27.3 million
2. Scary Movie 5* — $15.2 million
3. The Croods — $13.2 million
4. G.I. Joe Retaliation — $10.8 million
5. Evil Dead — $9.5 million
6. Jurassic Park 3D — $8.8 million
7. Olympus Has Fallen — $7.3 million
8. Oz the Great and Powerful — $4.9 million
9. Tyler Perry's Temptation: Confessions of a Marriage Counselor — $4.5 million
10. The Place Beyond the Pines — $4 million
*Opening weekend