High-risk, high-reward historical features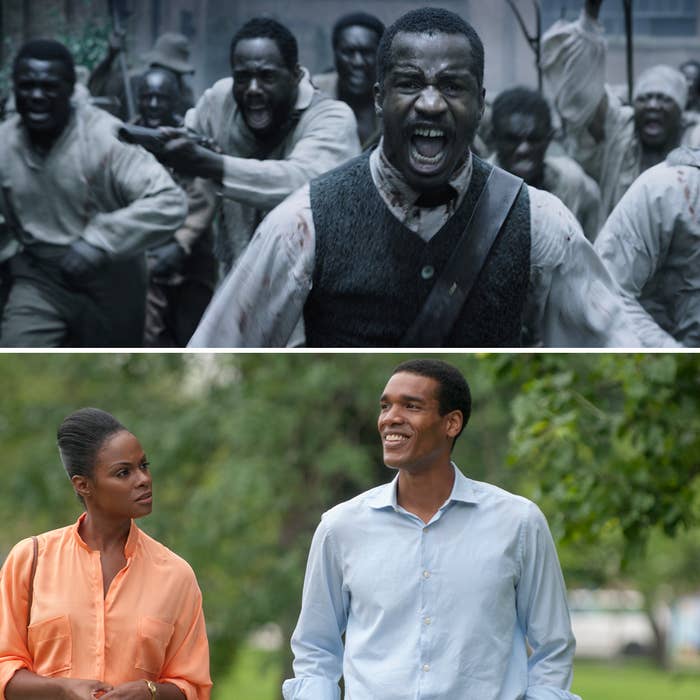 1. The Birth of a Nation (U.S. Dramatic Competition)
Starring: Nate Parker, Armie Hammer, Aja Naomi King, Jackie Earle Haley, Gabrielle Union, and Mark Boone Junior
Directed by: Nate Parker
The directorial debut of actor Nate Parker (he romanced Gugu Mbatha-Raw in Beyond the Lights) tells the true story of Nathaniel "Nat" Turner (also played by Parker), who led an infamous slave rebellion in Virginia in 1831. That uprising is considered the most successful in U.S. history, but — spoiler alert for a major historical event you can look up on the internet — it still ended quite badly for Turner and his compatriots. Navigating the fraught emotional arc of that story is enough of a challenge for a first-time director, but by appropriating the title from the most infamously and virulently racist feature film of all time, Parker (who also wrote the screenplay) has all but proclaimed his ambition to make a Film for the Ages.
2. Southside With You (U.S. Dramatic Competition)
Starring: Tika Sumpter, Parker Sawyers, and Vanessa Bell Calloway
Directed by: Richard Tanne
Speaking of things that are For the Ages, Barack and Michelle Obama have to be in the running for one of the most celebrated marriages in American history, right? And yet this dramatization of their first date — starring lesser-known actor Parker Sawyers as Barack, and Ride Along and The Game's Tika Sumpter as Michelle (née Robinson) — is one of the most curious feature film projects ever made about a sitting president and first lady. Director Richard Tanne, a micro-indie actor-producer, makes his feature debut from his own script, which we've heard has a laidback, Before Sunrise-y vibe. —Adam B. Vary
Showcase films for actor favorites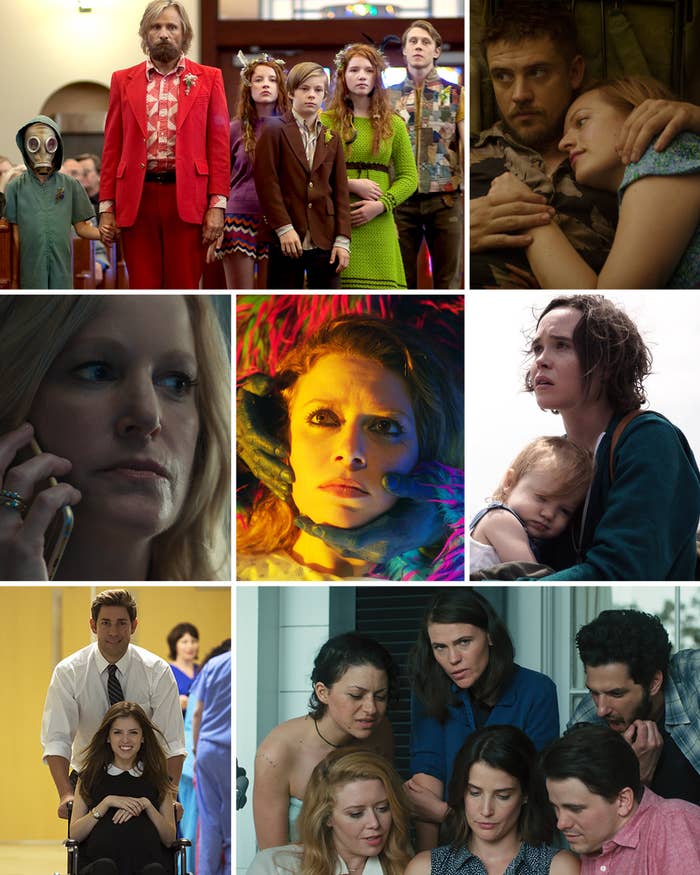 3. Captain Fantastic (Premieres)
Starring: Viggo Mortensen, Frank Langella, George MacKay, Kathryn Hahn, Steve Zahn, and Ann Dowd
Directed by: Matt Ross
Captain Fantastic is the second feature directed (and written) by Matt Ross, the prolific character actor whom you may know as Alby from Big Love, Gavin from Silicon Valley, or any of his other million roles. (He first helmed 28 Hotel Rooms in 2012, and it also premiered at Sundance.) Here, Viggo Mortensen plays a Pacific Northwestern, home-schooling isolationist with six kids who is forced to move from their forest home, allowing the children to be exposed to the outside world for the first time.
4. Swiss Army Man (U.S. Dramatic Competition)
Starring: Paul Dano, Daniel Radcliffe, and Mary Elizabeth Winstead
Directed by: Daniel Scheinert and Daniel Kwan
Paul Dano stars as Hank, a man stranded on an island by himself until a corpse washes up on the beach. After that, he is still by himself, presumably! But has some hope. Daniel Radcliffe plays the dead guy. Swiss Army Man is the first feature by the directing duo the Daniels, who won an MTV VMA in 2014 for the video for DJ Snake and Lil Jon's "Turn Down for What."
5. Tallulah (U.S. Dramatic Competition)
Starring: Ellen Page, Allison Janney, Tammy Blanchard, Evan Jonigkeit, and Uzo Aduba
Directed by: Sian Heder
Ellen Page and Allison Janney, who played stepdaughter and stepmother to great effect in Juno, are once again paired in Tallulah. Page plays Lu, a young woman living in a van; Janney is Margo, the wealthy mother of Lu's ex-boyfriend. When Lu kidnaps a baby she thinks she is rescuing from neglect, she goes to Margo — who assumes the baby is her grandchild — for help. Sian Heder, an Orange Is the New Black writer, wrote and directed Tallulah, her first feature. Netflix has already bought this movie, so you will definitely see it.
6. Equity (U.S. Dramatic Competition)
Starring: Anna Gunn, James Purefoy, Sarah Megan Thomas, and Alysia Reiner
Directed by: Meera Menon
Equity is movie about the high tensions and drama of Wall Street — starring two female leads (Anna Gunn as an investment banker, and Alysia Reiner as a prosecutor), by a female screenwriter (Amy Fox), with a woman director (Meera Menon). We're told the screenplay was informed by interviews with dozens of women on Wall Street, so it already feels different.
7. The Fundamentals of Caring (Premieres)
Starring: Paul Rudd, Craig Roberts, Selena Gomez, Jennifer Ehle, Megan Ferguson, and Frederick Weller
Directed by: Rob Burnett
Television veteran Rob Burnett -- David Letterman's long-standing producing partner -- is the writer/director of The Fundamentals of Caring, in which Paul Rudd plays Ben, a paid caregiver to Trevor, an 18-year-old with muscular dystrophy (Craig Roberts of Submarine). The two go on a road trip, during which they grow as people and as friends — and encounter a bunch of strangers along the way. (Netflix has bought this one, too.)
8. The Free World (U.S. Dramatic Competition)
Starring: Boyd Holbrook, Elisabeth Moss, Octavia Spencer, Sung Kang, and Waleed Zuaiter
Directed by: Jason Lew
After spending a long time in prison for a crime he didn't commit, Mo (Boyd Holbrook, who played the grifter in Gone Girl) tries to assimilate back into life after release. He works with abused animals, meets Doris (Elisabeth Moss), and ends up in a dilemma that might cost him his liberty. The Free World is writer-director Jason Lew's feature debut and was shot in New Orleans.
9. The Hollars (Premieres)
Starring: Charlie Day, Sharlto Copley, Richard Jenkins, Margo Martindale, Anna Kendrick, and John Krasinski
Directed by: John Krasinski
Is there a name for the Going Home to Your Hometown and Re-Evaluating Your Life genre? Or, even more specifically: Going Home to Take Care of Your Sick Mom? There are two from the latter category at this year's Sundance (Other People is the other). In The Hollars, John Krasinski directs himself as John Hollar, who goes home when his mother (Margo Martindale) has to have surgery for a brain tumor. Anna Kendrick plays Rebecca, John's pregnant girlfriend.
10. Antibirth (Midnight)
Starring: Natasha Lyonne, Chloë Sevigny, Mark Webber, Meg Tilly, and Maxwell McCabe-Lokos
Directed by: Danny Perez
Natasha Lyonne and Chloë Sevigny (good friends in real life!) play hard-partying trailer denizens Lou and Sadie. After one typical night, Lou wakes up to find herself ill and haunted; even her usual recreational drugs can't save her. Can anyone, or anything? Danny Perez's ODDSAC, which played at Sundance in 2010, was a "visual album" for the band Animal Collective with some horror elements mixed in, so expect intense visuals in Antibirth as well. Perez also wrote this movie, and Lyonne is a producer as well as its star.
11. Mr. Pig (Premieres)
Starring: Danny Glover, Maya Rudolph, José María Yazpik, Joel Murray, Angélica Aragón, and Gabriela Araujo
Directed by: Diego Luna
Cesar Chavez, from 2014, was Diego Luna's first English-language film as a director; Mr. Pig is in both English and Spanish, following Eubanks (Danny Glover) on a road trip to Mexico. Eubanks, a pig farmer, is trying to find a new home for his hog Howard. Along the way, he is met by Eunice, his daughter (played by Maya Rudolph).
12. Mammal (World Cinema Dramatic Competition)
Starring: Rachel Griffiths, Barry Keoghan, and Michael McElhatton
Directed by: Rebecca Daly
Margaret (Rachel Griffiths) learns that the child she gave up 18 years ago has died, and she reacts by allowing a homeless teenage boy, Joe (Barry Keoghan), to move in. Their relationship, apparently, becomes parental — and then more!
13. The Intervention (U.S. Dramatic Competition)
Starring: Melanie Lynskey, Cobie Smulders, Alia Shawkat, Clea DuVall, Natasha Lyonne, and Ben Schwartz
Directed by: Clea DuVall
Clea DuVall has been acting for years and is often the best thing in whatever she's in. The Intervention, which she wrote, is also her first feature as a director, and was shot in 18 days. The plot revolves around a group of friends staging an intervention for Ruby (Cobie Smulders), for her terrible relationship with her husband. But along the way, everyone else's problems are revealed, as they tend to do! Sara Quin from Tegan and Sara composed The Intervention's score. —Kate Aurthur
Deconstructing masculinity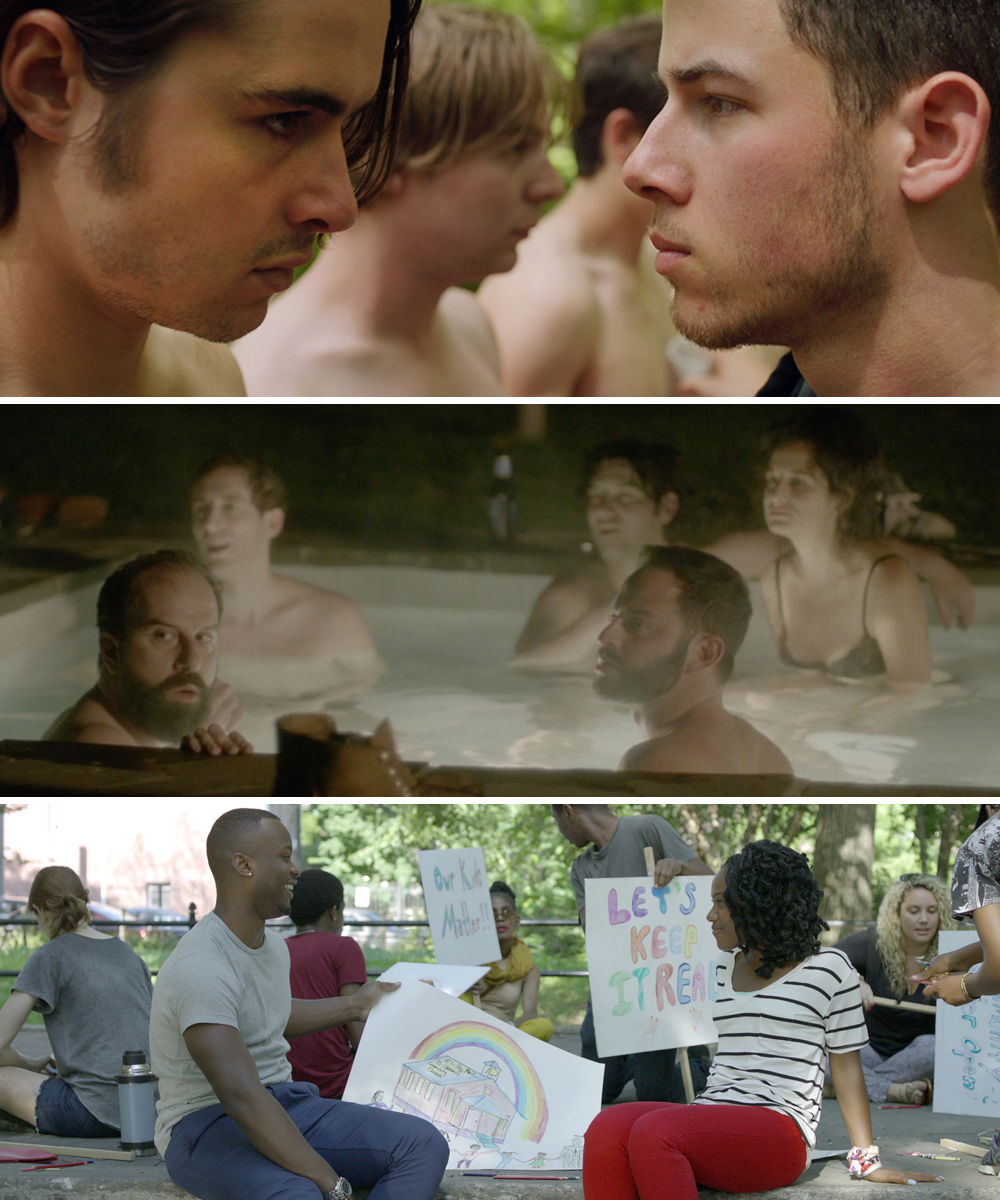 14. Goat (U.S. Dramatic Competition)
Starring: Nick Jonas, Ben Schnetzer, Virginia Gardner, Danny Flaherty, and Austin Lyon
Directed by: Andrew Neel
Sundance's summary for Goat — about a fraternity and hazing and the perils of masculinity — emphasizes it as a harsh viewing experience, using words and phrases like "brutal" and "searing authenticity." It also calls the movie's style "part neorealism, part horror film," making the whole enterprise sound quite frightening! And then there's Nick Jonas's presence, which in this modern age indicates homoeroticism (endemic to frats to begin with, of course — also, James Franco is one of Goat's producers, so ... you know). Goat is based on Brad Land's 2005 memoir about his own life, when he followed his brother to Clemson University after being a victim of a violent crime and not wanting to be left behind. Andrew Neel has made a few documentaries, including the excellent Darkon from 2006. —K.A.
15. Joshy (U.S. Dramatic Competition)
Starring: Thomas Middleditch, Adam Pally, Alex Ross Perry, Nick Kroll, Brett Gelman, and Jenny Slate
Directed by: Jeff Baena
After a broken engagement, a group of guys — played by a group of guys — go on a bachelor weekend to Ojai, California. The logline for this movie says Joshy explores how "dumb the love of men can sometimes appear," and yet we've heard Joshy is very good. Jenny Slate plays a woman the group meets when they're out one night. Director Jeff Baena's zombie comedy Life After Beth was featured in Sundance's 2014 slate, and did nicely. —K.A.
16. How to Tell You're a Douchebag (Next)
Starring: Charles Brice, DeWanda Wise, William Jackson Harper, Alexander Mulzac, Jenna Williams, and Tonye Patano
Directed by: Tahir Jetter
Ray (Charles Brice), a relationship blogger with a somewhat notorious site called Occasionally Dating Black Women, tries to pick up a woman on the street. She turns out to be a more well-established writer, who lays into Ray about race and gender; naturally, Ray begins to fall for her. The film's writer-director, Tahir Jetter, founded a web series called Hard Times — about a male stripper — on Issa Rae's YouTube channel. With How to Tell You're a Douchebag, he's aiming to explore what it's like when a self-regarding ladies' man is the one kept at arm's length. —A.B.V.
Same-sex love stories told in fractured narratives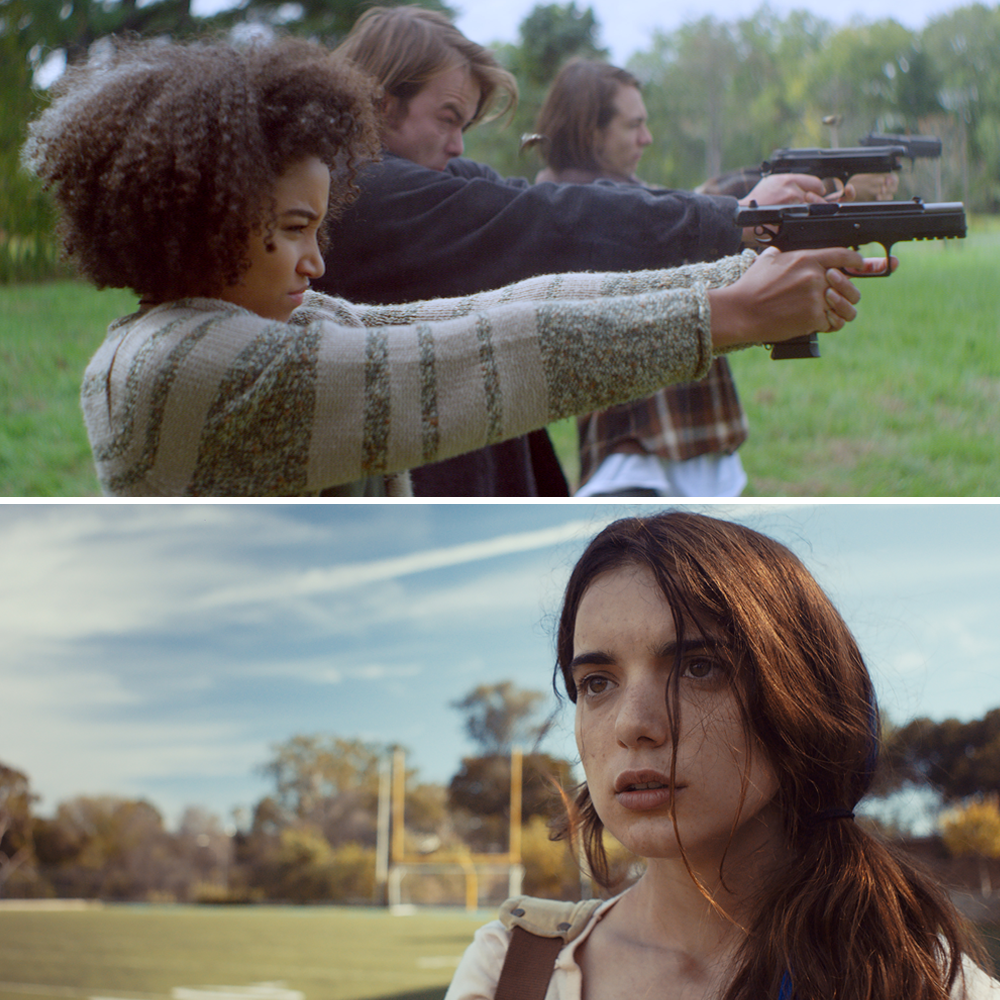 17. As You Are (U.S. Dramatic Competition)
Starring: Owen Campbell, Charlie Heaton, Amandla Stenberg, John Scurti, Scott Cohen, and Mary Stuart Masterson
Directed by: Miles Joris-Peyrafitte
The gay coming-of-age romance is -- at this point -- a careworn Sundance cliché, but this year two films are attempting to capture that trope with a fresh though strikingly similar storytelling approach. As You Are is set in the milieu of early 1990s grunge rock, following three friends — Jack (Owen Campbell), Mark (Charlie Heaton), and Sarah (Amandla Stenberg) — just as the budding feelings between Jack and Mark cause what seems like a life-changing rift in their lives, and forces a police investigation. Co-writer–director Miles Joris-Peyrafitte uses that investigation to tell the story through the different memories of the main characters. Note of interest to an entirely different generation of queer audiences: Mary Stuart Masterson co-stars!
18. The First Girl I Loved (Next)
Starring: Dylan Gelula, Brianna Hildebrand, Mateo Arias, Jennifer Prediger, Tim Heidecker, and Pamela Adlon
Directed by: Kerem Sanga
Here's another trio of high schoolers caught in a thorny romantic web. This time, it's between Anne (Unbreakable Kimmy Schmidt's Dylan Gelula), a nerdy yearbook reporter; Sasha, a varsity softball star (Brianna Hildebrand, soon to appear in Deadpool); and Clifton (Mateo Arias, of Disney XD's Kickin' It), who doesn't respond well to his best friend Anne's sudden crush on Sasha (since he has one on Anne). Writer-director Kerem Sanga (The Young Kieslowski) also structured this story through a series of fractured flashbacks that expand on earlier scenes. —A.B.V.
…and other movies about LGBT people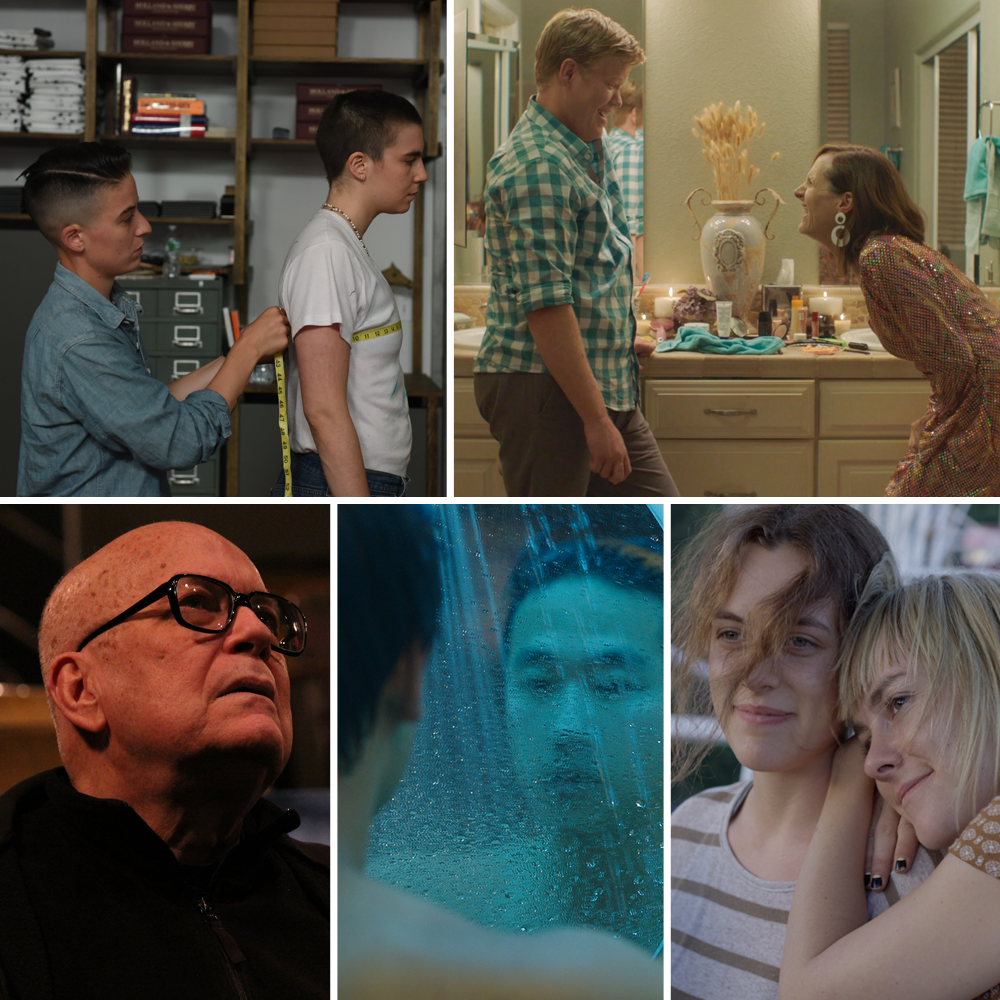 19. Other People (U.S. Dramatic Competition)
Starring: Jesse Plemons, Molly Shannon, Bradley Whitford, Maude Apatow, Zach Woods, and June Squibb
Directed by: Chris Kelly
Jesse Plemons (Fargo, Friday Night Lights) plays David, a gay comedy writer nursing his wounds from a breakup. Molly Shannon (Me and Earl and the Dying Girl, Saturday Night Live) plays his mother, whose failing health causes David to race home to her. It sounds like the kind of laughing-through-my-tears domestic dramedy that has been a satisfying staple at Sundance — which is perhaps why the festival chose it as this year's opening night narrative film. First time writer-director Chris Kelly is also gay, also a comedy writer (for SNL and Broad City), and also quite funny!
20. Lovesong (U.S. Dramatic Competition)
Starring: Jena Malone, Riley Keough, Brooklyn Decker, Amy Seimetz, Ryan Eggold, and Rosanna Arquette
Directed by: So Yong Kim
Old friends Sarah (Riley Keough) and Mindy (Jena Malone) reunite during one of Sarah's husband's many business trips, and things turn intimate...and unresolved, since Sarah goes to Mindy's wedding three years later. Director So Yong Kim (2012's Sundance film For Ellen) made this movie on an unusual schedule, shooting the first half with a skeleton crew, editing it together, and then shooting the second half (i.e., that wedding) with a full crew. Keough is also the lead in the Starz series The Girlfriend Experience, which premieres at Sundance this year as well.
21. Spa Night (U.S. Dramatic Competition)
Starring: Joe Seo, Haerry Kim, Youn Ho Cho, Tae Song, Ho Young Chung, and Linda Han
Directed by: Andrew Ahn
A first-generation Korean-American teenager (Joe Seo) skips his SAT classes to work at a Korean spa to help out his struggling parents and discovers that men enjoy having sex with men at such establishments — which sparks his own sexual awakening. Director Andrew Ahn had a short film, Dol, at the 2012 Sundance Film Festival; he also made money working for Lyft, and had a very indie filmmaker experience of driving actors who had auditioned for his film.
22. Suited (U.S. Documentary Competition)
Featuring: Rae Tutera, Daniel Friedman, Derek Matteson, Everett Arthur, and Mel Plaut
Directed by: Jason Benjamin
Director Jason Benjamin tells the story Bindle & Keep, a Brooklyn tailoring firm that specializes in bespoke suits for LGBT customers. Benjamin is a boom operator on HBO's Girls, and Lena Dunham serves as a producer; it will debut on HBO in June.
23. Film Hawk (Documentary Premieres)
Featuring: Bob Hawk, Kevin Smith, Edward Burns, Rob Epstein, Barbara Hammer, and Kimberly Reed
Directed by: JJ Garvine and Tai Parquet
For decades, Bob Hawk has quietly served as a kind of scout for promising independent filmmakers, helping to launch the careers of Ed Burns, Rob Epstein, Barbara Hammer, and Kevin Smith. In this documentary, the 75-year-old Hawk — called "the rebellious gay son of a preacher" in the Sundance preview — tells his story. —A.B.V.
The strange, sad, unsettling story of Christine Chubbuck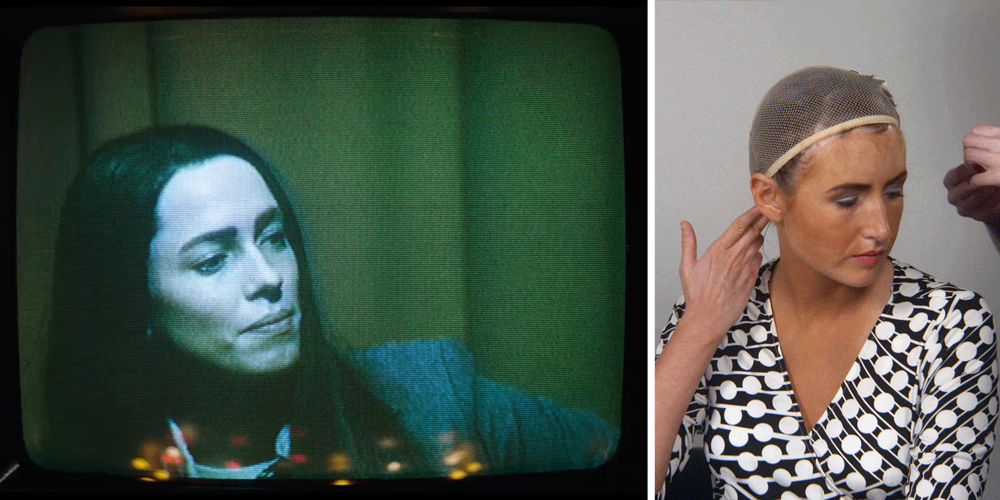 24. Christine (U.S. Dramatic Competition)
Starring: Rebecca Hall, Michael C. Hall, Maria Dizzia, Tracy Letts, and J. Smith-Cameron
Directed by: Antonio Campos
It is one of life's strange coincidences that sometimes people become impassioned by the same idea around the same time, and therefore a subject that could have been examined in any given year becomes the focus of more than one film project. Such is the case with the haunting true story of Christine Chubbuck, the Florida TV reporter who committed suicide on live television in July 1974. Chubbuck's death was shocking and unprecedented, and ended up informing the 1976 movie Network. In Christine, Rebecca Hall plays the lead character, who, in this fictional retelling of the story, is torn between her journalistic urges and her local station's demands for sordid stories to lift ratings. Antonio Campos also directed Afterschool (2008) and Simon Killer (a feature that premiered at Sundance in 2012). He is a founding member of the production company Borderline Films with Josh Mond (James White) and Sean Durkin (Martha Marcy May Marlene) — they all went to Tisch at New York University — and was a producer of both of those Sundance films.
25. Kate Plays Christine (U.S. Documentary Competition)
Starring: Kate Lyn Sheil, Stephanie Coatney, Marty Stonerock, Michael Ray Davis, Holland Hayes, and Zachary Gossett
Directed by: Robert Greene
The second Christine Chubbuck entry is categorized as a documentary, but — as it is with a slew of other Sundance entries this year — the film uses both fiction and nonfiction techniques. (Greene also made the similarly slippery doc Actress in 2014.) As a narrative device for this film, Kate Lyn Sheil (Rachel's girlfriend Lisa on House of Cards) is tasked by filmmakers to play Chubbuck, and she heads to Florida to research the role. —K.A.
Films that play with the definition of the word "documentary"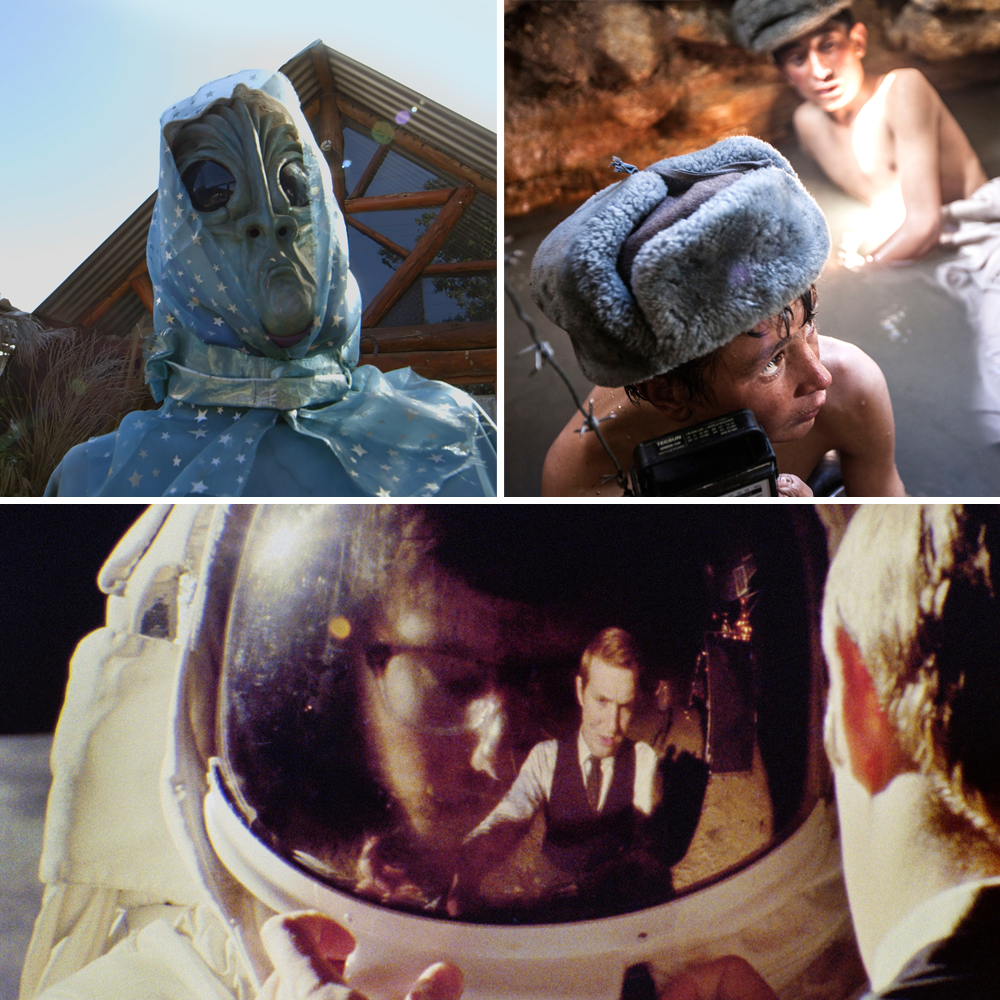 26. Jacqueline (Argentine) (Next)
Starring: Camille Rutherford, Wyatt Cenac, James Benson, Martin Anderson, Sarah Willis, and Enrique Dura
Directed by: Bernardo Britto
Jacqueline (Argentine) is a fake documentary in which a filmmaker — one with no name, played by former Daily Show correspondent Wyatt Cenac — goes deep into a possible political conspiracy. Camille Rutherford (Mary Queen of Scots) plays Jacqueline, the woman who convinces the filmmaker of her theories, drawing him (and some interns) to a retreat in Argentina.
27. The Land of the Enlightened (World Cinema Documentary Competition)
Directed by: Pieter-Jan De Pue
In war-ravaged Afghanistan, children sell old Soviet-era explosives to other children. Belgian director Pieter-Jan De Pue has traveled to Afghanistan not only as a filmmaker, but as a photographer for international relief organizations as well; he shot The Land of the Enlightened over seven years on 16mm film, with the result of blending fiction and nonfiction.
28. Operation Avalanche (Next)
Starring: Matt Johnson, Owen Williams, Josh Boles, and Ray James
Directed by: Matt Johnson
Two CIA agents looking for a Soviet mole in NASA in 1967 go undercover in NASA — so that's what Matt Johnson, the director and co-star of Operation Avalanche, did too. Not look for moles, of course! But sneak into NASA. In a recent interview with the Globe and Mail, Johnson said he told NASA that he and his crew were students making a documentary about NASA in the 1960s, and then filmed there, guerrilla-style. —K.A.
Exploring the gun crisis in America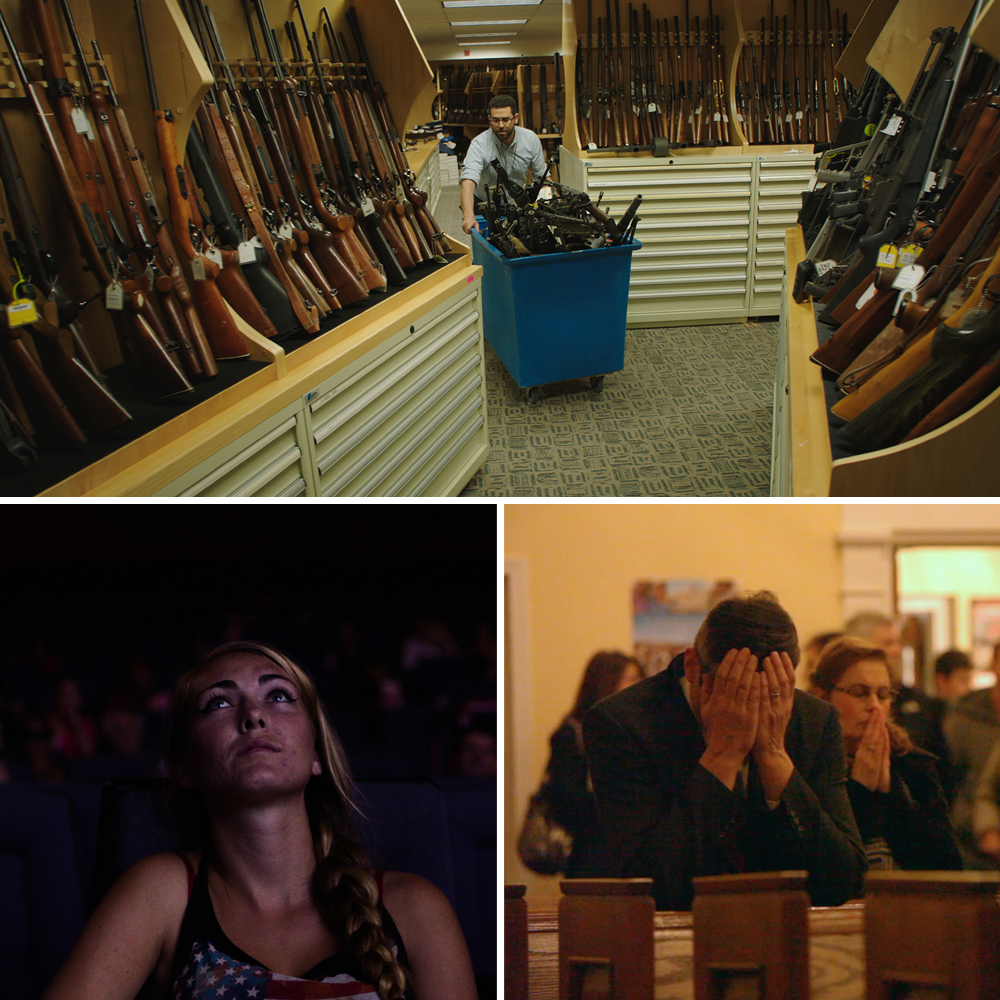 29. Dark Night (Next)
Starring: Robert Jumper, Anna Rose, Rosie Rodriguez, Karina Macias, Aaron Purvis, and Eddie Cacciola
Directed by: Tim Sutton
Much like Gus Van Sant's 2003 feature Elephant evoked the 1999 mass shooting at Columbine High School, Dark Night — in both title and content — evokes the 2012 mass shooting in an Aurora, Colorado, movie theater during a showing of The Dark Knight Rises. Also similar to Elephant, the description on the Sundance website notes that writer-director Tim Sutton (the 2014 Sundance film Memphis) approaches the story "through fragmented moments from the lives of several characters."
30. Newtown (U.S. Documentary Competition)
Directed by: Kim A. Snyder
This documentary follows the families who lost loved ones in the brutal mass shooting at Sandy Hook Elementary School in Newtown, Connecticut, as well as the community around them, as they all deal with their individual and collective grief. I don't know what else to say other than a reminder to pack extra tissues, because this will be a sobfest.
31. Under the Gun (Documentary Premieres)
Directed by: Stephanie Soechtig
Director Stephanie Soechtig and journalist Katie Couric — who came to Sundance in 2014 with their doc Fed Up, on the childhood obesity epidemic — reunite for this film, which promises to explore the gun safety debate. The Sundance website calls the film "scrupulously comprehensive and decidedly fair to both sides." —A.B.V.
Beloved Sundance directors return to the festival
32. Manchester by the Sea (Premieres)
Starring: Casey Affleck, Michelle Williams, Lucas Hedges, and Kyle Chandler
Directed by: Kenneth Lonergan
There are so many reasons to celebrate a new Kenneth Lonergan movie even before you've seen it — most pointedly, that it exists. After the legal mess that Lonergan went through on his second film, Margaret (which you can read about in full in this excellent New York Times story) the director seems to have put Manchester By the Sea together with much less agita, or at least no lawsuits. In Manchester By the Sea, Casey Affleck plays Lee, a Boston handyman who is suddenly named guardian to his late brother's 16-year-old son. By going back to his hometown, Lee is forced to deal with his past. I'm crying already. (Lonergan's first film, You Can Count on Me, won Sundance's Grand Jury Prize in 2000.)
33. Certain Women (Premieres)
Starring: Laura Dern, Kristen Stewart, Michelle Williams, James Le Gros, Jared Harris, and Lily Gladstone
Directed by: Kelly Reichardt
Twenty-two years after her River of Grass was nominated for the Grand Jury Prize at Sundance, Kelly Reichardt brings Certain Women to the festival. (She's also bringing a newly restored version of River of Grass to screen as well!) In Certain Women, Reichardt has adapted short stories by Maile Meloy to tell three loosely intersecting narratives set in Montana. Laura Dern plays a lawyer whose client (Jared Harris) has become a hostage-taker; Michelle Williams (also featured in Reichardt's Meek's Cutoff and Wendy and Lucy) and James Le Gros play a married couple; Kristen Stewart also plays a lawyer; and Lily Gladstone plays a ranch hand she meets.
34. Love & Friendship (Premieres)
Starring: Kate Beckinsale, Chloë Sevigny, Xavier Samuel, Emma Greenwell, Tom Bennett, and Stephen Fry
Directed by: Whit Stillman
It's been 26 years since Whit Stillman's wonderful, generationally meaningful Metropolitan premiered at Sundance. (Pause to gasp.) Though fans haven't been inundated with much of Stillman's work in the decades since, what we do get here luckily still focuses on the manners of high (haute!) culture. In Love & Friendship, Stillman adapts Jane Austen's epistolary novella Lady Susan, which was unpublished for years. Kate Beckinsale and Chloë Sevigny, both of Stillman's The Last Days of Disco, reunite, with Beckinsale playing the vicious Lady Susan and Sevigny as her friend Alicia. Austen completists pretty much agree that Lady Susan, which the author wrote when she was a teenager, is not great. But in Stillman's hands, how could it be anything but charming?
35. Wiener-Dog (Premieres)
Starring: Greta Gerwig, Kieran Culkin, Danny DeVito, Ellen Burstyn, Julie Delpy, and Zosia Mamet
Directed by: Todd Solondz
Welcome to the Dollhouse won Sundance's Grand Jury Prize in 1996, and gave us Dawn Wiener as played by Heather Matarazzo. And we thought that Dawn Wiener was dead, or at least that's what Todd Solondz told us at the beginning of Palindromes in 2004 — but perhaps she is not! And now she is being played by Greta Gerwig. It's a lot to take in, really. According to Sundance's description of the film, Wiener-Dog revolves around a dachshund who changes people's lives for the better. With Solondz, who finds humor in the darkest subjects, we will see how happy this dachshund can actually make anyone (especially Dawn!).
36. Hunt for the Wilderpeople (Premieres)
Starring: Julian Dennison, Sam Neill, Rima Te Wiata, Rachel House, and Oscar Kightley
Directed by: Taika Waititi
Taika Waititi's What We Do in the Shadows played at Sundance in 2014, and the vampire mockumentary has since gone on to become a beloved cult film. In Hunt for the Wilderpeople, a foster kid who finally lands in a happy family runs away to avoid being placed elsewhere. Julian Dennison plays the hip-hop–loving Ricky, and Sam Neill plays Uncle Hec, his new caretaker. (Waititi's next directing effort will be Thor: Ragnarok, so this one may be his last indie for awhile.)
37. Lo and Behold, Reveries of the Connected World (Documentary Premieres)
Directed by: Werner Herzog
Prolific director Werner Herzog has taken on a lot in Lo and Behold, Reveries of the Connected World: the internet and all of its effects. The documentary will cover the invention of the internet, and the meaning of connectivity — but also cyberbullying, addiction, and, according to its description, "victims of wireless radiation." Eek about that last bit!
38. Little Men (Premieres)
Starring: Greg Kinnear, Jennifer Ehle, Paulina Garcia, Theo Taplitz, and Michael Barbieri
Directed by: Ira Sachs
Two years after the well-received Love Is Strange, and 11 years after Forty Shades of Blue won Sundance's Grand Jury Prize, Ira Sachs returns to the festival with a story about class conflict in gentrifying Brooklyn. Two middle school kids, one from old Brooklyn, the other from new, yuppie Brooklyn, become friends — until a rent dispute between their parents threatens their friendship.
39. Sing Street (Premieres)
Starring: Ferdia Walsh-Peelo, Lucy Boynton, Jack Reynor, Aidan Gillen, and Mark McKenna
Directed by: John Carney
John Carney of Once and Begin Again fame returns to the musical genre with Sing Street, which is set in 1980s Dublin. Ferdia Walsh-Peelo plays Conor, a 14-year-old new kid in a tough public school who decides to try to fit in by starting a band. Carney, the Sundance description tells us, spent a year collaborating on making the music for the autobiographical Sing Street.
40. Complete Unknown (Premieres)
Starring: Rachel Weisz, Michael Shannon, Kathy Bates, Danny Glover, and Michael Chernus
Directed by: Joshua Marston
Director and co-screenwriter Joshua Marston is from Los Angeles, but his previous two features, Maria Full of Grace (which won Sundance's 2004 Audience Award, and eventually drew an Oscar nomination for its lead, Catalina Sandino Moreno) and 2011's The Forgiveness of Blood were filmed in Colombia and Albania, respectively. With Complete Unknown, Marston sets the action at a dinner party in New York City. Michael Shannon plays Tom, a married man who, at his birthday celebration, feels sure he knows Alice (Rachel Weisz), and pursues her during a long, adventurous night. —K.A.
Disgraced public figures explain themselves, maybe
41. Author: The JT Leroy Story (U.S. Documentary Competition)
Starring: Laura Albert
Directed by: Jeff Feuerzeig
Whether or not you followed -- or were even aware of -- the strange story of JT Leroy in the early 2000s, this documentary should be fascinating. Leroy's first novel, Sarah, was published in 2000, and the author was evidently surrounded by famous literary benefactors, most notably the transgressive writer Dennis Cooper. Leroy, who claimed to be a former teenage prostitute, wrote what seemed to be autobiographical fiction. But then his whole story fell apart — and Leroy turned out to be someone named Laura Albert. (If you want to read the original New York magazine story exposing the lies, man, it's so good.) Jeff Feuerzeig's Author will retell this story, with Albert as its main narrator, who, it seems from the summary of the movie, still has plenty of justifications for what happened. (And considering how much things have changed in the past 15 years in terms of self-expression and gender identity, I'm ready to hear them out.) Feuerzeig won this competition category in 2005 with The Devil and Daniel Johnston.
42. Weiner (U.S. Documentary Competition)
Directed by: Josh Kriegman and Elyse Steinberg
Even if Anthony Weiner's attempt at a political comeback after his sexting disgrace is best forgotten, surely Weiner, which had full access to him, will be entertaining and interesting. To refresh: Weiner stepped down from Congress after he had DM'd explicit photos to a woman on Twitter, and then denied he had done it, and then two years later decided to run for mayor of New York City. It turned out not to be the right time, to say the least: Weiner was soon busted again for sexting. Weiner may be sad! —K.A.
The secret lives of American youth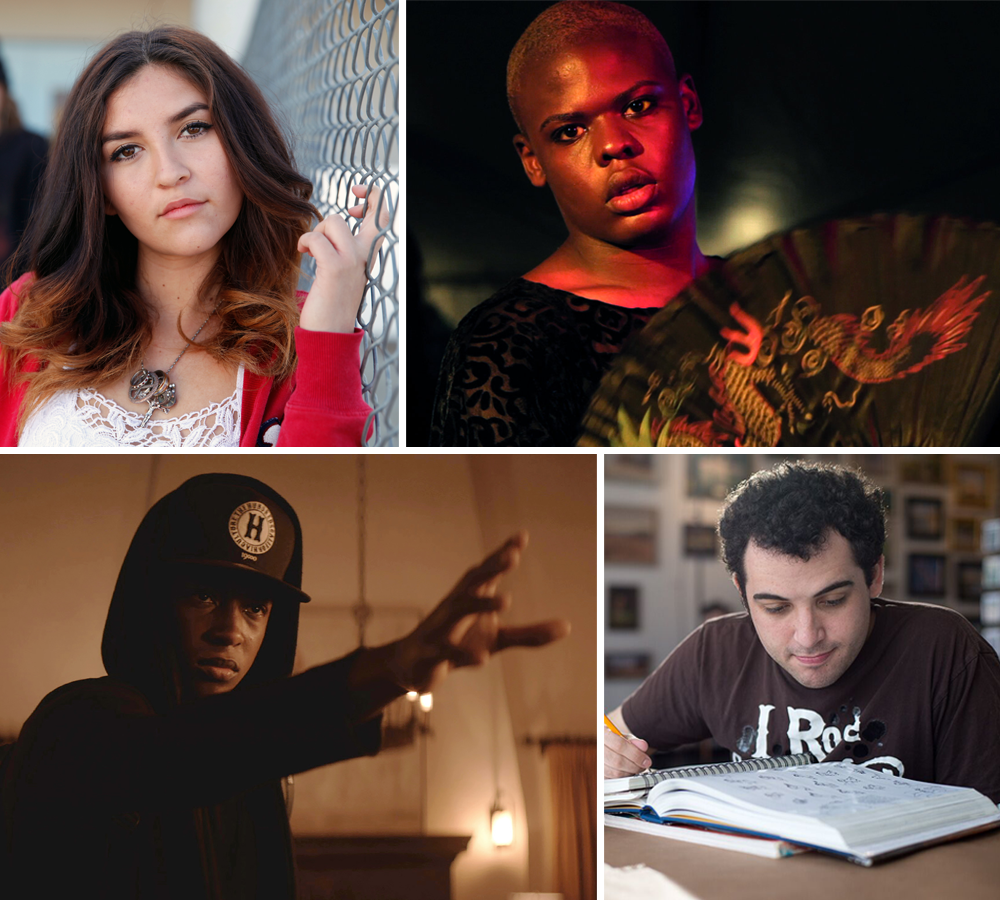 43. Kiki (U.S. Documentary Competition)
Featuring: Twiggy Pucci Garçon, Chi Chi Mizrahi, Divo Pink Lady, Gia Marie Love, Kenneth "Symba McQueen" Soler-Rios, Christopher Waldorf, and Izana "Zariya" Vidal
Directed by: Sara Jordenö
The landmark 1990 documentary Paris Is Burning captured New York City's ballroom competitions, drag houses, and voguing subculture — just as Madonna's "Vogue" was making the latter dancing style a mainstream sensation. This new doc returns to that world and, specifically, the Kiki scene, which has flourished as an outlet for LGBT minority youth, and served as a kind of introduction into the more intense world of "real ballroom."
44. Life, Animated (U.S. Documentary Competition)
Featuring: Owen Suskind, Ron Suskind, Cornelia Suskind, and Walter Suskind
Directed by: Roger Ross Williams
As a young child, Owen Suskind, son of the Pulitzer Prize–winning journalist Ron Suskind, was locked inside his autism, barely interacting with anyone. His only interest and outlet were Disney animated features like Beauty and the Beast and Aladdin — until one day, his father tried talking to him using a plush Iago toy, and imitating Gilbert Gottfried's singular whine, and Owen began to open up to the world. This documentary, from Oscar-winning director Roger Ross Williams (Music by Prudence, God Loves Uganda) and using elements of animation itself, follows Owen's story from childhood into his first steps into independence as a twentysomething adult.
45. The Bad Kids (U.S. Documentary Competition)
Directed by: Keith Fulton and Lou Pepe
While doing work for the Gates Foundation, directors Keith Fulton and Lou Pepe (Lost in La Mancha) discovered this high school in the California desert specializing in helping at-risk youths make it to graduation. In an observational style, they track the lives of three of the students and the school's indefatigable principal, Vonda Viland.
46. Sleight (Next)
Starring: Jacob Latimore, Dulé Hill, Seychelle Gabriel, Storm Reid, and Sasheer Zamata, Cameron Esposito
Directed by: JD Dillard
This narrative feature follows Bo (The Maze Runner's Jacob Latimore), a high school student who has to support his younger sister and extricate himself from selling drugs, even though it endangers him and his family as a target of a dealer named Angelo (Dulé Hill). It would be easy to note that we've seen this kind of story before, but for the fact that Bo is also a street magician whose abilities extend beyond everyday magic, which is not something we've ever seen before! —A.B.V.
Young actors get gritty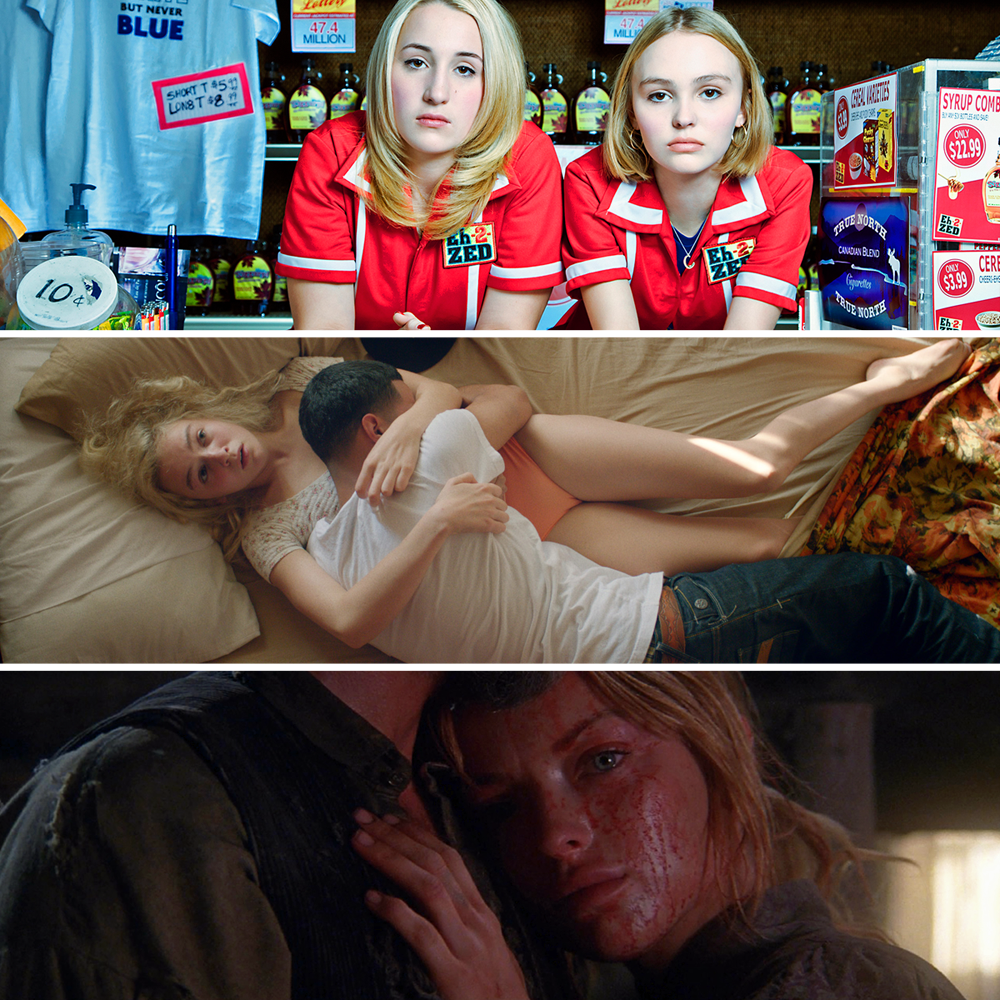 47. Yoga Hosers (Midnight)
Starring: Lily-Rose Depp, Harley Quinn Smith, Johnny Depp, Justin Long, Austin Butler, and Tyler Posey
Directed by: Kevin Smith
There exist in the world people who love the Kevin Smith movie Clerks. There are also people who like other Kevin Smith movies. Those people may well enjoy Yoga Hosers, in which Smith cast Lily-Rose Depp (daughter of Johnny) and Harley Quinn Smith (the director's own daughter) as two Manitoban teen best friends who work in a convenience store together. When they're invited to a senior party, they encounter "a terrible, secret evil that threatens to destroy everything decent and polite about Canada." Their characters first appeared in Tusk in 2014, and then Smith decided to center a movie around them. Johnny Depp will also play his Tusk character, Guy Lapointe, again.
48. Outlaws and Angels (Midnight)
Starring: Francesca Eastwood, Chad Michael Murray, Luke Wilson, Teri Polo, Madisen Beaty, and Ben Browder
Directed by: JT Mollner
When a group of bank robbers seek refuge in a house with two young women, all hell breaks loose. This is Francesca Eastwood's first starring role in a movie, and she plays opposite Chad Michael Murray as one of the criminals. JT Mollner shot this bloody Western — his feature debut — on "beautiful Kodak 35mm film and Panavision cameras," he says in his video on the Sundance site.
49. White Girl (U.S. Dramatic Competition)
Starring: Morgan Saylor, Brian 'Sene' Marc, Justin Bartha, Chris Noth, India Menuez, and Adrian Martinez
Directed by: Elizabeth Wood
Morgan Saylor, who played poor Dana Brody on Homeland, plays Leah, a young, white college student who likes drugs and bad behavior. With school looming a few weeks away, she meets a Puerto Rican drug dealer, and begins dealing too — until he gets caught and she has to figure out what to do with the drugs. Director-screenwriter Elizabeth Wood told Variety that the movie is inspired by her own life. —K.A.
Timely docs on hot button topics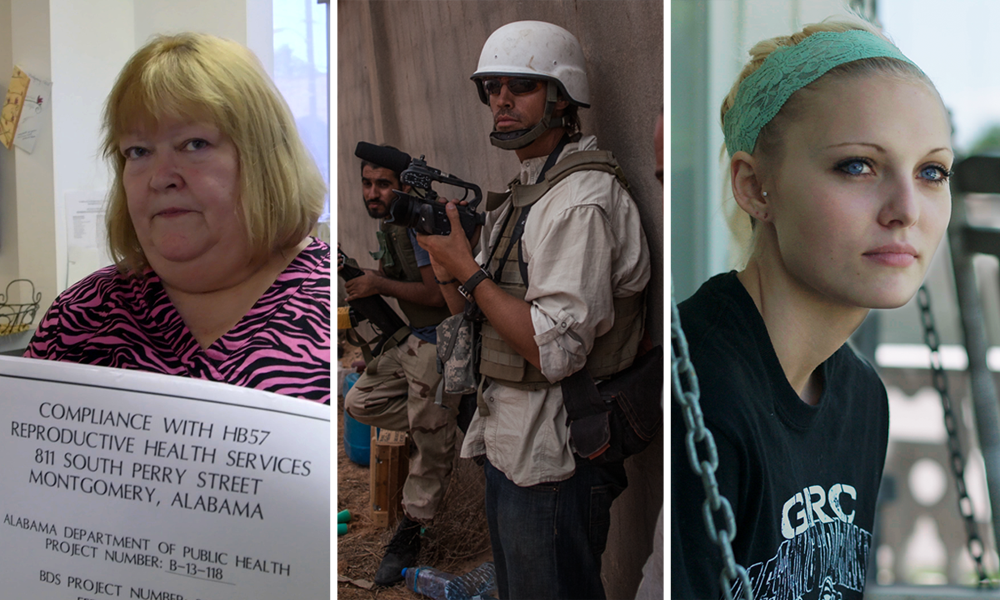 50. Trapped (U.S. Documentary Competition)
Directed by: Dawn Porter
A healthy share of Sundance's lineup each year is dedicated to feature documentaries that push into the hard, human realities of highly contentious issues in a way that often requires a steely resolve and deep, cleansing breaths to get through. This doc tracks the fallout from the 'TRAP" laws restricting access to abortion passed from 2011 to 2013. Like her excellent 2013 documentary Gideon's Army, about public defenders, director Dawn Porter's focus here is on the lives of the health care providers who are affected by the new laws, but it is also pretty self-evident on which side of this profoundly politicized debate Porter's film falls. (Deep breathing begins.)
51. Jim (U.S. Documentary Competition)
Directed by: Brian Oakes
The beheading of American photojournalist James Foley was, for many, the first time ISIS came into sharp focus as a major new terrorist threat. In a doc that will also debut on HBO on Feb. 6, director Brian Oakes — a longtime friend of Foley and his family — tells the story of why Foley went to Syria, what it was like for him as a hostage, and how his family dealt with his kidnapping. (Deep breathing continues.)
52. Audrie & Daisy (U.S. Documentary Competition)
Directed by: Bonni Cohen and Jon Shenk
From abortion and ISIS, we segue to the epidemics of sexual assault and online bullying, through the stories of two teenage girls who separately suffered through both, then underwent social media scorn, and then attempted suicide. One died. (Grabs paper bag and begins hyperventilating.) —A.B.V.
Strangers in a strange lands
53. Morris From America (U.S. Dramatic Competition)
Starring: Markees Christmas, Craig Robinson, Carla Juri, Lina Keller, Jakub Gierszał, and Levin Henning
Directed by: Chad Hartigan
Morris (Markees Christmas), a 13-year-old black kid from America, moves with his father, Curtis (Craig Robinson), to Heidelberg, Germany, where Morris falls in love with a local girl, while he and Curtis sort out their relationship. Finding the right actor to play Morris — who also has to freestyle rap and speak German in the film — was no easy task, but in Christmas, it sounds like writer-director Chad Hartigan (2013 Sundance film This Is Martin Bonner) may have found a breakout star.
54. Indignation (Premieres)
Starring: Logan Lerman, Sarah Gadon, Tracy Letts, Linda Emond, Danny Burstein, and Ben Rosenfield
Directed by: James Schamus
Longtime screenwriter and producer James Schamus (The Ice Storm, Crouching Tiger, Hidden Dragon, Brokeback Mountain) makes his directorial debut with this adaptation of Philip Roth's acclaimed 2008 novel, about Marcus (Logan Lerman), a Jewish atheist, who moves from New Jersey to a small Christian college in Ohio to get away from his father — and escape the Korean War draft. There, Marcus battles with his new school's dean (Tracy Letts) over their compulsory chapel attendance, but those familiar with Roth's novel know this almost quaint story holds some uncanny surprises. —A.B.V.
Creepy movies that are creepy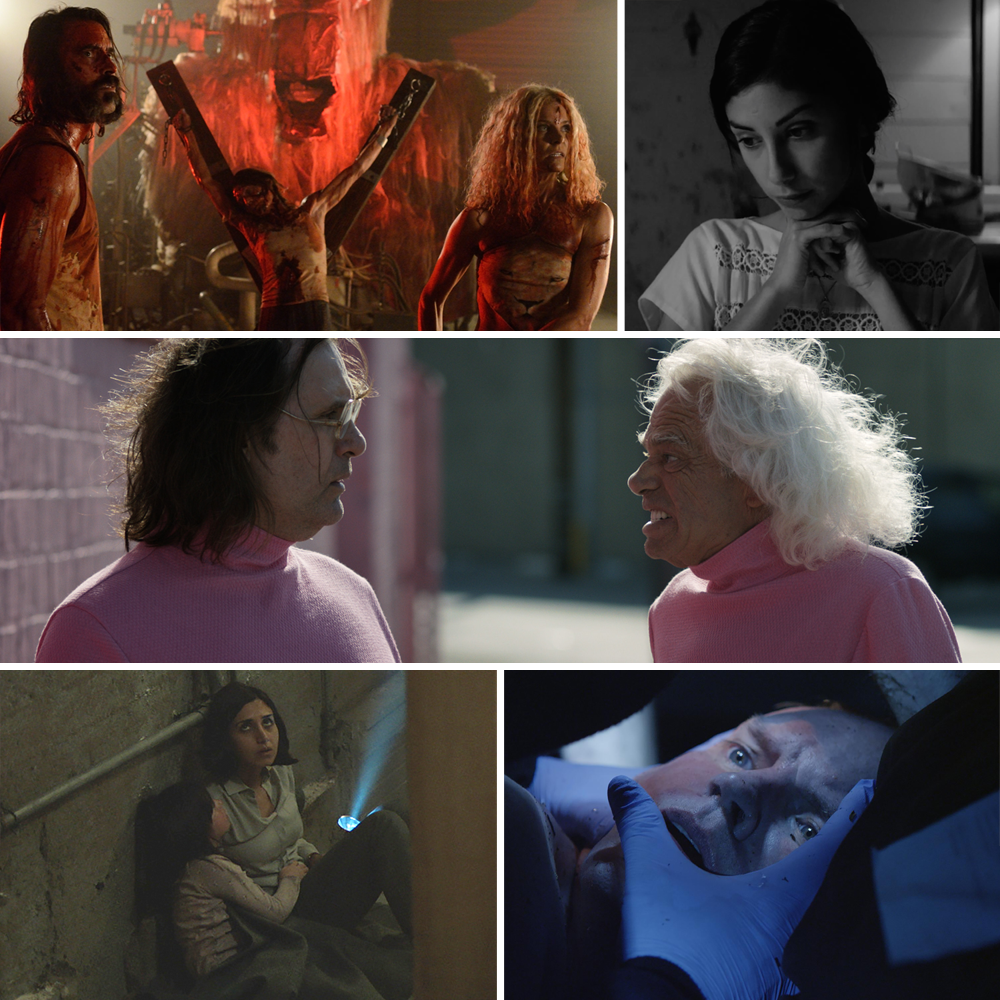 55. Under the Shadow (Midnight)
Starring: Narges Rashidi, Avin Manshadi, Bobby Naderi, Ray Haratian, and Arash Marandi
Directed by: Babak Anvari
In his video on the Sundance site, writer-director Babak Anvari says that Under the Shadow was inspired by his childhood as a scaredy-cat, which his mother attributes to her anxiety over his father fighting in the Iran-Iraq War in the '80s. So now he's taking that out on us! Under the Shadow is set in Tehran in 1988, when Shideh (Narges Rashidi) is left alone with her daughter as her husband goes off to war — and the daughter becomes increasingly creepy, to the point where Shideh is sure they are beset by spirits. She's going to fight back, though. The buzz on this movie is strong, with comparisons to 2014's The Babadook.
56. 31 (Midnight)
Starring: Sheri Moon Zombie, Malcolm McDowell, Richard Brake, Lawrence Hilton-Jacobs, Jeff Daniel Phillips, and Meg Foster
Directed by: Rob Zombie
Rob Zombie's brand of horror is bloody and gonzo, and you probably know whether you like it or not. In 31, it's Halloween in 1976, and hippie carnival folk encounter a murderous band of psychos and fight it out in some culture war. In the words of the Sundance site description, Zombie "rips the wings off of his little counterculture butterflies, baring their true, animal natures -- not to mention a shitload of viscera."
57. The Greasy Strangler (Midnight)
Starring: Michael St. Michaels, Sky Elobar, Elizabeth De Razzo, Gil Gex, Jesse Keen, and Joe David Walters
Directed by: Jim Hosking
Big names in indie horror — Tim League of Alamo Drafthouse, and the SpectreVision guys (Daniel Noah, Josh C. Waller, and Elijah Wood) — have come together to produce Jim Hosking's first feature. And it will surely be batshit (here is his filmmaker video, if you want to see Hosking's humor and get a sense of his style). In The Greasy Strangler, a father and son compete over a woman while also trying to avoid the crazy killer of the title, an "inhuman maniac who stalks the streets at night and strangles the innocent." And let's just agree that the art for this movie is already upsetting!
58. The Blackout Experiments (Midnight)
Starring: Josh Randall, Kristjan Thor, Russell Eaton, Bob Glouberman, Allison Fogerty, and Abel Horwitz
Directed by: Rich Fox
An extreme version of David Fincher's The Game, mixed with the idea of Escape Rooms as nightmares: The Blackout Experiments is a documentary about people who willingly subject themselves to these all-sensory blackout simulations, and find themselves fucked up as a result.
59. The Eyes of My Mother (Next)
Starring: Kika Magalhães, Will Brill, Paul Nazak, Flora Diaz, Clara Wong, and Diana Agostini
Directed by: Nicolas Pesce
A former surgeon teaches her daughter, Francisca, about human bodies and anatomy — but then something bad and violent happens and Francisca has only her father left alive. (We are frightened that this title is literal.) The Eyes of My Mother, filmed in black and white, is Nicolas Pesce's feature debut. (And this film was produced by Antonio Campos, the director of Christine, and the other Borderline Films folk.) —K.A.
Documentary portraits of celebrated artists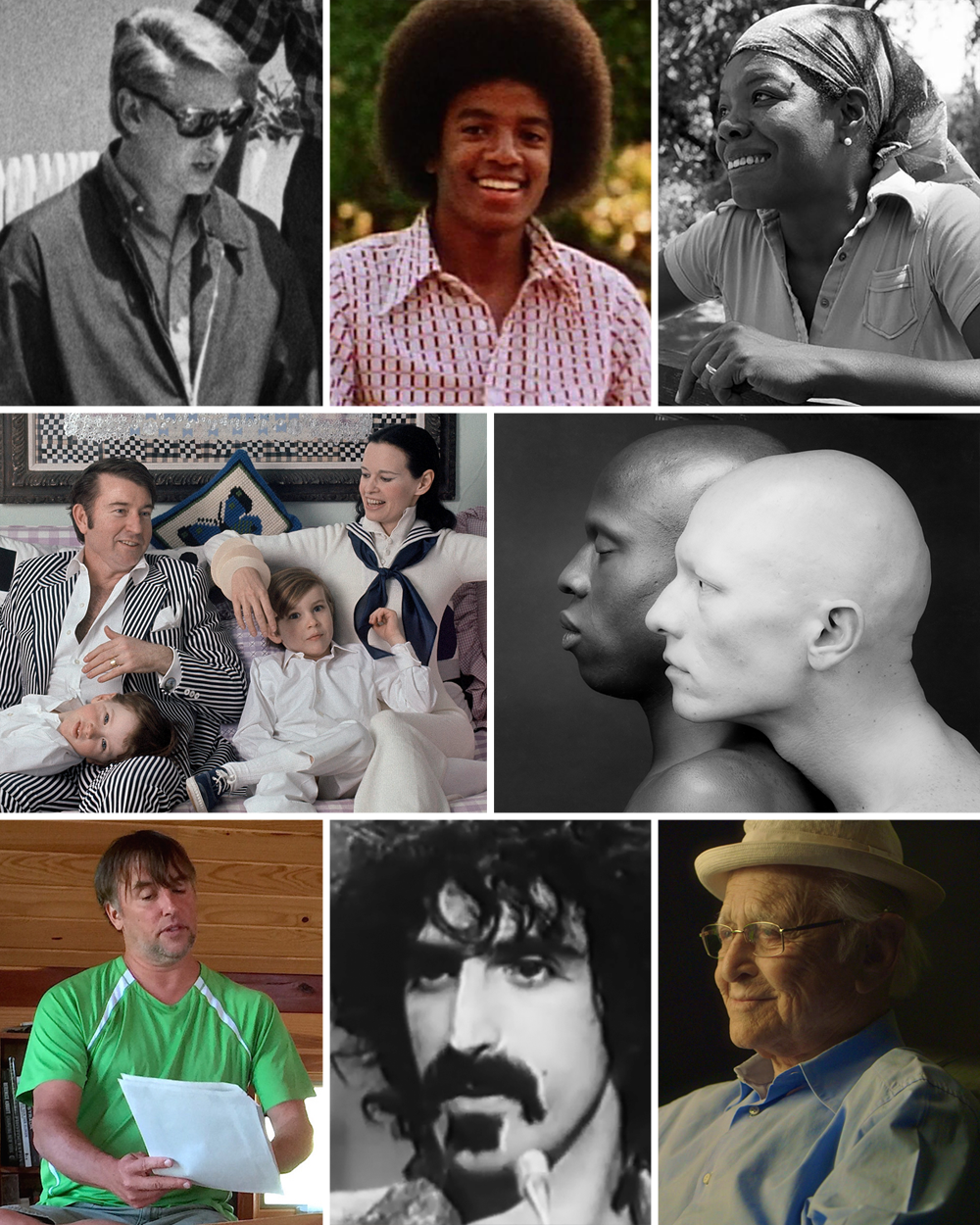 60. Becoming Mike Nichols (Documentary Premieres)
Directed by: Douglas McGrath
This year's crop of Sundance documentaries is overwhelmingly packed with biographical films, each promising to provide brand-new insight and never-before-seen footage of their acclaimed subjects. For serious consumers of pop culture — which is the perfect description of the typical Sundance festivalgoer — it is an embarrassment of riches, starting with this portrait of the late, great filmmaker Mike Nichols and how he started his extraordinary career in show business. It also plays on HBO starting Feb. 22.
61. Mapplethorpe: Look at the Pictures (Documentary Premieres)
Directed by: Fenton Bailey and Randy Barbato
Filmmakers Fenton Bailey and Randy Barbato have built a career exploring just about every corner of the American queer culture, from their 1998 documentary Party Monster about club kid and convicted murderer Michael Alig, to 2011's Becoming Chaz about Chaz Bono's gender transition, to their work executive producing RuPaul's Drag Race. To that portfolio they now add this film about the late photographer Robert Mapplethorpe, one of the most iconic gay artists of the 20th century. His work, especially depicting sexuality, became a lightning rod in the culture wars of the 1980s and '90s. It will debut on HBO in April.
62. Richard Linklater: Dream Is Destiny (Documentary Premieres)
Directed by: Louis Black and Karen Bernstein
Indie film godfather Richard Linklater (Dazed and Confused, Before Sunset, Boyhood) has the kind of calm speaking style and soft Texas accent that is pleasantly soothing to listen to, so asking him to talk through his one-of-a-kind career sounds like a terrifically enjoyable experience for any serious film buff. In a heartening cross-festival exchange that may only exist in my head, one of the co-directors, Louis Black, is a director at the Austin-based SXSW Film Festival, where Linklater's next feature, Everybody Wants Some, will premiere in March.
63. Michael Jackson's Journey From Motown to Off the Wall (Documentary Premieres)
Directed by: Spike Lee
Spike Lee's already made one feature doc about Michael Jackson — 2012's Bad 25, about his 1987 album. This time, the filmmaker goes back even further, focusing on the beginning of his career — pre-Thriller, pre–plastic surgery, and pre–sexual abuse allegations, thereby avoiding any of the messiest aspects of Jackson's life. It will premiere on Showtime on Feb. 5.
64. Eat That Question: Frank Zappa in His Own Words (Documentary Premieres)
Directed by: Thorsten Schütte
According to the Sundance website, this doc is an "energetic celebration" of the iconoclastic musician, drawing from archival interviews and performances Zappa gave over three decades.
65. Maya Angelou: And I Still Rise (Documentary Premieres)
Directed by: Bob Hercules and Rita Coburn Whack
Using "rare and intimate" archival interviews and images — sensing a theme! — this doc hopes to celebrate Maya Angelou's singular life story in part by using the words of the late, world-renowned poet.
66. Norman Lear: Just Another Version of You (Documentary Premieres)
Directed by: Heidi Ewing and Rachel Grady
The 93-year-old creator of All in the Family, Maude, and The Jeffersons looks back on his life and career.
67. Nothing Left Unsaid: Gloria Vanderbilt & Anderson Cooper (Documentary Premieres)
Directed by: Liz Garbus
Gloria Vanderbilt — heiress, artist, designer, and socialite — sits down for an interview with her son Anderson Cooper. It is filmed and augmented by documentarian Liz Garbus, who is Oscar-nominated for What Happened Miss Simone?, which premiered at Sundance last year. This doc will debut on HBO on April 9. —A.B.V.
WTF documentaries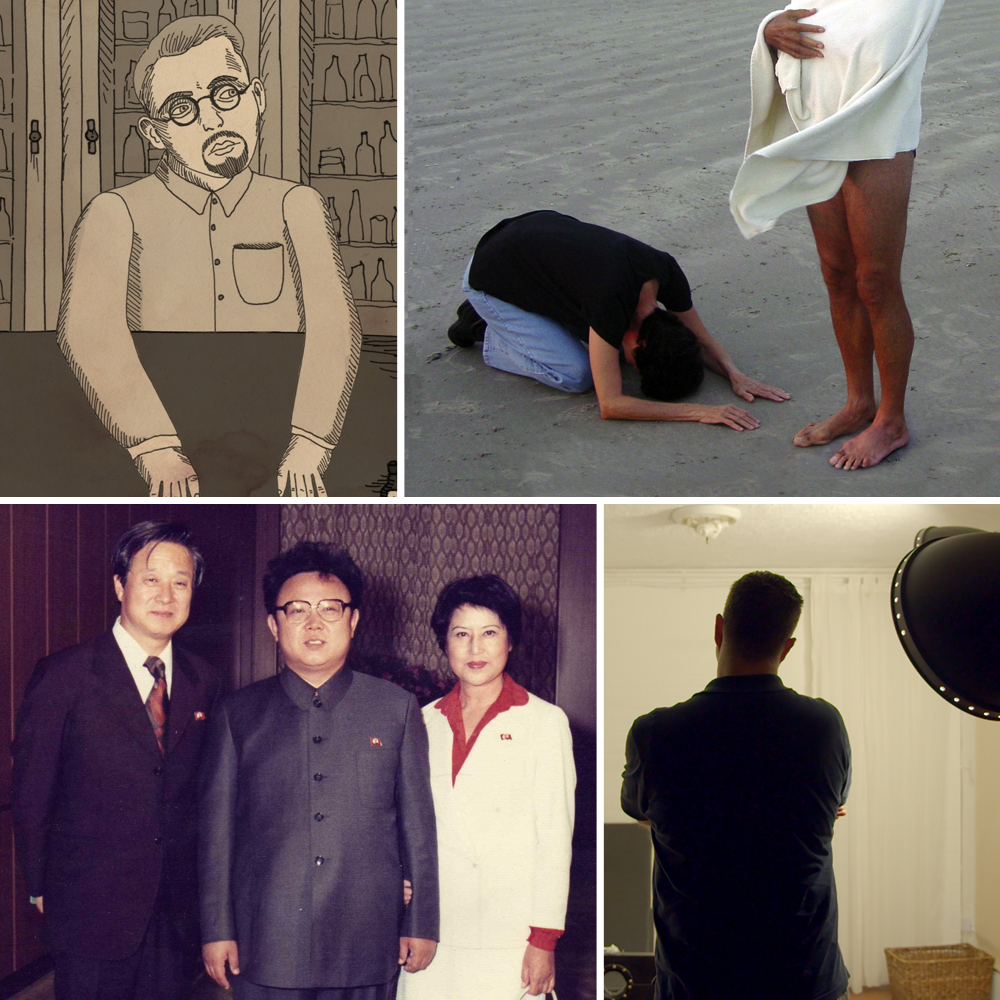 68. Holy Hell (U.S. Documentary Competition)
Directed by: Will Allen
After graduating from college, filmmaker Will Allen joined a cult in the heart of West Hollywood, and spent the next 20 years documenting his life there as a kind of annual offering to the cult's central leader. After escaping, he turned footage and interviews with ex-members into this documentary. For anyone who lives in Los Angeles, the idea that there was a cult of this magnitude that apparently existed for so long inside WeHo is kind of alarming!
69. The Lovers and the Despot (World Documentary Competition)
Directed by: Robert Cannan and Ross Adam
In the 1970s, future North Korean dictator Kim Jong-il kidnapped Shin Sang-ok and Choi Eun-hee -- the most famous director and actress in South Korean cinema of the era, respectively -- and forced them to make movies to satisfy his cinematic fantasies. Their insane story was also featured in 2015 on This American Life.
70. Nuts! (U.S. Documentary Competition)
Directed by: Penny Lane
John Romulus Brinkley is one of those only-in-America, turn-of-the-20th-century charlatans who claimed he had discovered the cure for impotence: surgically transplanting goat testicles into his male patients. Naturally, he became famous, and his story only got crazier from there. Filmmaker Penny Lane — apparently her real name! — worked with seven different animators to capture the madness of Brinkley's life, and we've heard the result is great fun.
71. Tickled (World Documentary Competition)
Directed by: David Farrier and Dylan Reeve
In 2014, New Zealand TV journalist David Farrier discovered an underground world of "competitive endurance tickling." If the concept of paying people to be tickled for a full hour doesn't sound fucked up enough, well, has Farrier — who helped fund his doc via Kickstarter — got a story for you. —A.B.V.
UPDATE
This story has been updated to note the HBO debuts for Suited, Jim, Mapplethorpe: Look at the Pictures, and Nothing Left Unsaid: Gloria Vanderbilt & Anderson Cooper, and the Showtime debut for Michael Jackson's Journey From Motown to Off the Wall.