Cheese-Stuffed Pizza Pretzels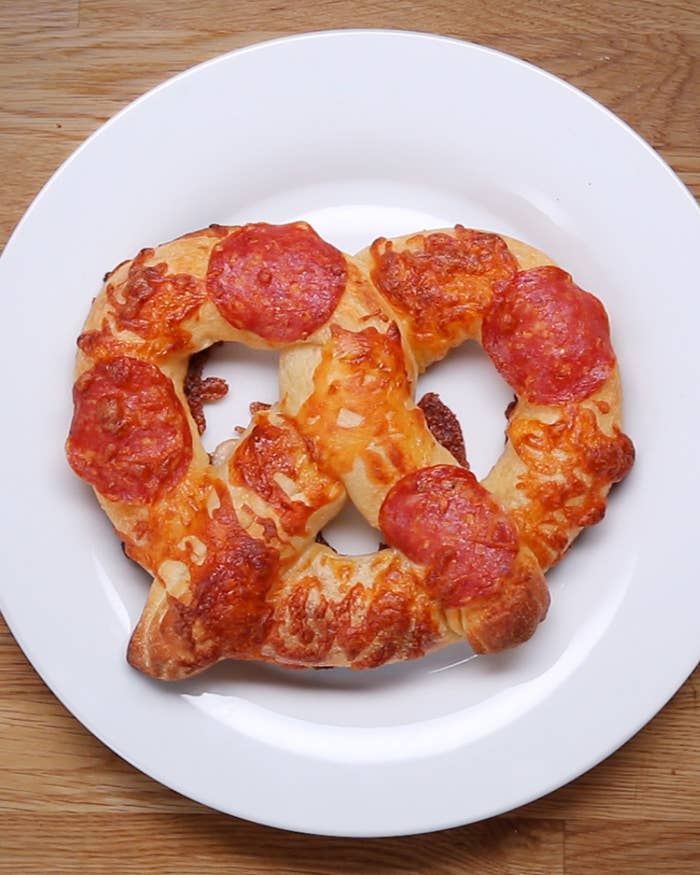 INGREDIENTS
1 (13.8-ounce) tube store-bought pizza dough
4 cups shredded mozzarella (from two 8-ounce bags)
nonstick vegetable oil spray
15 presliced pepperoni
Store-bought marinara or pizza sauce for dipping
PREPARATION
1. Preheat oven to 425°F/220°C.
2. Unroll the dough (it should form 15x9-inch rectangle), then cut the rectangle horizontally into three equal strips. (These will be your three pretzels.)
3. Carefully stretch each of the strips by width and length — stretch each to about 3 inch width and about 34 inch length.
4. Sprinkle 1 cup of cheese down the center of each dough strip. (Reserve the last 1 cup of cheese for later.)
5. Fold the dough over the cheese, pressing to seal and rolling slightly to create 3 dough logs filled with cheese.
6. Cover a baking sheet with foil and spray with vegetable oil.
7. To form the pretzels, take one dough log, move it to the foil covered baking sheet, then form a circle with the ends of the log at the top of the circle. Twist the log ends around each other once and bring them down to meet the bottom of the circle. That's your pretzel shape!
8. Repeat with the other two dough logs on the baking sheet. (Watch the video if you need help with this step.)
9. Wrap pepperonis on the pretzels — 5-ish per pretzel — then sprinkle the remaining cup of cheese among the three pretzels.
10. Bake 14-18 minutes until deep golden brown.
11. Serve immediately with pizza sauce for dipping.