Pumpkin-Shaped Pumpkin Pastries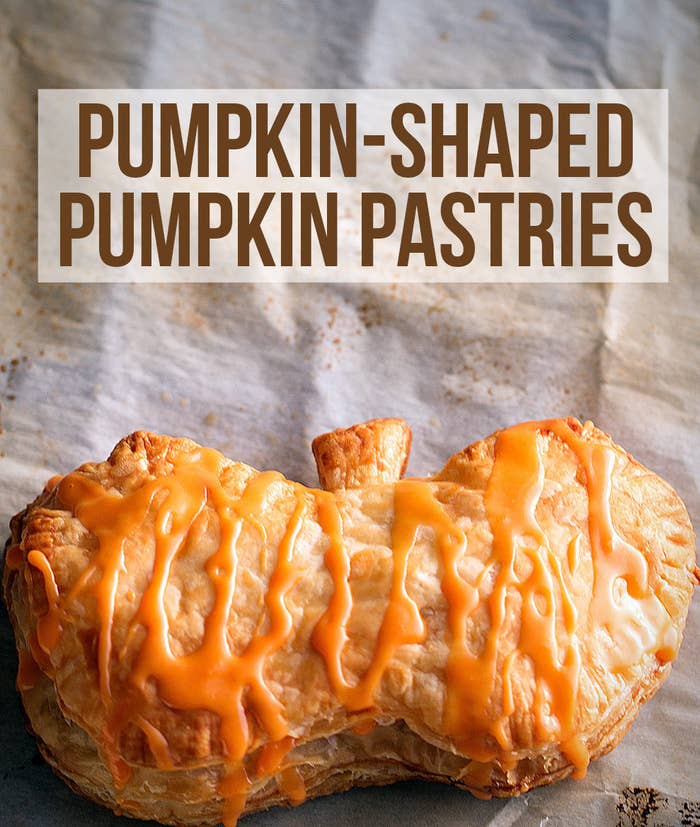 RECIPE:
Filling:
- 1 cup pumpkin puree
- 1/2 cup powdered sugar
- 1 Tbsp. brown sugar
- 1 tsp pumpkin spice
Mix ingredients to make filling.
Tarts:
- 1 box puff pastry
- 1 egg
- some milk
Cut puff pastry along fold lines, making 3 long rectangles per sheet of pastry. Fold each one in half and cut out a pumpkin shape. Separate layers and coat the outside edges of the bottom piece of pastry with egg wash (egg and milk whisked). Place desired amount of filling in the center and spread, leaving room on the edges. Then place the second piece of puff pastry on top, Push the edges of the two pastry pieces together with your fingers and then press with fork to seal.
Bake on wax paper at 205°C / 400°F for about 20 minutes or until golden brown and puffy.
Drizzle:
- 1/2 cup powdered sugar
- 1-2 Tbsp. orange juice
- food coloring (optional)
Mix all ingredients together. Add orange juice or sugar to achieve desired consistency. Apply to slightly cooled pastries.