One-Pan Chicken Fajita Bombs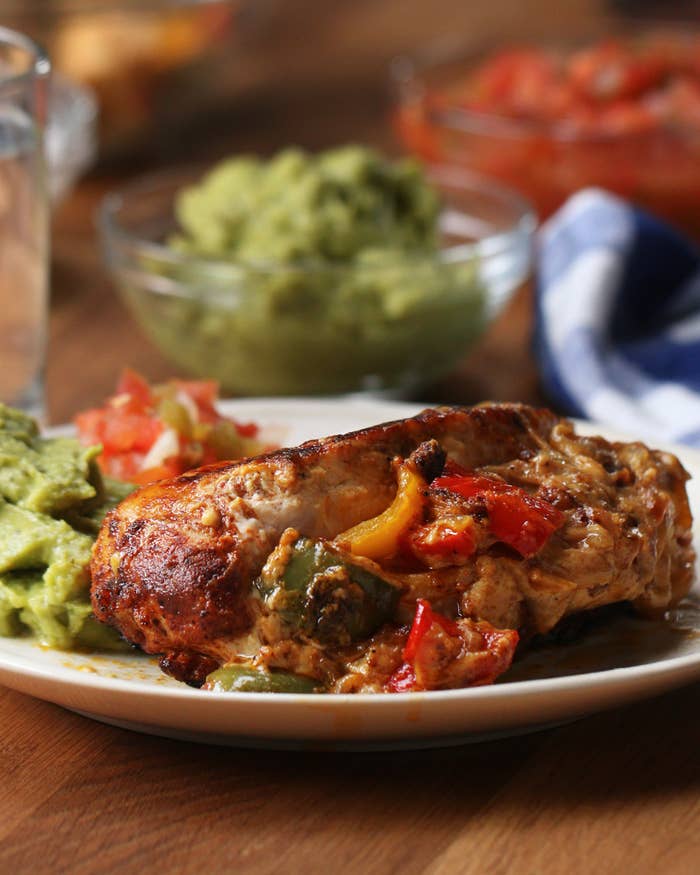 INGREDIENTS
Servings: 3-4
2-4 tablespoons olive oil
1 onion, diced
1 red pepper, diced
1 yellow pepper, diced
1 green pepper, diced
Salt, to taste
Pepper, to taste
½ cup cheddar cheese, shredded
4 ounces pepper jack cheese, cubed
4 ounces cream cheese
3-4 boneless skinless chicken breasts
1 tablespoon chili powder
1 tablespoon cumin
2 teaspoons garlic powder
To Serve:
Salsa
Sour cream
Guacamole
PREPARATION
1. Heat 2 tablespoons of olive oil in a pan over high heat. Cook the peppers, onion, salt, and pepper until soft and slightly caramelized. Remove from heat.
2. Add the cheddar cheese, pepper jack, and cream cheese to the pan, stirring until evenly incorporated.
3. Season chicken with the salt, chili powder, cumin, and garlic powder, evenly rubbing the spices over the chicken.
4. Slice a pocket in the chicken horizontally and fill the pocket with a heaping spoonful of the fajita mixture. Repeat for all chicken breasts and remove any excess fajita mixture from the pan.
5. Heat pan over medium heat. If needed, add 2 tablespoons olive oil.
6. Cook the stuffed chicken until chicken is cooked through and cheese is melted, about 7 minutes on each side.
7. Serve with salsa, sour cream, and guacamole!