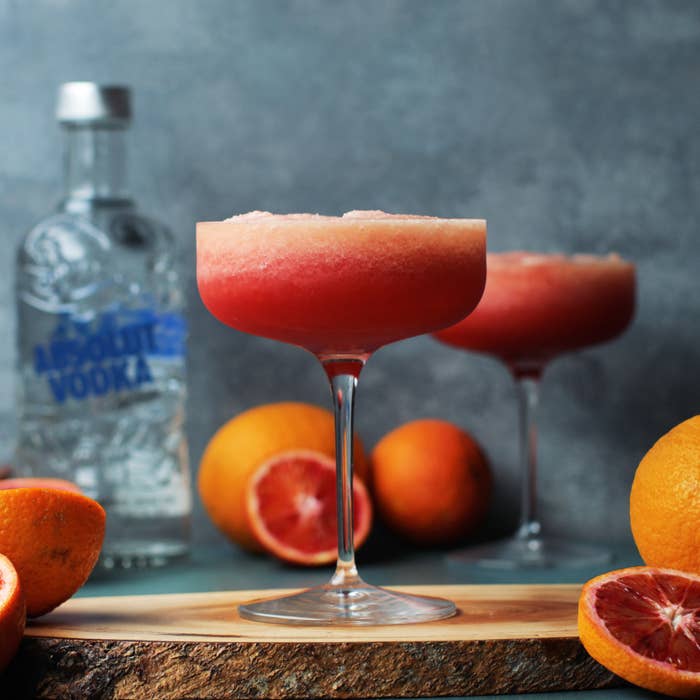 Ingredients
Blood Orange & Vanilla Syrup
350g blood oranges, peeled and roughly chopped
250ml water
250g caster sugar
1 vanilla pod, deseeded
80ml Absolut vodka
90ml grenadine
40ml orange liqueur
50g blood orange pieces
3 cups of ice
100ml prosecco
Preparations
1. Start by preparing the blood orange & vanilla syrup. Simply place the caster sugar, blood orange pieces, water and vanilla pod seeds into a saucepan, stir to combine. Place over a medium heat and bring to a boil. Once it comes to a boil, reduce the heat and simmer for 15 minutes.
2. Next, drain the syrup through a sieve and set aside to cool. The recipe makes more syrup than you need, but it's a tasty treat to have hanging around the kitchen for future cocktails! Store in an airtight container or bottle and keep for up to a month.
3. To create your cocktail simply add Absolut vodka, 150ml simple syrup, grenadine, orange liqueur, blood orange pieces and ice into a food blender and blitz until smooth.
4. Serve into martini glasses. On serving, pour 50ml of prosecco over the top of each cocktail and enjoy!