37 Things That Would Happen If "Spice World" Were Set In 2016
Sporty Spice would have a Fitbit and Posh would definitely be a vegan.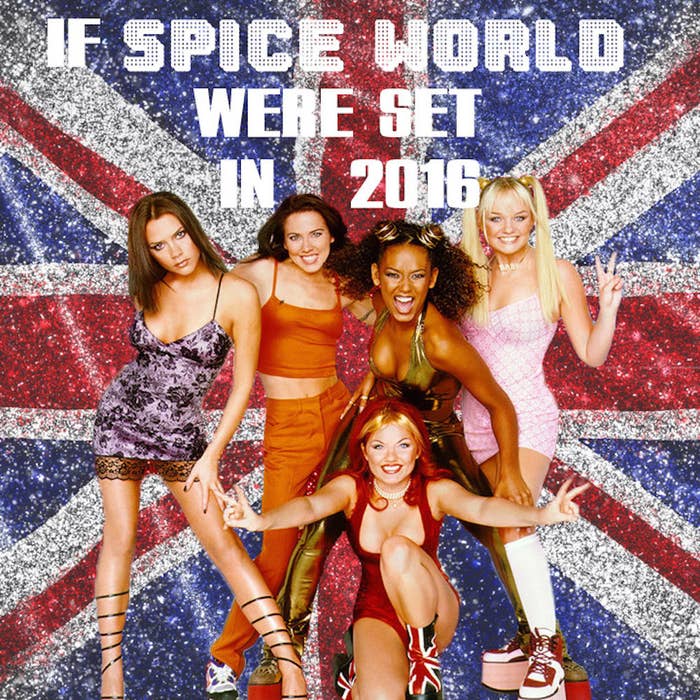 1. They would be called Spice Gals.
2. They would all have assorted "The Future is Female" T-shirts.
3. Sporty Spice would have a Fitbit.
4. They would all have a relatively successful workout DVD.
5. Posh Spice would be vegan.
6. Selfie lighting on the SpiceBus would be 100%.
7. Mel C would be obsessed with Adidas instead of Nike.
8. Idris Elba would be the record label chief instead of Roger Moore.
9. Rylan would be their manager.
10. Piers Morgan would be the newspaper mogul.
11. Kim Kardashian would cameo.
12. Justin Bieber would cameo.
13. More than two of them would be involved in a sex tape rumour.
14. Baby Spice would Snapchat the whole of Nicola's labour.
15. She would also have constantly tweeted their exact location throughout.
16. Posh would definitely have a fashion and beauty YouTube channel.
17. Scary Spice would be wearing nude tones and khaki instead of leopard print.
18. Baby Spice would have an Ariana Grande ponytail.
19. Sporty Spice would be wearing Calvin Klein crop tops and skinny hemmed trackies instead of full tracksuits.
20. Ginger Spice would be wearing American flag clothing because they are way more fashionable than Union Jacks.
21. Posh would still be rocking little black dresses but they would all be choker necks.
22. There would be a lengthy discussion about "Free the nipple" at a party.
23. Alongside a heated debate about Brexit.
24. Both involving Cara Delevingne.
25. Scary Spice's Snapchat stories would be award winning.
26. They'd be doing a Spotify or Apple Music session rather than Top of the Pops.
27. There would be nonstop arguing about who has the most followers on Twitter.
28. And Victoria would be constantly moaning about terrible Tinder dates.

29. They would have a photoshoot for their fragrance launch.
30. With fuckboys with man buns instead of tanned half naked guys.
31. When they fall in the water Posh would be pissed her phone got wet before she got to upload a selfie to Instagram.
32. Which would have totally gotten more likes than a Kim K selfie.
33. They would attend "Barry's Bootcamp" instead of actual bootcamp.
34. And livestream the whole thing on Facebook.
35. They would be earth mothers instead of godmothers to Nicola's baby.
36. Their final performance would be at a Victoria's Secret show instead of the Albert Hall.
37. And "Wannabe" would absolutely still be a banger.