While Franz Ferdinand, the Crown Prince of Austria, was on an official visit to Sarajevo, he surely didn't know that his life would be ended by a beggar. That poor, homeless guy who was asking for food killed Franz Ferdinand which eventually triggered World War I.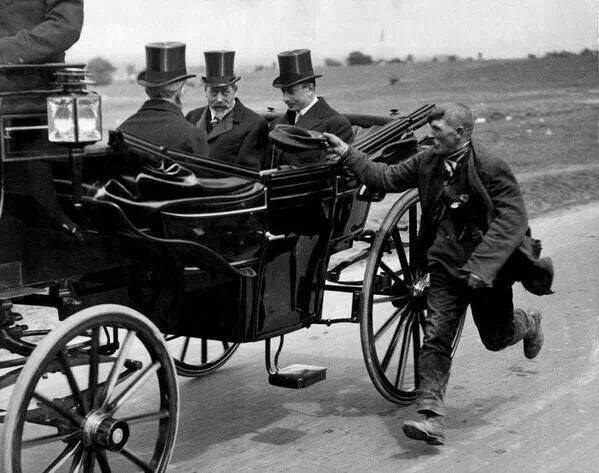 Did you sincerely doubt what you have read above for a minute? What if it was a post on Facebook? Will people believe it? Will they share it with their friends?
Although the introduction you have read is kind of historical information not ongoing news, it is considered to be a misleading content as it is partly true. Such contents which have half-truths are dangerous and difficult to be dedected.
It is true that World War I had been ignited by the assassination of Franz Ferdinand, but the photo has nothing to do with neither Austria nor World War I. Actually, it was taken almost a year after WW1 was ended. The man you see in the photo is a real beggar asking for money from the procession of George V, the king of the United Kingdom.
The lesson: Beware of news and stories that are published here or there, never believe them till you are sure about their reliability. Don't let the consistency of their contents manipulate you. Honestly, I posted the introductory paragraph on my Facebook page in an attempt to change my friends' minds on contents published on social media platforms, especially on Facebook.
Unfortunately, Misleading people became easier today. On the age of social media, you could mislead others not only by publishing posts but also by writing comments. Nothing controls misleading people on social media unless you raise people's awareness.
This post was created by a member of BuzzFeed Community, where anyone can post awesome lists and creations.
Learn more
or
post your buzz!