This post features a mix of items that we purchased with our own money and those that were provided to us at no cost for the sake of review. (But! We're under no obligation to write a review of those things, let alone a positive review.)
1.
Youthforia BYO Blush Oil liquid blush, which is a BuzzFeed (and TikTok) fave because it's designed to react to the pH levels of your skin, giving you the perfect rosy touch that's specific to you. How cool is that?
Youthforia is an Asian woman-owned small business established in 2020 that specializes in environmentally friendly, cruelty-free makeup made with at least 90% renewable ingredients.

Check out a TikTok of the BYO Blush in action.
"Okay, soooo I finally got my hands on this and can not stop wearing it!! The shade it turns on my skin is just GORG. It's like watching a magic trick happen on your face because it changes right on your skin! I seriously haven't worn another blush since I tried this one out because it just makes me look so fresh faced. Obsessed is an understatement. Oh! Andddd it kinda doubles as a highlight, like, I get the most stunning glow. I love, I love, I love, can't get enough of this stuff." —Jordan Grigsby
Get it from Amazon or Youthforia for $36.
2.
A Purple Harmony pillow specifically designed with a honeycomb layer that not only helps to cradle and support your head and neck but also allows air through so you don't overheat and wake up sweating in the middle of the night. A good night's sleep will have a whole new meaning to you once you try this pillow.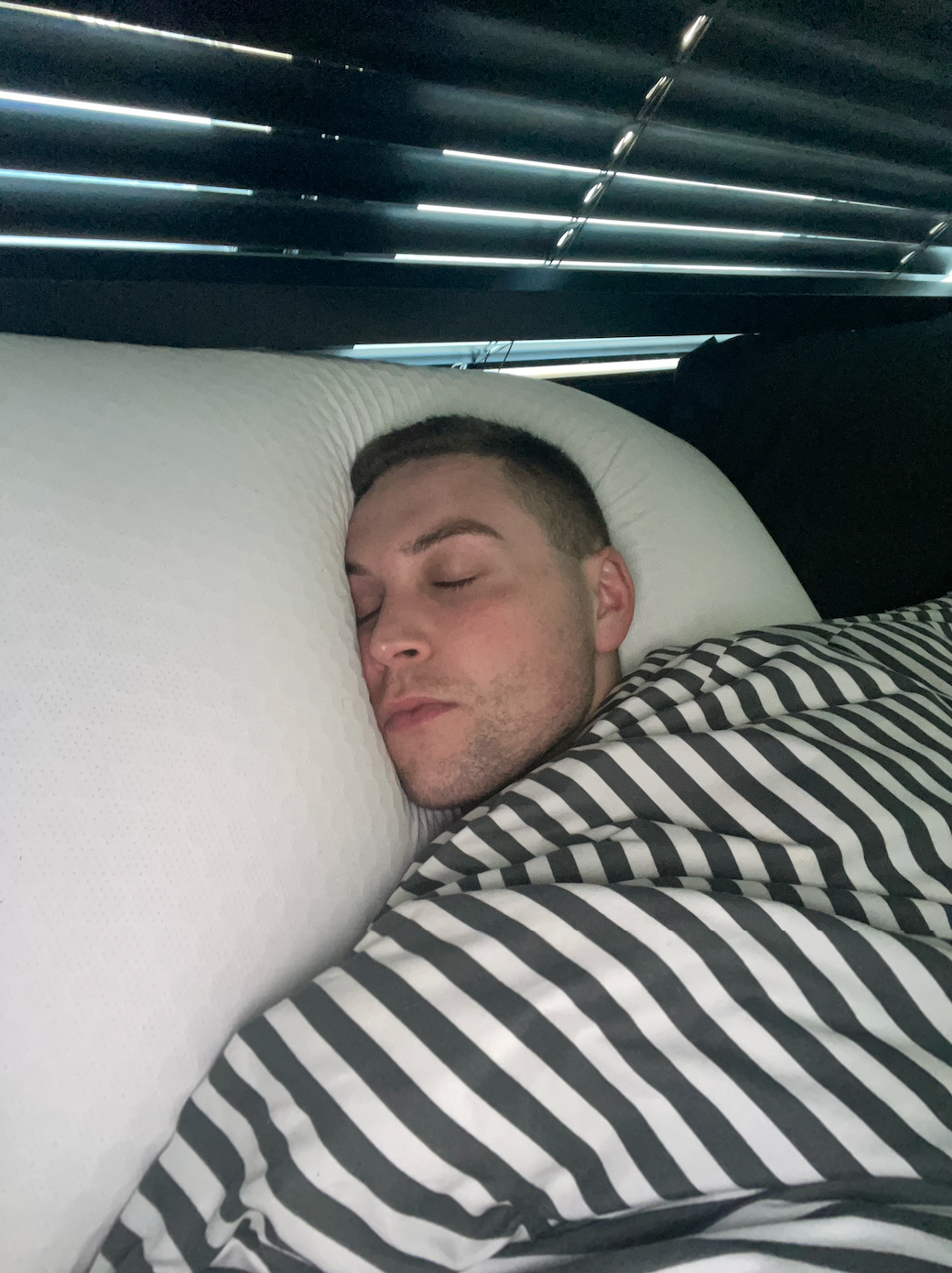 "I have tried so many types of pillows. And for the most part, I do enjoy a lot of them. But the Purple Harmony pillow is by far the most unique — and my No. 1 favorite. This pillow features a 'layer of honeycomb-patterned Grid surrounding a supportive inner core of hypoallergenic ventilated latex.' Essentially, it keeps you cool and comfortable at all times. It's not too hard, and it's not too soft. It's also not a standard memory foam feeling. It's the only pillow I've used that really molds to the individual user. And it's also one of the only pillows that truly keeps your head cool the whole night.  
An underrated feature of this pillow is that if you get a king size Harmony, then it's perfect for either a regular pillow situation or as I like to call it, a 'hug pillow' — something for side sleepers to hold while they use another pillow for their neck. It's cooling, comfortable, and all-around a must-buy for picky sleepers." —Ryan Schocket 
Get it from Purple for $179+ (available in two sizes and three pillow heights).
3.
A Dominique cosmetics eye shadow palette filled with five matte and five shimmer colors so you can mix-and-match to your heart's desire and create an ~eye~-catching makeup look. This is great even if you're a beginner who doesn't know where to start when it comes to eye shadow!

"I have never been someone who considers myself good at makeup. I have always had a steep learning curve when it comes to this part of beauty, and honestly, never found myself looking forward to the makeup part of my morning routine. That is, until I discovered this eyeshadow palette. I am definitely someone who reaches for a simple routine that both makes me feel pretty and takes 10 minutes tops. 
I got this palette about a month ago and started playing around with it almost immediately, and within a week, it became a staple for me. In fact, I started to look forward to getting ready in the morning just so I could put some of this eyeshadow on. I have no idea if I'm doing the correct technique, or using the right eyelid brush, but with this palette, it doesn't seem to matter. It goes on so smoothly and looks chic and simple every time in a way that really does make me feel pretty. It's such a small thing, but this eyeshadow palette has given me some joy, and for that, I am grateful! I will be using this until it runs out, and then I will most definitely be purchasing round two. The actual pigment of the shadow selection on this palette is beautiful and soft without feeling heavy or sticky or like I'm doing too much. I really could not recommend this enough for both people who are noobs at makeup like me, and for experts around the globe!" —Lara Parker

Get it from Dominique for $49. 
4.
An Ergobaby travel stroller you may think you'll just use on vacations, but once you see how small it folds up and how many other cool features it has (including an expandable basket, weather shield, and even a cup holder!!!!), you'll soon find yourself using it long after you return home. OH — and as a bonus, it folds up small enough to fit in the overhead bin on the plane.

"Ergobaby sent me their Metro+ Deluxe Stroller, and it's quite literally the perfect companion for travel, and even everyday use. We've been back from our vacation for over a month now, and we keep the Ergobaby stroller in our trunk and use it whenever we're on the go. It's the epitome of what you want in a compact stroller and is super easy to fold down and back up. It's suitable for newborns to kids up to 4 years old or 48.5 pounds, whichever comes first. My toddler is 18 months old, 22 pounds, and a little under 3 feet tall. She was snug as a bug in the stroller, but not cramped at all. She was supported and would often fall asleep while on long walks. 

I could go on and on about the roominess of the expandable storage basket, the high quality fabrics, all the accessories included (like a cupholder!), but the real reason this stroller is a star is just how compact it is. When it's folded down, it's so small. It can fit in the overhead bins of an airplane, or snuggly in the backseat of a car if you don't have any trunk space. There's also a handle for easy moving when it's folded all the way down. All in all, it's one of the best things we've added to our household since having a kid, and I'm so grateful that my toddler (and my newborn, who has an ETA of early August!) will get to use it for years to come." —Sally Elshorafa
Get it from Amazon for $299+ (available in four colors). 
5.
Alleyoop tinted sunscreen about to be your new fave products for summer because it not only has SPF 50, but it has has a tint, meaning you only need one product to add color *and* protection to your face. No need to apply layer after layer when it will feel like it's melting off as soon as you step outside. This is a one and done product.

Alleyoop is a woman-owned small business that creates easy-to-use products to simplify your beauty routine.
Ever since COVID, my beauty routine has been really simple. I work from home, so I rarely wear makeup anymore. But when I do, I want something that just sort of complements my natural look. I got this skin tint recently, and it has quickly become my favorite product. I love that it's super lightweight. So lightweight that it doesn't feel like I'm wearing anything at all. But the tint is good enough that it provides the right amount of coverage. AND as a bonus, it has SPF 50 and niacinamide in it. My summer makeup routine is to put this on over my other fave product Hero rescue balm (which helps with my natural redness) and some mascara. And that's it! It lasts all day long and really just gives my skin a lovely glow. I am obsessed.
Get it from Amazon for $32 (available in 11 shades) or from Alleyoop for $30 (available in 12 shades).

6.
A Ninja Creami that may have you rolling your eyes because it's yet another kitchen appliance that will sit out on your precious counter space, but if you have a sweet tooth or just enjoy ice cream and sorbet, you may just want to hear me out. This transforms ingredients into ice cream, gelato, smoothie bowls, and more with little-to-no work on your part. All you do is freeze the ingredients in the container the night before and then watch as the machine turns it into a tasty creamy treat in a matter of minutes.

"As a wannabe fitness girly, I have started paying a bit more attention to the foods I eat, specifically in terms of how much protein I eat. I find it to be somewhat difficult to consume my full day's worth of protein, and I am not a huge fan of protein bars or protein shakes. I decided to give this thing a try after seeing it literally all over TikTok and how people were making lower calorie protein ice cream in it. The TikTok influencers are *not* lying, you should absolutely get this thing. It comes with little pints, you mix up all your ingredients, pop it in the freezer for 24 hours and then put it in the machine. It legit makes a delicious treat with such a  ~creamy~ texture. I have found my best recipe so far is a vanilla protein shake, a little bit of sugar free pudding mix (the fats in it help the texture…at least that's what the Internet told me, so obvi I believe it), and a dash of vanilla extract. Once that's all mixed, I'll throw in some Oreos or M&Ms to have myself a high protein version of a McFlurry. You can also make delicious smoothie bowls, sorbets, milkshakes, and more. I definitely imagine I'll be using it even more often in the summer when it's hot and I want something cold and refreshing." —Jessica Hall

Get it from Amazon for $199.99.

7.
Urban Decay All Nighter Setting Spray you can spritz all over your face in the morning to keep your makeup in place, no matter what you do the rest of the day (even cry your way through a Taylor Swift concert, as one BuzzFeeder did). It's said to help fading and smudging for up to 16 hours. It's essentially witchcraft, if you ask me.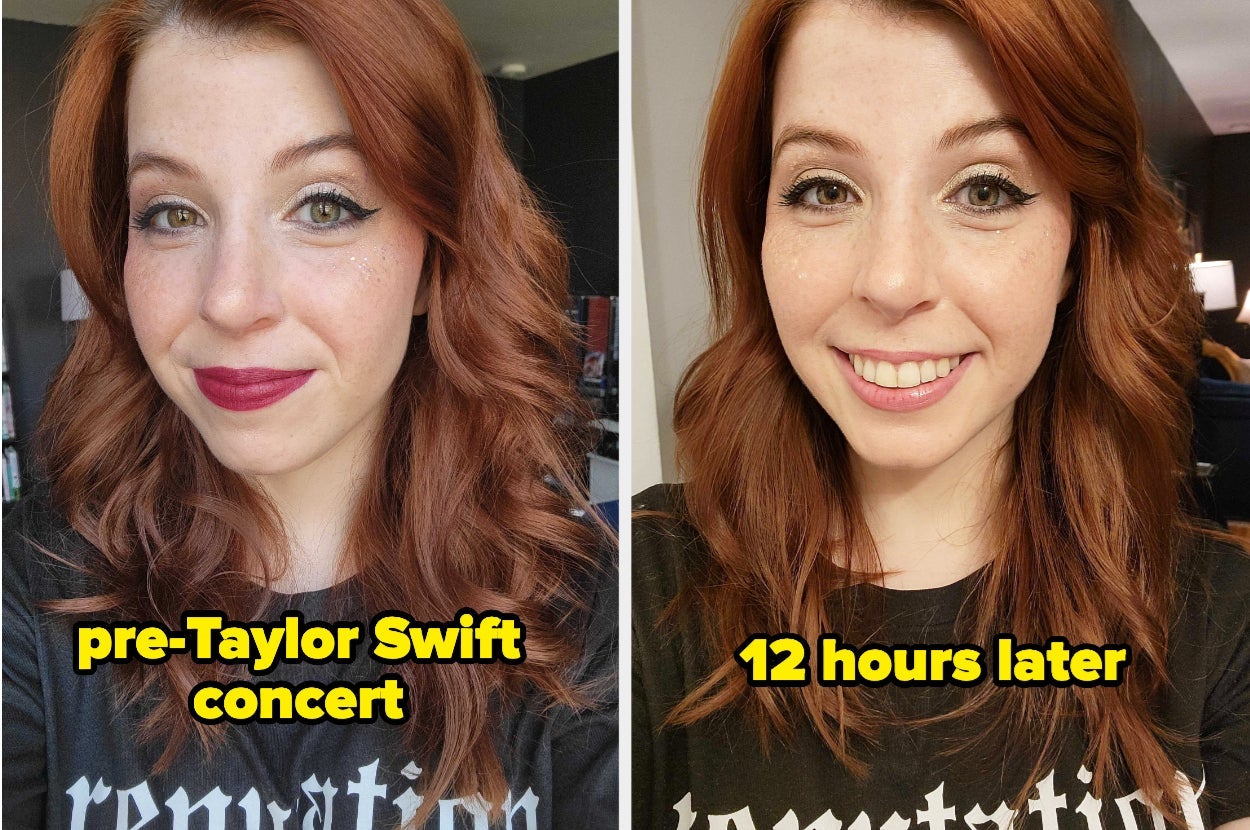 "I first put this setting spray to the test for a wedding that involved taking multiple trains in and out of Manhattan on a hot day and being in crowded rooms where airflow was ~limited~. As such, I was sweating up a storm, but my makeup looked *flawless* by the time I got home that night — all thanks to this Urban Decay setting spray that I knew after one use I'd be repurchasing. I'm new to setting sprays, so it felt weird at first to spray something *on top* of my carefully crafted makeup look, but it dried in no time without messing anything up. It also didn't feel heavy or sticky on my face — it didn't feel like anything at all, actually — and my makeup looked better than it ever has after hours of wear. (For reference, I have dry, sensitive skin, and it caused me no issues.) 
Soon after that event, I put it to an even bigger task: surviving sweat, tears, and 12 hours of wear for the Taylor Swift Eras Tour. My makeup look (pictured above) was done by 2 p.m., and thanks to my now highly trusted Urban Decay spray, it stayed completely intact (minus the lipstick I purposefully wiped off while scarfing down post-concert pizza) until the time I got home just after 2 a.m. Here's what it endured during that timespan: multi-leg public transportation to and from the venue, waiting in lines under the blaring sun to get in, multiple meals and drinks, jumping, screaming, and literally full-on crying multiple times during the show. My liquid eyeliner, eyeshadow, non-waterproof mascara, foundation, blush, and even glitter (for the most part) were unfazed, and I owe it all to this setting spray." —Jenae Sitzes
Get it from Amazon for $13.60+ (available in two sizes).

8.
A lightweight training jacket perfect for those in between days when it's not too hot and not too cold. It has a water repellent coating, which means you'll stay dry even if you get caught in the rain. And the style looks so nice that you may start out wearing this for your workouts and eventually find yourself grabbing it for everyday wear.

"I recently got this jacket from LSKD (also available in women's) that I'm obsessed with. My original goal was to find something super lightweight and breathable that'd be perfect for runs or outside workouts, and this one realllly delivered. There are enough pockets for anything you could ever need, but the best part is that it's water repellent, so even if it's raining, you're gonna stay dry.
To be honest, this jacket is so freaking comfy and stylish that it's become my go-to whenever I leave the house. It's somehow that perfect blend between activewear and regular casual wear that'll have you looking put together, even if you don't 100% feel it. I genuinely can't recommend it enough." —Spencer Althouse
Get it from LSKD for $69+ (originally $130+; available in men's sizes XS–3XL, women's sizes 2XS–3XL and in four colors).
9.
A SolaWave red light therapy wand worth the investment because it basically allows you to give yourself a pro-level facial at home. It's a multifaceted beauty tool that has red light therapy to help fade discoloration, micro-currents to help stimulate the facial muscles, and warmth to help decrease redness and absorb more of your skincare products.

Solawave is a LGBTQ-owned small business based in Los Angeles. The wand is rechargeable and lasts for up to 12 treatments per charge. Read more at LED light therapy and skincare at Cleveland Clinic.
"This. gadget. is. worth it! 👏🏾 Using the Solawave was my first time introducing red light therapy into my skincare routine, and the difference in my hyperpigmentation is honestly mind blowing. The tone of my face is much more even and the dark circles around my eyes have nearly disappeared. Essentially, it's like a mix of a jade roller (which I already love using anyway) and an LED mask in one...with microcurrent/vibration therapy, too. You can apply the specific Solawave activating serum or any conductive gel of your choice (I use a different one, myself!), and it will really absorb the benefits when used with the wand. I only use it once every other day (at night), and it's super relaxing. My skin is always ✨glowing✨ the next day!" —Amanda Davis
Get it from Amazon for $65+ (available in four colors) or from Solawave for $149 (available in two colors). 

10.
A collapsible camping bowl with a lid and fork to take with you on all your grand adventures. It folds up really small so it can be shoved in a backpack, and it expands to fit a good amount of food. Plus, when you get home, you can continue to use it as a food storage container.
"This thing is so legit! I got it for a 12-mile backpacking trip on Catalina Island where you have to hike in all your camping gear. Every ounce matters when you're jamming your backpack to the brim with a tent, sleeping pad, Jetboil, clothes, water, shoes, and food. I love this because it's made of silicone, so you can pour boiling soup into it. It takes up barely any space in your pack, and the snap-on lid can store leftovers (if there are any) *and* keep it from getting gross when it's buried in some abyssal pocket with your dirty socks. I don't have a dog (yet), but I'd imagine it works great for them, too!" —Morena Duwe
Get it from Amazon for $12.99.
11.
Tarte liquid blush with a sponge tip for an easy-to-apply cheek tint that will give you both color *and* glow. Just add a couple dabs to your face, and use the sponge to blend — then watch as all the compliments start rolling in.

"I've always used a liquid blush from another brand (I'm a big fan of it because it feels easier to control to me than a powdered option), but this one from Tarte has quickly become my top favorite option. I love that it's in a squeezable tube with a soft sponge tip — I don't have to get my fingers messy, and I don't accidentally squirt out WAY too much product (thus wasting it!). I give the tube the tiniest of squeezes, dab it across my cheek bones, then blend it in with a soft makeup brush. I've gotten tons of compliments since I've started using it, and it doesn't budge! I'm a hugeeeeee fan of this product." —Heather Braga
Get it from Ulta (available in three shades), Tarte (available in four shades), or Sephora (available in four shades) for $35+.
12.
A travel backpack that opens fully (like a suitcase), making it incredibly easy to access everything inside. No longer will you spend any time digging through your backpack because you know you packed your favorite bike shorts but just can't seem to find them in the black hole. Plus, it has a water-resistant compartment in case of any spills, meets the requirements to be a carry-on bag, and has a plethora of pockets. 

"I have been searching for the perfect travel backpack for a long time. I had found some I liked, but the zipper broke and it wouldn't fit my water bottle, so I needed to find a replacement. This bag has it all — it fits a 40oz water bottle, it has straps to tighten the sides and make it not as bulky, it opens all the way for easy access so you don't have to shove your hand all the way down to the bottom, it has a ton of small pockets for everything you could ever want, and has a padded laptop sleeve. I was able to cram SO MUCH stuff into this thing, and it saved me the hassle of TSA pulling everything out when they pulled it aside for deeper inspection." —Jessica Hall
Get it from Amazon for $49.35+ (available in five colors and with or without packing cubes).
13.
Le Prunier broad spectrum sunscreen with SPF 31 and is made of nano-zinc, minimizing the amount of white cast it leaves behind. It combines sun protection and skincare into one product you'll enjoy wearing every day (because you should wear sunscreen every day, no matter the weather outside).

"I have very sensitive skin and have always worn drugstore sunscreen on my face every day, pretty much since I was in middle school. As an adult, now I've tried some higher-end sunscreens, and this is easily a favorite. Some daily sunscreens smell fairly pungent and can feel a little heavy on your face, but I'm pleased with the fact that it is lightweight on my skin! It barely feels like I'm wearing sunscreen at all, which is ideal when you're someone like me who wears it every single day. I loooove this stuff!" —Anna Kopsky
Get it from Le Pruiner, Saks Fifth Avenue, or Neiman Marcus for $28+ (available in two sizes).