1.
A sand-free beach blanket designed so that sand (or dirt) rolls right off it, so you can fully lay out and relax knowing you won't make a mess all the way home. Reviewers love this blanket because it's big enough for up to four adults to use, and it packs up small, making it super easy to transport.
Promising review: "I walk to the beach and the park with my baby all the time and was sick of my butt getting wet when we sat on the grass and the baby getting all sandy when sitting on towels. I decided to search Amazon for some kind of beach blanket. This blanket wasn't really what I was looking for, but it did not disappoint! First of all it's HUGE. I still haven't used it open all the way yet. It's compact and easy to carry, I love that there are pockets to weigh it down with sand, that sand rolls right off and that I can just stuff it right back in the little bag without having to fold it strategically when I'm done. I can take the baby to the beach and lay her on her tummy without worrying about sand getting on her hands and face. Great product!!" —Adriana
Get it from Amazon for $23.99+ (available in two colors).
2.
Or a durable Rumpl outdoor blanket that's super portable, waterproof, and dirt-resistant. You can keep it in your car for all those impromptu trips you decide to take because the weather is just TOO nice to be stuck in your home for one minute longer.
Rumpl is an Oregon-based small business that you may recognize from Shark Tank for their outdoor blankets.
Promising review: "This is my second Rumpl blanket. I like to keep one in my home to snuggle with my cat (he loves these blankets) and one in my trunk with my camp chair for impromptu beach days." —Carmel C.
Get it from on Amazon for $125 (available in two sizes and 35 colors and patterns) or from Rumpl for $125 (available in 30+ colors).
Check out our full Rumpl puffer blanket review for more details!
3.
A set of cup holders you can place in the sand or uneven dirt/grass to give you a sturdier place to set your drink — it won't tip over the second you set it down anymore. Genius!
Promising review: "These were so convenient for our recent beach trip. They hold your drink upright and sit well in the sand. It's nice to be able to keep your cup or bottle free from sand. They are easy to clean and throw right in your beach bag. Definitely recommend!" —Andrea
Get a set of four from Amazon for $13.99+ (available in seven color sets).
4.
A sand removal bag about to change your life because it will make removing sand after being at the beach a ~breeze~. The bag is filled with a talc-free, reef-friendly powder that will ensure you leave the sand exactly where you found it.

See it in action on TikTok here. 
Shakalo is a  San Diego-based small business started to figure out a way to help people, especially parents remove sand before leaving the beach. Thee soft fabric pouch allows the powder to remove the sand without scattering everywhere.
Promising review: "We recently moved to a beach area, and we are constantly there. This item has changed our entire lives! It lasts decently long (depending on how much you use it), it smells super good (not at all like baby powder), and it's super effective. It has saved me from vacuuming my car at least 1x–2x a week. I even use it on my dogs paws and bellies to make sure they're taken care of. I will definitely be buying the refill and another baggie to have exclusively in the car." —Gabbs Uresti
Get it from Amazon for $24.99. 
5.
The Ring Thing — a waterproof clip-on holder you can place your rings in at any time. This means you can keep your rings secure in your bag while you frolic in the water or join in a volleyball game.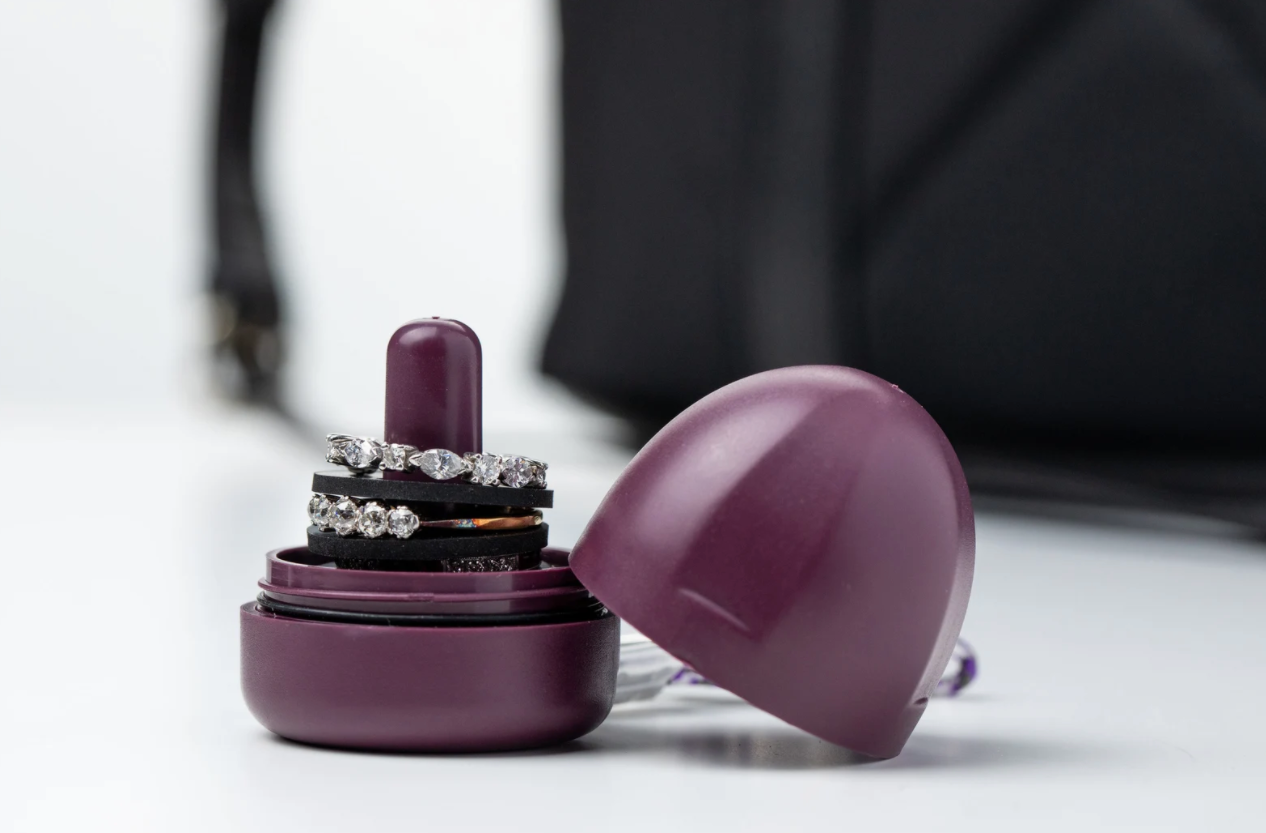 Ring Thing Designs / Etsy
Ring Thing Design is a woman-owned small biz dedicated to creating stylish and functional products. A portion of each sale for this product is donated to nonprofits working to stop human trafficking. 
Promising review: "I was unsure about this purchase. I didn't think I would use it to its full potential, but, man oh man, was I wrong. I use it everyday. It's where I store my engagement ring. While at work, I put it in the Ring Thing, and after, I am free to pop it back on. It has given me the power to shut my fiancé up when I 'forget' my ring. I NEVER FORGET NOW! It's always with me. This is money well spent. Don't sleep on getting yours." —Liliana
Get it from Ring Thing Designs on Etsy for $19.95. 
6.
An ultra-fine SPF mist about to change the way you apply sunscreen forever. You can spritz this on super easily no matter where you are, even during a picnic. It goes over makeup no problem, so you'll actually remember to reapply every two hours while outside.

The spray is made by a NYC-based small business! You'll smell notes of rose geranium and lavender and rosemary with every spritz. It's also vegan, cruelty-free!

Promising review: "I love this mist! It is very lightweight and does not feel sticky on your skin. So easy to carry so you can use it anytime and everywhere you go. I love that it has a very light scent that makes it very pleasant." —Cherubdanielle
Get it from Sephora for $27.
7.
A low-profile chair that will keep you close enough to the ground to feel the sand in your toes but also comfortable for more than five minutes. It also has genius design features that really knock it ~out of the water~ including a cup holder and a sleeve on the back to keep your towel from getting dirty.
Promising review: "These are our new favorite folding chairs. We've used them at the beach, at the park, and in the backyard. My young children even used it to watch a movie in the living room (it allowed them to stretch their legs comfortably and recline). They are relatively light and easy to unfold. Folding it back is difficult the first time but once you got technique, its easy. The back pocket is where we usually store the bag and is still big enough to fit towels, phones, or tablets. The feet sink a little bit in the sand, but so does any chair. It is just more noticeable because the seat is close to the ground like a beach chair should be. I also love that it has cup holders that can rotate in and be hidden if you don't need it. All in all, its an excellent and well-made beach chair." —K Fernandez
Get it from Amazon for $36.88.
8.
Or a pair of lounger chairs if you're looking for a way to lay out more but still want to support your back. These chairs fold up flat, making them super easy to tote with you as you find the *perrrfect* spot.
Promising review: "These were perfect. They were exactly what I was looking for now that summer is here. They're compact, easy to carry, lightweight — perfect for movies under the stars, music in the park, and beach days." —Sherry Ramsundar
Get the set of two from Amazon for $79.99.
9.
And a set of towel clips so your towel won't blow away .2 seconds after you get up to take a quick dip in the water to cool off. You can clip it on the top and/or sides for that extra sense of security that can help you fully relax when you're in ~beach mode~.
Promising review: "Meet your new beach/lounge chair's best friend. I love that you can use these clips to hold your towels on the railing to dry in the breeze or at the beach and pool to keep your towels in place on the lounge chairs. No more fly-away towels!" —BeckiCaesar
Get a pack of eight from Amazon for $6.29.
10.
A Helinox ultra-light chair that's super easy to assemble and packs up small, so you can easily stash it in a tote bag. Reviewers confirm that this is a great chair for camping, but find they like it so much, they take it with them on park trips, too.
Promising review: "I love this chair!!! I originally purchased this for camping yet I find myself taking it with me often just in daily life. It is super high quality and I know that it can take more than casual use. I take it to Central Park often and it's very comfortable. Can't say enough good things." —Jeffrey
Get it from Amazon for $129.95 (available in three colors).
11.
A Rifle Paper Co. mesh tote to hold all your essentials except the sand and dirt that come with your adventures. That will fall right out while you stay stylish and prepared for your fun day.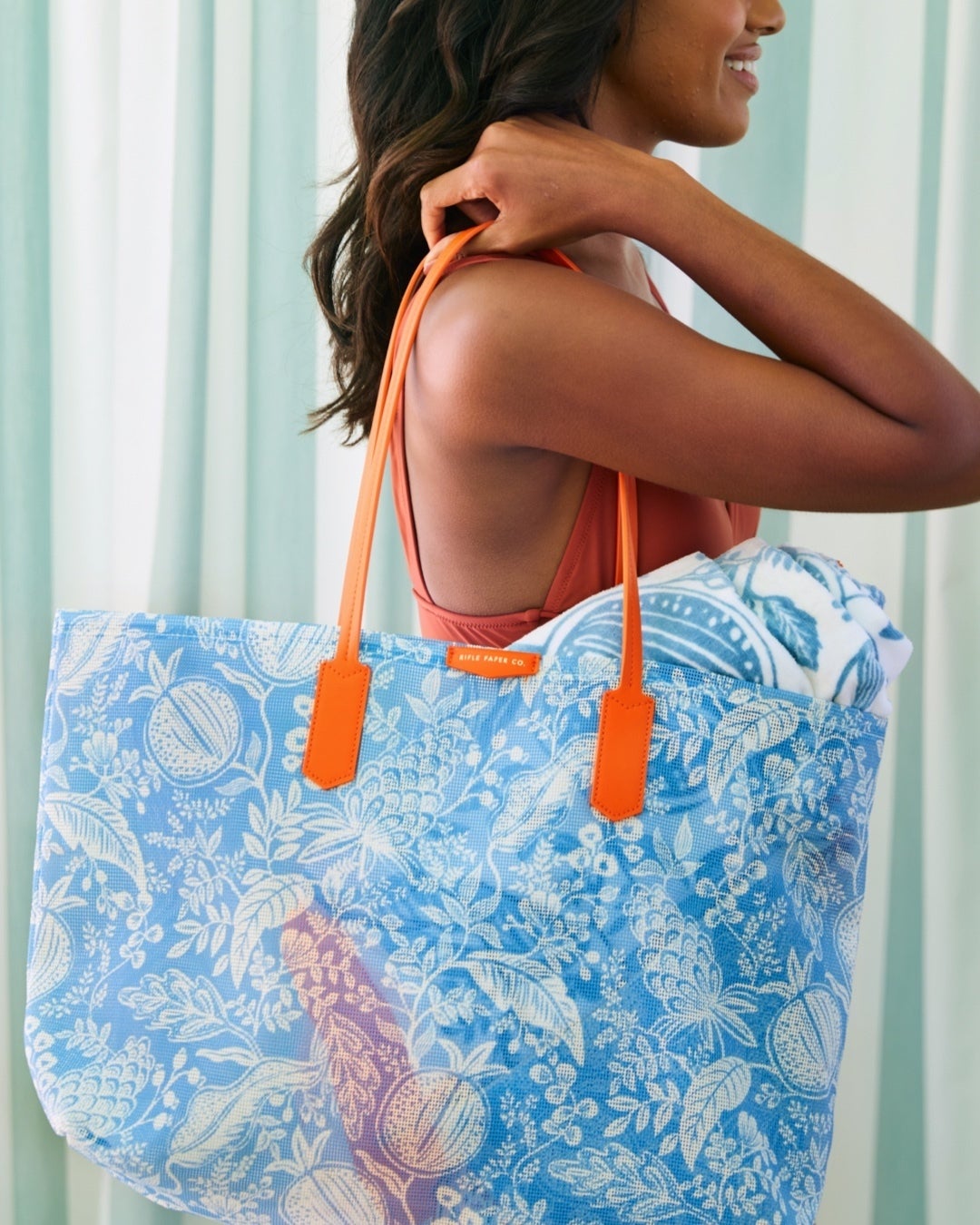 Get it from Rifle Paper co. for $78 (available in four styles). 

12.
A swiveling UPF 50 plus protection umbrella that has an adjustable clamp you can attach to a chair (or wagon) for a quick way to get some shade when there's not a cloud in the sky. Reviewers also say this is great to clip on a stroller to keep their baby in the shade at all times. 

13.
BruMate insulated can cooler, featuring a double-walled stainless-steel layer that can keep your drink up to 20 times colder than a Koozie. That means you'll be able to enjoy the whole can, even if the sun is beating down on you.
Promising review: "Like to keep your beer cold? Get this. Slow drinker but don't want to let your friends on to how slow you're drinking? Get this. Want your White Claw/Truly to stay as cold as it was when you took it out of your fridge? Get this. I kid you not, this thing keeps drinks cold like that's its job (because it is). Once I got mine and saw how effective it was, I decided all of my cold beverage loving friends and family will be getting one also. With most of my friends being Michelob Ultra and White Claw drinkers, this seems to be the perfect fit. So hard to find a can Koozie that holds those slim cans! Love this product and definitely recommend!" —Brooke Price

Get it from Amazon for $14.70 (available in 29 colors).
14.
An inflatable lounge chair for when you want to go hang out in the park or beach but realize the ground is not a great place to lounge. The chair weighs less than three pounds, is easy to fill, and super comfortable (according to reviewers).
Promising review: "What a brilliant idea! This chair is super compact and lightweight, and EXTREMELY easy to inflate. You don't need any pumps, and you don't need to blow it up with your breath, yet it inflates in a few seconds. All you have to do is spin your body 360 degrees once while holding the chair out. It really is that easy and it really works! What's more, the chair holds the air in — no leaking — for days, and it is incredibly comfy!!!! I have a very bad back and almost no chairs are comfortable for me to sit on, but this chair is amazingly comfortable. It creates no pressure points you because it is filled with air. You can sit upright on it or lounge on it, depending on how much air you put in and where you place your tush. I thought there had to be a catch, and that it would be difficult to fold up again and get back into the carrying case, but it wasn't. My only advice is to cut off the attached metal bottle opener, as that could hit someone and hurt them when you spin around to fill up the chair." —Elizabeth Schiff
Get it from Amazon for $38.99 (available in two colors).
15.
A bug bite suction tool because bug bites ~suck~ no matter where and when you get them. This genius tool will help relieve any itchiness in as little as 30 seconds.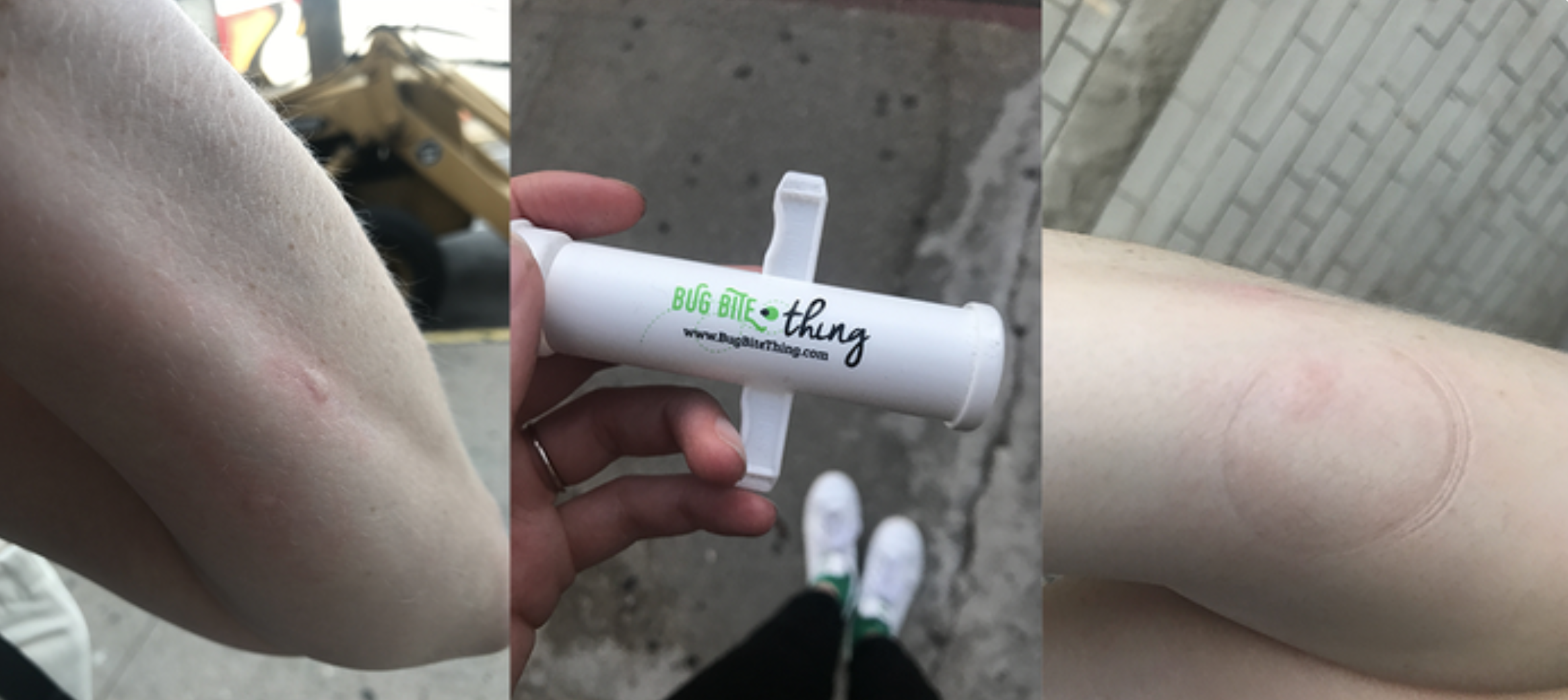 Rebecca O'Connell / BuzzFeed
Promising review: "I am an adult who hates mosquito bites, so much so that I often will avoid going outside. I am a mosquito magnet when others I am with won't get any bites. I will itch for days to the point my bites bleed. With this, I suction the bites a few times and no more itch. If on the rare occasion it flares up a few days later, I suction again and no more itch! I love this thing. If I could give it 10 stars I would!" —Jessica
Get it from Amazon for $9.99 (available in four colors).