We hope you love the products we recommend! All of them were independently selected by our editors. Some may have been sent as samples, but all opinions and reviews are our own. Just so you know, BuzzFeed may collect a share of sales or other compensation from the links on this page if you decide to shop from them. Oh, and FYI — prices are accurate and items in stock as of time of publication.
I'm a huge fan of sparkling water. I've been drinking it for years. At one point, my roommate and I were each buying a six-pack every week so we'd never run out in our apartment.
But then, I was introduced to SodaStream, and my life was changed forever. And now yours can be too because this kit is 44% OFF FOR PRIME DAY!!!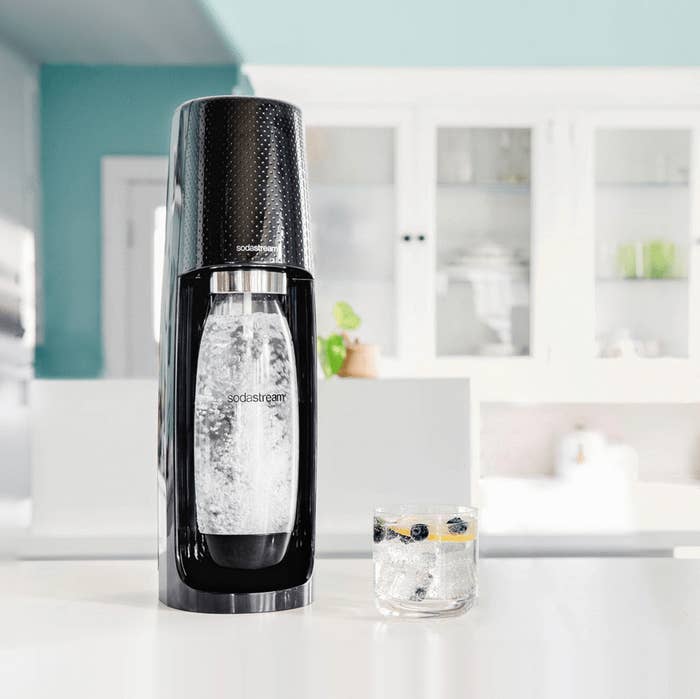 This is not only a great thing to treat yourself to, but it also makes a great gift for anyone you know who's a sparkling water fan. You get everything listed above that's usually $89.95 for ONLY $49.99.
Plus, you can get the Fizzi Sparkling Water Bundle for 38% off, and the One Touch Bundle for 34% off!!! 😱😱😱
And since I'm a self-proclaimed SodaStream expert (I use mine every day), here's a deeper dive into why it's so great:
Instead of having to buy cans or bottles of seltzer all the time, I can make it in seconds in my apartment and never run out.
I also love how much better for the environment it is — I've reduced my plastic and aluminum consumption by a lot.
I loved my SodaStream so much, that I told my mom (another sparkling water fan) about it and got her one for Christmas.
She also uses hers every day, and it has made her life a bit easier because she doesn't have to get cases of water from the grocery store, which saves her money and strength because she doesn't have to carry it home.
Each C02 canister makes around 60 bottles. We both replace ours about every six weeks. And according to the SodaStream website, 1 CO2 bottle equals 2,070 disposable bottles.
There is a bit of a learning curve to it though, and many reviewers talk about how it can make a mess. And that has happened to me a couple of times, but once you get the hang of it, it's really easy.
But I'm going to walk you through it in case you need some help:
After you fill the bottle up with water to the line on the outside, you put it on the machine. Then you press slowly down for two seconds over and over again, until you hear a releasing sound.
Plus, when you're done, you can add a few drops of the fruit flavoring to it to make it taste like sparkling water you picked up at the store.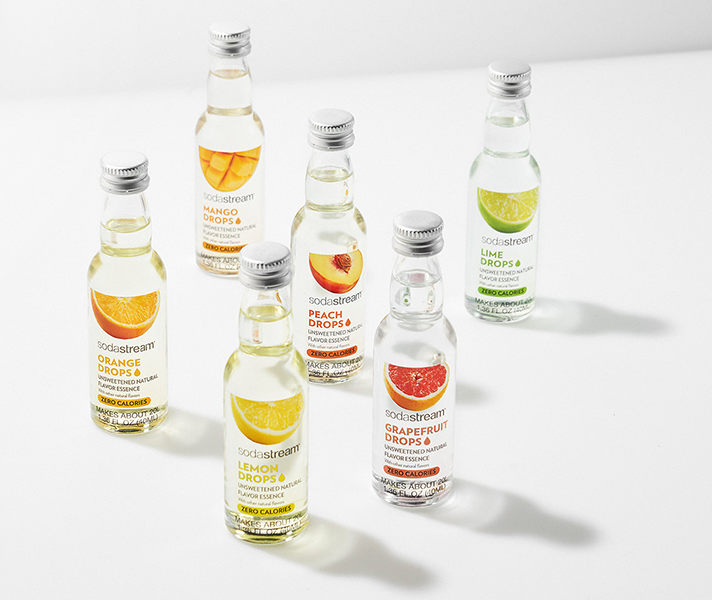 Not only do I feel great about the less waste I'm creating, but I do feel like I'm actually saving money. And other reviewers agree:
"I am already in love with this thing, and I just got it. I drink so much seltzer, I would get grumpy if I run out. I decided to buy this so I wouldn't have to wait for slow grocery orders to bring me more seltzer. It works great! It's really pretty easy to use. I'm glad that I'll be generating less waste, and this is far more convenient than making somebody carry cases of seltzer water to me. Drink essences and syrups are much lighter and use much less packaging, so you can get all kinds of flavors going. I'm looking forward to making syrups with locally grown fruits and making cocktails with fizzy seltzer from the soda stream right in my kitchen. With the amount of seltzer I go through in a month, I believe this is going to save me a decent amount of money even with the cost of Co2 refills. I should have bought one of these years ago. I'm glad I have one now! Cheers!" —sentientmop
"I'm not big on kitchen gadgets, but this is without a doubt one of the best kitchen gadgets I've ever purchased.
#1: It saves money. We go through a lot of carbonated water in our house. Buying liters every month adds up. With the SodaStream, we can enjoy as much of it as we want, whenever we want without paying inflated prices for branded water.
#2: It's good for the planet. Less bottled carbonated water means less plastic filling up landfills or polluting the ocean. Not just the bottles, but the plastic needed to package them in packs, and the plastic needed to wrap the packs on pallets, and the... you get the idea. I don't know about you, but I'd rather worry about how CO2 canisters are being recycled and refilled than worry about how much plastic is being absorbed into the fish we eat from the waste that comes from packaging.
#3: It's convenient. Fill a storage bottle with plain tap water, lock it into the SodaStream dispenser, and push a button. The whole this is so well designed, it's almost TOO easy (but if drinking more effervescent and refreshing water is the only drawback, then I'm all for it). The reusable storage bottles that come with the SodaStream make it even easier to enjoy a bubbly water break whenever you want. Fill them all up at the same time, and you can have delicious "fizzy water" (as my daughters call it) for a whole week before you have to even think about refilling them.
Writing this is making me thirsty. Excuse me while I go pour myself a tall glass of "fizzy water"..." —McNeal Maddoxc
When the CO2 bottle runs out, you can exchange it and get a new one for half-price.
You can do this on their website or by visiting stores that sell the products, including Target and Bed Bath & Beyond.
If you're exchanging it in the store though, I would suggest calling ahead to make sure they have them in stock. If they do, you can just bring it to the customer service desk, and they'll exchange it no problem.
Me drinking sparkling water like it's my job: