1.
A milk frother here to help you ~whip~ up creamy frothy coffee (or tea) in seconds. With this, you can make your own festive drinks at home without having to venture to a nearby coffee shop. Human interaction? No thanks!
Promising review: "So I'll admit I got this on a whim after a TikTok video, however, I'm in love with this thing! It's so much fun to use and you make your at-home drinks feel so much more special. It's easy to use and froths pretty quickly if you're on the fence I'd say what are you waiting for buy it already!" —Denise
Get it from Amazon for $19.99+ (available in 43 colors).
2.
An electric mug warmer that regulates the temperature of your coffee or tea so you can nurse your drink for hours without sipping an ice-cold beverage. If you're someone who gets easily distracted with work tasks or just prefers to have a hot cup next to them all day, this little gadget will make that experience even better for ya.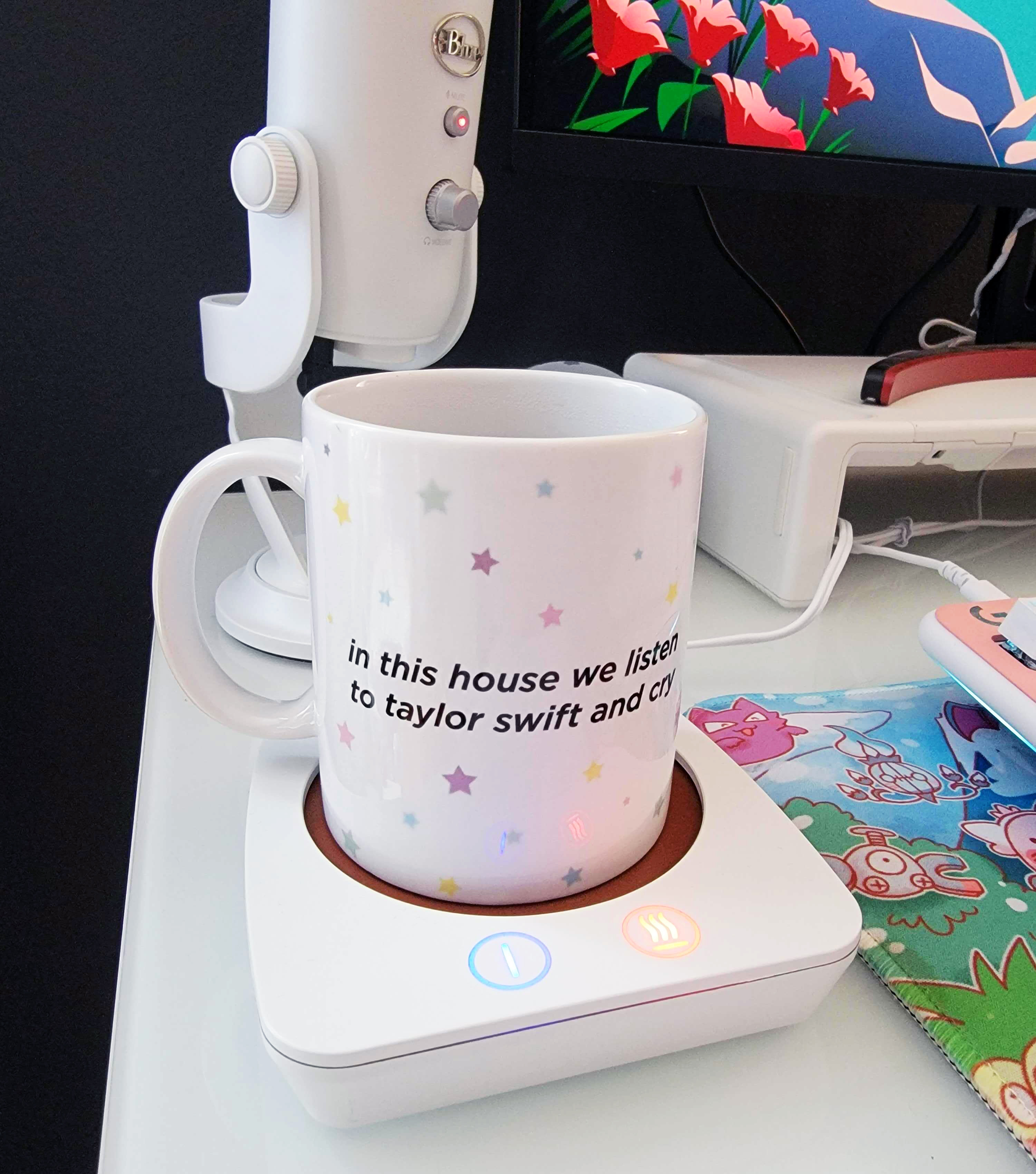 BuzzFeed Shopping editor Jenae Sitzes says, "After seeing this coffee warmer all over BuzzFeed Shopping and even gifting my dad one for Christmas, I finally decided to buy one for myself. Based on all the reviews, I was pretty confident I'd soon be kicking myself for not getting it sooner, and that proved to be true: This thing not only looks good, but works great for keeping my coffee warm all day long (because yes, I'm one of those people that'll sip on coffee until 5 p.m., all right!!). I was kind of worried it'd be too small for some of my larger mugs, but the center plate is bigger than expected and accommodated every mug in my (very eclectic) collection perfectly. 
I can confirm that flat-bottomed mugs are the best option for using with this warmer as they do stay hotter, but it still keeps my concave-bottom mugs warm enough for my taste. Also, I looove how sleek the white version looks on my white desk, and the auto-shutoff function is a nice safety feature as an absent-minded person."

Get it from Amazon for $27.99+ (available in eight colors). 
And if you're as obsessed with Jenae's mug as I am, you can get it from Dipped In Rose on Etsy for $15.99. 
3.
A bottle of NYX setting spray you can spritz on after doing your makeup in the morning and not have to worry about applying again. You'll look and feel great all day long.
4.
A bodysuit capable of being one of the best base layers you have in your closet. Reviewers (and TikTokers) call this a must-have because it's extremely soft and feels (and looks) expensive.

Promising review: "I saw everyone talking about this bodysuit on TikTok. So glad I purchased. Such AMAZING quality. True to fit, can size up if need be. I am getting one in every color!" —Alicia Gavin
Get it from Amazon for $26.99 (available in women's sizes XS–XXL and in 24 colors). 
5.
An Angry Orange stain remover that works to break down both stains *and* odor — even if they've been baked into your carpet for a long time. The enzyme-active cleaner can tackle those accidents on most surfaces, including carpet, tile, concrete, fabric, and more.

Promising review: "This stuff is amazing! I will never look for another pet stain remover again; this is it. My ride or die. I've tried a ton of different products to remove stains and odor but none of them worked as well as this stuff. The stain in that photo (above) was here since we moved into our new house so she was pretty baked in. I was sure it wasn't going anywhere. But this stuff took it right out! My dog has also added a few new stains of his own to the carpet and this has gotten every single one out. 10/10 recommend" —Tara
Get it from Amazon for $19.97. 
6.
A foot file if it's been a little bit too long since you got your last pedicure. This will scrape off all the dead skin and calluses to make your feet soft and smooth again.

Promising review: "AMAZING!!! Seriously beyond impressed with this product. I've never had dry or cracked heels until recently and I've tried everything I could find to get rid of them! This is all you need!!! I literally opened the box and did this in less than a minute! I'll never use anything else! Even better than professional pedicures!!!" —Kyla Jackson
Get it from Amazon for $9.95.
7.
A hose attachment you actually use with your vacuum to suck out all the dust, lint, and other debris that's hiding in your dryer. This 2.5-foot kit will get in there deep and remove so much stuff you'll be shocked how your dryer has even worked up till this point.
Promising review: "Honestly, we are speechless! We are excellent about cleaning the lint trap after every load of clothes. We even clean the lint vent outside. But nothing could have prepared us for the amount of lint and gunk trapped in the vent tubing! How we have never had a fire, we have no idea. We vacuumed forever all the way up the vent tube, which we could have in no way done without this item. The suction power was unbelievable! We could not believe how bad the tubing was clogged. Just look at the picture. We removed about 3/4 of a kitchen garbage bag size of lint and gunk! It was amazing and embarrassing! It's SO inexpensive, but it could literally save you from a house fire! Anyway, just buy it. Excellent value! You won't be sorry!" —Brian Mattix/Elizabeth Bodnam
Get it from Amazon for $9.95+ (available in four colors).
8.
A set of resistance bands made with fabric, so they won't roll or snap while you're using them because you deserve to get through your whole workout without having to stop and unroll your band every couple of minutes.
Promising review: "I'm so happy with this purchase! I have found other workout bands to be annoying and slip or roll, but these bands stay put always! The fabric is wonderful and the three different strengths are perfect. I have been using them daily and highly recommend them to anyone looking to enhance their workouts!" —sharon kelley
Get a set of three from Amazon for $15.98+ (available in three color combinations).
9.
A fizzing toilet tablet you simply drop in your toilet, and the fizzing will work to loosen all the stains and buildup. Then all you have to do is lightly brush the bowl, flush all the grossness away, and get back to doing more fun and exciting things in your life.
Pardo Naturals is a Black woman-owned small biz founded by Rita Pardo who created natural body, hair, and home products that wouldn't irritate her daughter's severe eczema.
BuzzFeed Shopping editor Melanie Aman says: "For all the folks who don't enjoy cleaning the toilet — myself included — these dissolving tablets make quick work of a grimy bowl. The tablets are a little hard to dislodge from the plastic container (though that does make me feel confident that they're secure during transit and won't break; mine all arrived intact!), but once you get one out, you drop it in the toilet, and let it do its thing. It'll start fizzing — just like a bath bomb — loosening any stains and streaks in 10 minutes so they come away with a light brushing. I never let the toilet get too bad (and usually it takes awhile for me to notice any buildup since there are only two people in the apartment), so I can't vouch for them if you have really set-in hard water stains or haven't cleaned the commode in six months. But if you're looking to ditch the harsh cleansers in your toilet cleaning routine, this is a great addition to your lineup."
Get six tablets from Pardo Naturals for $10.50 (available in seven scents).
10.
An auto-shutoff outlet for anyone who has stopped in a cold panic after they leave their house trying to remember if they've turned off their curling iron or straightener (🙋🏻‍♀️). Simply put this in the outlet, plug your device in, and hit the button to set the timer. Then you can go about your day knowing that you won't accidentally burn your house down.
That can't be a fear just I have, right? Right??? You can set the timer on this for one, two, four, or eight hours, or just put it on hold.
Promising review: "I'm very pleased with this. I use it mainly for at-home hair styling. I often like to leave my styling wand on for last-minute touch ups before leaving early in the morning but, in haste, I often get on the freeway and worry that I forgot to unplug it. No more worries with this attached to the plug. I wish I'd gotten it sooner." —JDubya
Get it from Amazon for $11.79.
11.
A microwave s'mores maker because what's better than having the ability to make a delicious s'more (or two) on a random Tuesday night, no bonfire required? Nothing. Nothing is better than that. 🤩
And it's so easy to use! All you have to do is fill the water reservoir, put your s'mores ingredients on the tray (up to two of them), and heat in the microwave for 30 seconds. The marshmallow and chocolate will heat at the same time — leaving you with one delicious treat. 
Promising review: "This is a very cute gadget. I saw this on TikTok and fell for it lol. I'm glad I did. My kids and I have so much fun making instant s'mores. They're done in about 30-40 seconds with literally no cleanup. The marshmallow doesn't melt over so you basically can just run hot water over it to remove a few crumbs from crackers and be done." —Shawna G.
Get it from Amazon for $14.43.
12.
A 3D-contoured sleeping mask with spaces for your eyes (which relieve the pressure put on them), so you can sleep easier and longer no matter what time (or how bright) it is.
Plus, it comes with a set of earplugs, to block out all the noise around you!
Promising review: "I'm a light sleeper and use an eye mask and ear plugs every night. They help me sleep better because I don't have dark curtains at home and my street is quite noisy. The last eye mask I bought was a cheap one I found at a dollar store. I'd have to keep buying new ones from time to time because they would tear apart pretty often. MZOO is a game changer. It's high quality and does the job much better! Firstly, I didn't really feel like I was wearing a mask because of the design. It's super comfortable and blocks all light. The earplugs block sound, so I can finally get restful sleep. Totally worth it!" —Nisheeta Jagtiani
Get the set from Amazon for $21.99+ (available in seven colors).
13.
A set of silicone stove-counter gap covers I'm really upset I haven't had in my home for years now because these stop all those tiny crumbs from falling down the crack, and that is so so so impossible to clean up! *shakes fists in the air*
Promising review: "I've been using these for about a week on my new freestanding range. When they removed my old range, I was really surprised to see how much stuff had slipped through! Now when I cook, I can see the splatters and seasonings left on the silicone that would have fallen between the stove and the counter. These gap fillers really do clean up easily, too. Although they are that extra thing to clean, I prefer that to knowing there's a mess hiding in the cracks." —JMom
Get a pack of two from Amazon for $9.99+ (available in four sizes and three colors).