1.
A set of Shoe Slotz designed so you can store your shoes on top of each other instead of side by side, meaning not only will your closet look so neat, but you'll also have room to store more shoes. Always a win in my world.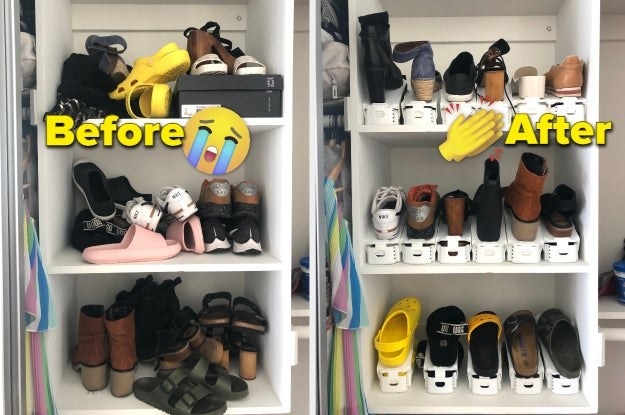 Sally Elshorafa / BuzzFeed
BuzzFeed Shopping Editor Sally Elshorafa says: "This product SAVED MY SHOES! I have an awkward set of built-in shelves in my closet, and it was the only place I wanted to put my shoes. As you can see from the before pic (above), it was a big mess; my shoes were piled on top of each other and getting really dirty. Traditional shoe caddies or boxes didn't really work because there's not much horizontal space, so I tried the Shoe Slotz. It fixed the problem perfectly! Because the design smartly stacks one shoe on top of the other, you save 50% of the space you'd normally use to store your shoes."
Get it from Amazon for $26.99. 
2.
A set of hook-shaped hangers specifically designed to give you an easier way to hang hoodies and sweatshirts so they all don't end up on the floor or cause an avalanche when you pull your favorite one out from the bottom of the pile. 
BTW — Venalli Builds is an Overland Park, Kansas-based small biz specializing in genius hooks!
BuzzFeed Shopping writer Daniel Boan says: "This is one of those 'where has this been all my life?!' type of products. I'm a sucker for a soft hoodie, especially ever since my apartment became my office and now I can wear them 24/7. As much as I love curling up in them, hanging hoodies in the closet is SUCH a pain. They always slip right off my plastic hangers unless I zip them all the way up, so they usually just end up thrown over a random chair (or that mini elliptical I bought in March 2020 and have used a total of two times 😬).

These little hook-shaped hangers are the storage miracle I never knew I needed. Now, I can just hang my sweatshirts and jackets by the hood and easily grab them when I need them — no zipping or folding necessary! Best of all, the pile of random hoodies on my chair has disappeared. I'm keeping the mini elliptical covered though."
Get a set of five from Venalli Builds on Etsy for $20+ (available in four colors).

3.
A shirt-folding board that'll make your closet look like a department store — it'll be like shopping in your own closet EVERY. SINGLE. DAY. I mean, the before and after pictures prove that it literally stops your clothes from spilling out of your closet. 
Promising review: "I'm in love with this folder. I actually love folding clothes with this. The room you can make is crazy. I will never be without it. I don't have a lot of space, but I counted double the amount than I could fit before. It's amazing." —Kimberly Goff
Get it from Amazon for $16.79+ (available in five colors).
4.
A baseball cap holder I'll go ~a-head~ and say now you'll be very thankful for as it frees up valuable space in your closet by removing your bulky hats and keeping them organized in an underutilized space. 
5.
Or a cap organizer if your closet door won't work for storing your hats. Reviewers confirm that this is super easy to use (though they recommend a wood hanger as it's stronger) and can also be used to hold scarves or other accessories.
Each cap organizer can hold up to 10 items.
Promising review: "These are the best things I have found to store my husband's hats. Especially without taking up a ton of space in the closet or on a door. I absolutely recommend a wood hanger. I had to use two double plastic hangers until I could get a wood hanger. Even the two plastic hangers sag and didn't seem sturdy. But these things are great. I used the other one to store scarves and tank tops. Gave me tons more space in my closet. Great prices, well made, and multiple uses! I will actually order more to help with closet space." —Shannon H.
Get it from Amazon for $8.59.
6.
Some shelf dividers providing you the chance to stack clothing and linens in the whole shelf without them toppling over, creating an even bigger mess. And when you want to grab that specific shirt at the bottom of the pile, you'll be super grateful to have these.
Promising review: "If you need to Marie Kondo your closet, this is really useful and it looks really nice. I got the gray ones. Bought two to see how they were. Perfect. Bought six more. Loving it!!! Really recommended this product, ready to install and very sturdy." —Nicolò R.
Get a two-pack from Amazon for $10.34.
7.
A double closet rod for when you REALLY want to take your space up a notch and give yourself double the amount of space to hang your clothes. Just be careful because all this extra room might just inspire you to buy even more clothes. 
Promising review: "This is sturdy and lightweight. This closet rod doubled my available space in seconds. There is plenty of space on the top rod for longer shirts and tops and shorter ones fit perfectly on the lower rod, without touching the floor. Plus, hangers stay in place and don't slide to one end or the other based on how heavy items are, and so far the rod hasn't sagged or bowed at all. And I have all my sweatshirts and heavy fleece jackets on the bottom rod. The space will obviously depend on the height of the closet rod you hang this from, but I would highly recommend this for anyone with need of more closet space!!" —CCBunE
Get it from Amazon for $17.66.
8.
A tank top hanger designed to hold at least six camis, bathing suits, or strappy dresses, thus reducing the total number of hangers you have in your closet.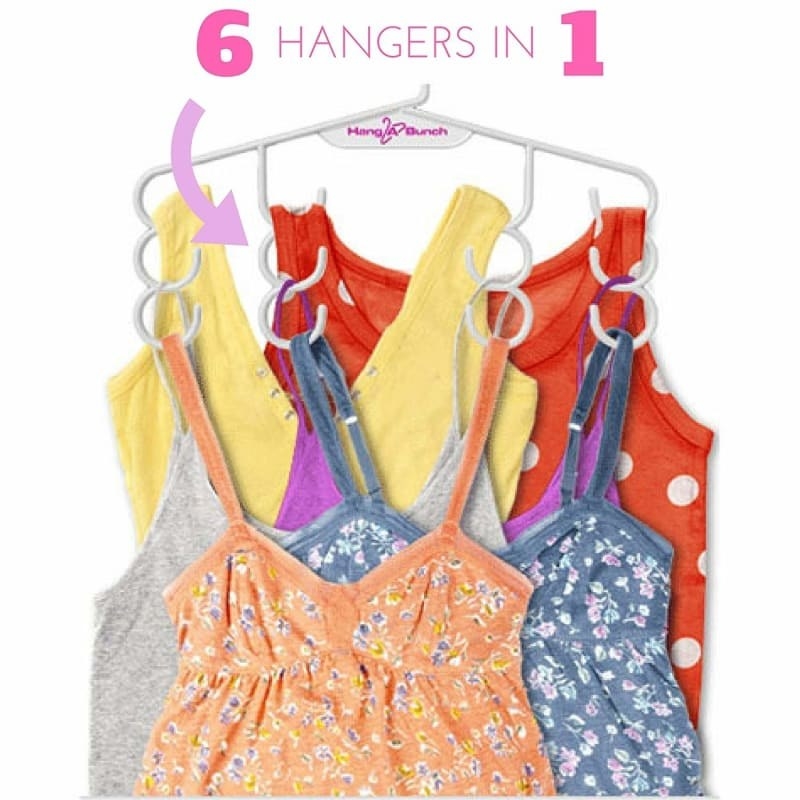 Promising review: "I bought two three-packs and eliminated over 20+ hangers from my closet!! I have a little closet and these definitely help. I haven't really had them long enough to know if it's a pain getting between the layers when they are hanging, but so far I like it. They are a little slippery, a little grippy on the hooks would have been nice, but overall they work well!" —AGirlHasNoName
Get a set of three from Amazon for $14.99.
9.
Some small Command wire hooks perfect for anyone who rents and wants a way to organize their accessories without damaging the wall, risking getting their security deposit back in the process. These hooks are easily removable and can be used in more than just the closet — talk about versatility.
Promising review: "I love these hooks. I have them in our closets (for hats, scarves, light jackets) and in our kitchen (for measuring cups and spoons). I love how easy they are to put up and take down. If you make a mistake and put it in the wrong spot, no problem! Just take it off and use one of the extra adhesives to put it on the right spot." —A. Tran
Get a set of 16 hooks from Amazon for $11.90 (available in 11 other styles and quantities).
10.
A set of storage cubes to essentially double the size of your closet if you have a bunch of overhead space you're not taking advantage of. The sky's the limit! (Or really, the ceiling in this case.)
Promising review: "I put these in my closet to make extra shelves for sweaters/sweatshirts. They were easy to assemble and worked great at adding additional space to my closet. I like that my clothes don't topple over into the pile next to them anymore. They were easy to put together, and if I move they will be easy to take apart put in a small box and move. I'm very happy with this purchase."—Goldensummerdog
Get it from Amazon for $29.99+ (available in five colors).
11.
A wall-mounted hanger rack if you want a place to display (and store) your favorite pieces of clothes because some truly great pieces don't deserve to be shoved into a dark closet. Plus, you can use the top shelf to display art and add more decor to your home. I call that a win-win.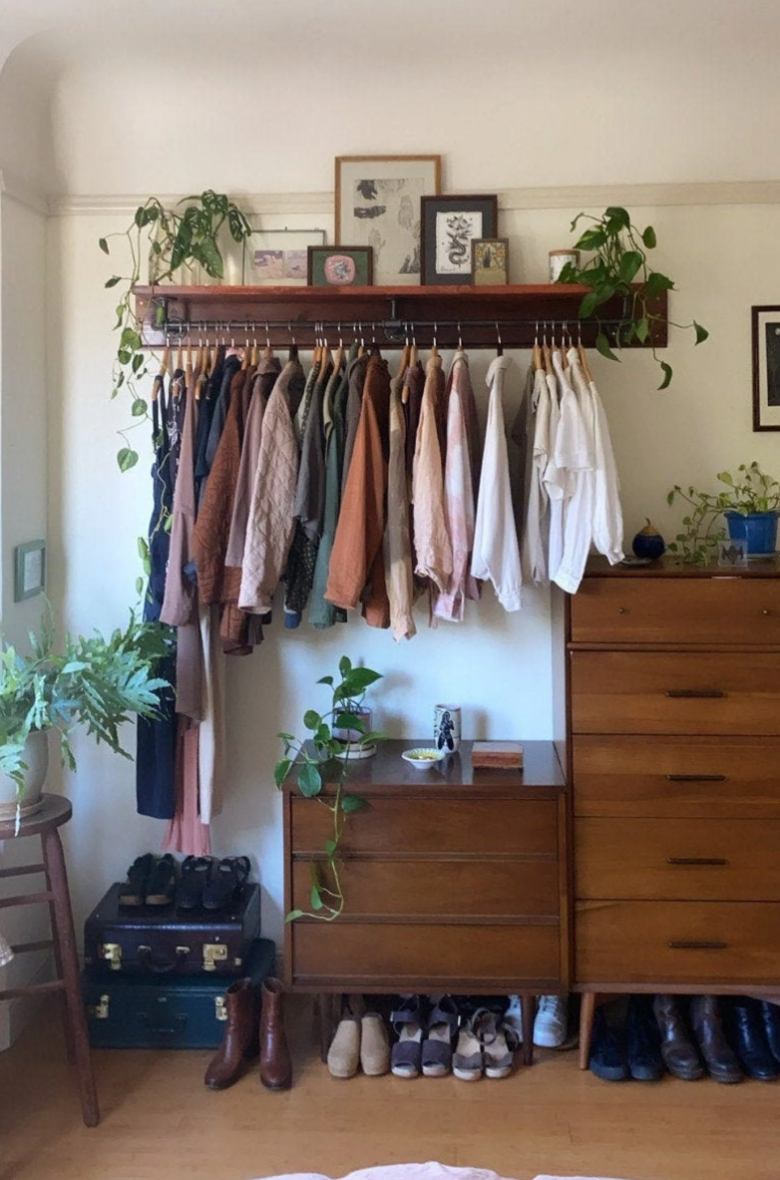 JT Industrial Designs / Etsy
BTW — JT Industrial Designs is a Texas-based small biz specializing in handmade and custom industrial-style home furnishings!
Promising review: "I love it. It's all I imagined and more! They were so kind to accommodate my request to do a custom gold bar. This saved us a whole lot of space. I will be ordering more." —Marlena Phan 
Get it from JT Industrial Designs on Etsy for $79.20+ (available in 14 lengths and 11 stain colors). 
12.
A set of Wonder Hangers you'll wonder how you ever lived without. These babies take five hangers and condense them into one, giving you ample space.
Promising review: "These wonder hangers are WONDERful. My closet space has doubled, at least. I have ordered them for every closet in my home. I also recommended them to friends and family. I love them." —Nancy J
Get a pack of 10 from Amazon for $14.99 (also availble in three other pack sizes and three colors).
13.
A closet storage organizer with bins for anyone who really doesn't have room for a dresser but doesn't want to hang up every single t-shirt they own – you can store everything that works better folded in this.
Promising review: "This was very quick and easy to assemble. It has lots of space for my kids' clothes that don't hang, along with extra squares on top for socks, etc. I will be purchasing more for my own closet. It definitely saves space. And it's worth the money. It has three large rows with two baskets, and more can be added." —Gee
Get it from Amazon for $24.99.
14.
An ottoman with a secret — the top removes to reveal great storage space. Put your sweaters or off-season clothes into it so they're not taking up precious space in your closet. Plus, you can also use it as extra seating or a place to sit to put your shoes on before you leave the house.
Promising review: "I bought this to store sweaters in so I didn't have to hang them up in the closet. It was easy to put together, and it's sitting at the foot of my bed so it doubles as a bench as well. It holds a lot of sweaters and doesn't get crazy heavy, but it is still sturdy enough to sit on and have my big fat cat use it as his own personal seat." —BJ
Get it from Amazon for $38.99+ (available in three colors).
15.
Some nonslip velvet hangers designed to take up less space and hold clothes better, so half your wardrobe doesn't end up on the floor when you try and take one shirt out.
Promising review: "These hangers are amazing. They take up minimal space, are sturdy, and, best of all, the clothes don't fall down from them so it keeps everything looking neat. I have replaced all of the hangers in my closet with these hangers, and I couldn't be happier. I am pretty sure I now have double the amount of space. I love this product and would buy again." —Vida Maars
Get a pack of 30 from Amazon for $16.49+ (available in black, grey, and, beige, and in 30-, 50- and 100- packs).