1.
A pet hair remover for any pet parent who can't seem to escape the loads of hair that end up covering their furniture. Seriously, sometimes it feels like they lose every single hair on their body every day. Simply roll it on the upholstery, and it will grab every last strand.

Promising review: "TikTok made me buy this, and it is money well spent!! I'm convinced that my beagle sheds a full coat of hair and regrows it daily! I use this on my bed every single day and it blows my mind how well it works. Before this I was going through 4–5 disposable sticky rollers a month and spending 3x longer to remove dog hair. I am buying these for everyone in my family as Christmas gifts this year! ❤️" —tiff4short

Get it from Amazon for $29.99. 
2.
An adorable octopus-shaped blackhead remover that actually works to help pull out whiteheads, blackheads, and any other ~ink~ clogging up your pores. You may be disgusted by what the lil' cutie pulls out of your face, but you'll be so thankful it does.
Promising reviews: "I saw this on TikTok, and it works great so far." —MarMar Manuel
"After just two days of use, this adorable little octopus has done wonders for me, smells great too. Here's how I used it: I wore down the stick just a little to where the texture from the salt is visible, scrubbed around on my face so there was plenty of product, then I used my fingers to gently massage all the gunk away. Rinse, pat dry, and enjoy the softness. Highly recommended for people with sensitive skin like myself." —LuckLocust
Get it from Amazon for $12.50. 
3.
A clip-on strainer brilliantly made to fit in any size pot or pan, so you can drain water, grease, or any other liquid without using a bulky (and hard to clean) colander.
I recently picked one of these up, and it is such a game changer. I have hated using a colander so much. It's so bulky, hard to use, and takes SO much time to clean. This solves all those problems. I've clipped it on various pots and pans, and it's fit every single one. It makes it ridiculously easy to strain the water out of the pasta and even the excess fat from ground beef. I'm throwing my old colander away because it will never be used now that I have this genius tool!
Promising review: "Love, love, love this pasta strainer!!! My husband and I hate cleaning out the strainer, so I ordered this to make life easier. OMG, does it make life easier!!! If this ever breaks, I'll be ordering another! It's very sturdy and easy to use. Absolutely love it!" —ShylohsRedShadow
Get it from Amazon for $12.45+ (available in three colors). 
4.
A set of reusable waterproof silicone Nippies reviewers swear don't move, even on the sweatiest of days. If you have a favorite top or dress you can't seem to find the right bra for, this is your answer. Now go out and live your best life!

BuzzFeed Shopping Editor Natalie Brown says: "Thanks to a ~sample sale~, I got my hands on a gorgeous unlined silk dress last summer that I LOVED but absolutely could not wear with a bra, not even a strapless one. Cue an Amazon search for pasties, because quite frankly I'm self-conscious about my nipples deciding to poke out while I'm wearing just a silk dress (and my boobs are the type that don't necessarily need support all of the time). There I found something even better than I expected: these self-adhesive silicone pasties called Nippies that are 100% invisible under clothes, so comfortable I barely notice I'm wearing them, and, at least so far, pretty darn reusable.

I've worn them four or five times now, washing with hand soap and water afterward every time as directed, and they're exactly what I needed! It's simple: you stick 'em onto clean, dry, lotion-free skin, and they stay put and comfy for hours, even through moderate sweat. They've performed perfectly every time I've worn them: for day-long shopping excursions, outdoor parties, and for nights out dancing. They come in a small reusable storage box with two stiff plastic domes for them to sit on, so they'll stay perfectly intact and dust-free in your drawer and are easy to pack for travel. Oh and over 14,000 reviewers — like, five times the number of people in my high school graduating class — have rated them 5-stars on Amazon, so I know I'm not alone in my success with them!"
Get it from Amazon for $26.50 (available in two sizes and five shades). 

5.
A Click & Carry grocery bag holder perfect for anyone who ends up lugging around a gazillion bags when they go out to "run a couple of errands." Just divide all your totes between the two holders, and it will evenly distribute the weight, making it more comfortable and easier to carry home. Each one can hold up to 80 pounds!!

Promising review: "TikTok made me buy it. This is great when you have a few bags and a box — for example, if you balance the bags, you can throw it over your shoulder and walk inside and have two free hands to carry the box, which is great. Product seems well built, and is comfortable on your shoulder or hand because of the padding." —Hung

Get it from Amazon for $13.99 (available in seven colors, as well as packs of two). 
6.
A stain- and odor-eliminating spray that provides a quick one-two punch to not only remove the spots but also smells that may have ended up in your carpet from your furry friends. It lifts away dirt and grime while also releasing enzymes to break down the odors.
Rocco & Roxie is a family-owned small business that offers pet supplies, from cleaners, to treats, grooming tools, toys, and more.

Promising review: "This stuff is AMAZING. I have tried so many cleaners from local stores and NOTHING would get the smell out! Let me include a side note that I have three kittens and one dog — the dog AND one of my kittens are continuously having accidents on our carpet, and it has been a NIGHTMARE. This product has been a life saver. It's super easy to use too. Just clean up the mess, soak the area, wait five minutes, and soak up the product. As soon as you spray this stuff on the spot, the smell is completely gone. I wish I would have known about this stuff when my pet mess problem originated. I will DEFINITELY be purchasing more and highly recommend this stuff!! Great product." —Danielle Brittain
Get it from Amazon for $19.97.
Check out our full Rocco & Roxie Professional Strength Stain & Odor Eliminator review for more!
7.
Or an Angry Orange pet odor eliminator more than 68,000 reviewers love for its citrus scent and ability to remove all evidence of pet accidents from your floor and furniture. That puppy stage may be ~ruff~, but you don't need to leave a reminder on your carpet for the rest of time.

Promising review: "This product is amazing!!!! We have a Rottweiler pup and a bichon pup and our house was feeling the PAIN! I tried everything and use to tell my wife, 'with all the science and technology in the world we still can't come up with something that gets rid of the dog mark smell!'
This product does everything and more. Just ordered another round. We were about to throw away some furniture due to the smell and now after use we can keep it. Saved me hundreds. Well worth the money." —clayton s tonkin

Get it from Amazon for $19.97.
8.
A portable car vacuum, a must-have for car owners who become the designated driver to the park and beach as soon as the temperature hits 60 degrees. No need to apologize to your friends for your messy car anymore. This vacuum is only 2.4 lbs, comes with three different-sized attachments, and plugs into your vehicle's 12-V Aux outlet.

Promising review: "This portable vacuum is ammmmmazing! I love all of the attachments to get the hard to reach spots! It gets the job done! TikTok made me buy it! If you are on the fence about this one, do it! Hit that "buy now" button. You will not be disappointed. Never putting quarters in a timed vacuum again. There is never enough time, and you rush around trying to beat the timer. Or is that just me? Haha!" —Abigail

Get it from Amazon for $34.51+ (available in three colors).
Read more in our car vacuum cleaner review (#1).
9.
A set of wineglass holder clips here to give you some extra peace of mind when you put your fragile wine glasses in the dishwasher. Sure, it's so much easier to clean them this way, until you pull out the rack and the wobble back and forth into each other and maybe break. These little grippies will keep the glasses stable, and they'll get fully washed without you having to pick up a sponge. Bless!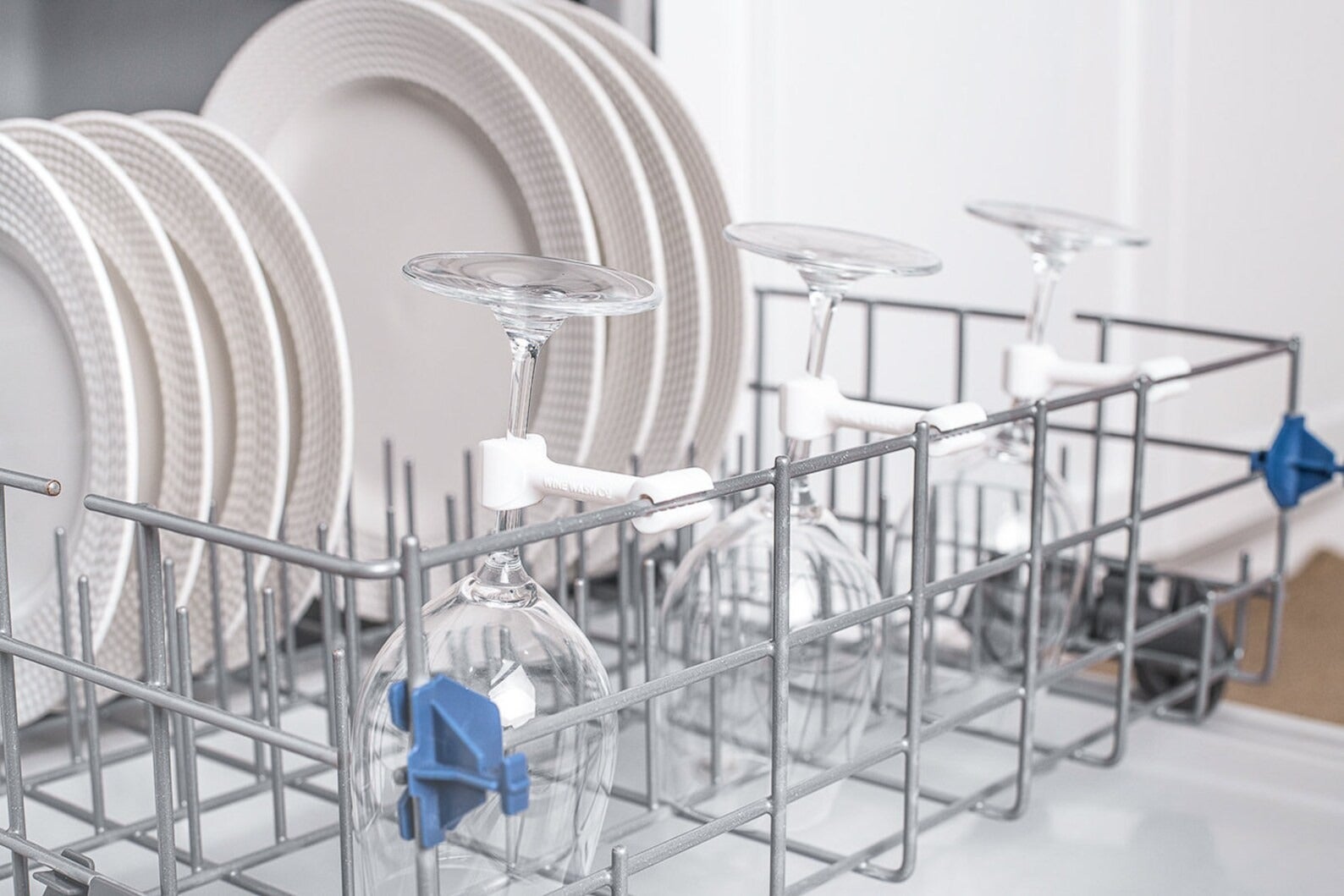 Wine Wash Co is a woman-owned small business based on Houston, Texas. Founder Erica created this product after getting tired of hand-washing breakable wine glasses. They also have other fun cleaning accessories and gifts for wine lovers!
Get a four-pack from Wine Wash Co on Etsy for $15.

10.
A detangling brush reviewers (more than 51,000 actually) swear works magic on all hair types (including 2c–4c), detangling easily without pulling or damaging the hair. No more painful detangling sessions like the ones you had growing up that have basically scarred you for life.
Plus, the brush works on both wet and dry hair!
Promising reviews: "I have thick, down to my butt long curly hair, so brushing has always been hell. Usually, I have to deep condition my hair, brush it out before I wash it (about a half hour), then brush it in the shower, and after my shower, to try and keep it manageable. I never thought that it would matter what brush I used for my hair because its just always been the same no matter what I use. BUT THIS BRUSH. Oh my gosh! It has cut my hair brushing time down from 45 minutes to about 5! And the best part, is that I can even brush it when it's dry! It doesn't rip or tug, my hair doesn't get poofy or frizzy, and it just takes away my knots and leaves my curls. It is built really well, tough enough to withstand even my nutty hair! Doesn't have those awful little beads that rip off in your hair. This is a life-changer for me!" —Ryan Turner
"I love this brush. I have 4c hair and it detangles my hair without a lot of hair loss. I do make sure my hair is wet when using it to detangle. The brush is pretty easy to clean, as well by just pulling the hair out and using running water. The only thing that could be better is the handle could be longer." —Nikki Jenks

Get it from Amazon for $12.49+ (available in five colors).
11.
Reusable microfiber pads specifically designed to fit your Swiffer WetJet, so you can just throw them in the wash (instead of the trash) when you're done wet or dry-mopping the floor. Reviewers confirm that these pads actually work better than the disposable ones and pick up wayyy more dirt and dust from the floor. 
Turbo Microfiber Store is a small business creating microfiber reusable mop pads and other cleaning products.
Promising review: "Ok, so I was never skeptical about this product, but it has really WOW'd me. It works better than the traditional disposable wet and dry Swiffer pads. I think it has everything to do with the texture. I have long hair, and my bathroom gets pretty hairy, just a quick sweep of my bathroom using this thing and it pretty much picked up everything. I also used it as a 'mop' in my entry way, and it worked very well." —atstrmn
Get a two-pack from Amazon for $12.06.
12.
A strap you can attach to your Kindle because you love the device so much, until you're reading in bed at night and it falls on your face...again. This genius accessory slips right on and gives you a place to put one finger, so you have a more comfortable way to devour the latest Colleen Hoover book.

TFY is a small business creating genius tech accessories. This strap is designed to fit the Kindle Voyage, Kindle Paperwhite, and 6-inch Kindle Fire. 
Promising review: "I already loved my Kindle Paperwhite, but this makes it even better. It looks bulkier in the picture than it actually is. There's enough room in the strap for A FINGER (not two), and it weighs close to nothing — maybe an ounce. I wanted something that would make it easier to hold in front of my face while reading on the plane (to avoid bent-over posture) and also an easy loop to put my finger through when reading on my side (in bed). It folds flat to fit in a sleeve as well. Perfect for my needs!" —Andrew H.

Get it from Amazon for $11+ (available in two sizes).
13.
High-waist leggings so versatile, you can wear them for lounging around, working out, or even out of the house, no matter the occasion.
Promising review: "Wow! I was extremely skeptical of these leggings considering they're a 'one size fits all' type of deal. I am 5'5 and curvier. I was worried they were going to be too tight or see-through. However, that's not the case! They are not see-through even after three washes so far. They are extremely soft and comfortable. The only thing I noticed is they are more of a muted black compared to some of my other leggings but it's barely noticeable. I liked them so much I ordered a second pair. Def would recommend!" —nichole campton
Get it from Amazon for $14.99+ (available in one size and plus size, three lengths, and in 25 colors).