1.
A can of fume-free oven cleaner that's super easy to use to transform the inside of your oven. Just spray it, wait for it to dissolve all the stains, and then wipe it away. You'll be left with a spotless oven ready to take on whatever baking challenge you think of next.
Promising review: "I rarely write reviews, but this stuff is straight magic!! When we moved into our new home, the oven was disgusting! I absolutely HATE cleaning a freaking oven, but after reading the reviews, I decided to give it a shot. For less than six bucks, what the heck, I'll give it a try! Sprayed it on last night, got up this morning and wiped it out with nothing but paper towels and BAM! My new favorite cleaning product! I'm going to end up doing it again tonight just to have it all sparkly, because like I said, this thing was disgusting, and there were a couple of spots on the door and in the bottom that I missed. If I had felt like putting more effort into it, I could have scrubbed it clean, but let's be real here, ain't nobody got time for that! If you're questioning whether this stuff works, just buy it and prepare to be blown away!" —Brittany Douglas

Get it from Amazon for $6.27.
2.
Or a 100% natural oven cleaning kit, if you're looking for a ~cleaner~ options. This kit comes complete with everything you need to fight through the tough grease in your oven without you having to put too much of your own elbow grease into it. Simply apply the all-purpose cleaner, scrub, and use the metallic sponge to blast away the grease. It's (almost) as easy as the pie you made in said oven. 
Everneat is a small business based in Fairfield, Connecticut specializing in natural cleaning products and tools. The kit includes a jar of oven scrub, an all-purpose cleaner, and a metallic sponge that should be used in conjunction to get the best results. 
Promising review: "I admit, I was skeptical — but this stuff is like magic! I got the kit, and the concentrate cleaner and oven scrub both worked so well I could hardly believe it. I wish I'd taken before and after pictures!" —Paige NewMyer
Get it from Everneat on Etsy for $27.99+ (available in two jar types).
3.
A foaming garbage disposal cleaner you can use weekly to stop any buildup or odors from coming out of your sink. Nobody wants to deal with that grossness!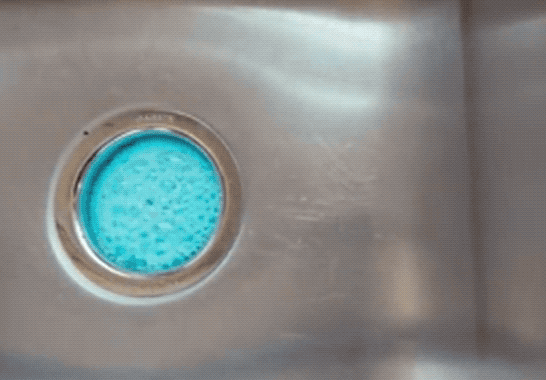 Promising reviews: "We moved into a townhouse that had a garbage disposal in the kitchen. I never had one growing up and didn't think too much about it until the funky smell started. I researched ways to clean it and came across these. Decided to order a four-pack and try them. THEY ARE LIFE-CHANGING. Just run some water, toss the packet in, and turn on the disposal. The little packet does all the hard work for you. I order a new set as soon as we start to run low." —lucas broshears
Get a four-pack from Amazon for $3.98.
4.
A mold and mildew remover to easily remove the gross buildup in your shower and make it look as good as the day you moved in (or maybe even better). All you have to do is apply it, let it sit, and then rinse. Yep, that's it. 
Promising review: "You guys. I'm embarrassed to even show you this. The grout around our tub was DISGUSTING. It was never caulked right and it got gross very quickly. I would scrub. The cleaning lady would scrub. It would get worse. Well, I came across this in a BuzzFeed list, and this stuff made me curious. I don't know why it doesn't have 10,000 good reviews. Seriously. All I did was squeeze it on and walk away. I let it sit overnight. Check this out. Buy it. Like today." —KarynB
Get it from Amazon for $13.99.
5.
A Fur-Zoff pet hair remover that works like a charm to remove all the fur from those nooks and crannies of your car seats, carpets, and couches.
Promising review: "Holy cow, this is magic. I have a 230 pound Mastiff. I have purchased any and everything claiming to get dog hair off car carpet. I have used at least three different vacuums and attachments. Lately, I have been using a microfiber towel because it had some grip. Then this piece of magic arrived. It gets every single hair no matter how embedded. There were hairs I had a hard time removing with my fingers. The Fur-Zoff pulled them right out. This has reduced my hair removal time in half!" —david r
Get it from Amazon for $10.99.
6.
The Pink Stuff, which is an all-purpose paste that works to clean basically everything in your house. This means you can go from scrubbing a pan to cleaning your bathtub — no changing of cleaning products required. 

Promising review: "Oh my gosh — this stuff is a life-changer! Used it to get my fiberglass shower totally clean. Nothing else would get it done and this stuff brought my shower back to near-new in one use. We've since cleaned a weird chalky film off our garage door, removed wall markings, and cleaned my storm door. We'll never be without a jar (or three) of this stuff. Worth every penny." —Nancy F.
Get it from Amazon for $4.99.
7.
Reusable microfiber pads specifically designed to fit your Swiffer WetJet, so you can just throw them in the wash (instead of the trash) when you're done wet or dry-mopping the floor. Reviewers confirm that these pads actually work better than the disposable ones and pick up wayyy more dirt and dust from the floor. 
Promising review: "I wish that I had discovered these long ago! They work better than disposable pads! Not to mention that they are so much better for the environment and super easy to use. Our laminate and tile floors shine. Easy to throw in the wash and air dry. GREAT product!!" —G. P. Johnson
Get a pack of two from Amazon for $14.95.
8.
A set of scrubbing attachments you'll want to constantly take for a ~spin~, because they will get everything so darn clean without causing your arm to hurt from too much scrubbing.

Promising review: "We originally purchased this to scrub our tile floors and grout in the bathrooms. We have a dog who slobbers everywhere and the only way to clean it is to use elbow grease. This thing is magical! We've used it on the walls (no paint removed), based boards, door jams and doors, windows, floors, and cabinets. Just dip it into warm soapy water and go to town! Recommending this to all our friends. Cuts cleaning time in half!" —A. Bos
Get it from Amazon for $14.99 (available in six brush stiffness colors).
9.
A microfiber duster to actually trap dust particles instead of having them fly around the room, making it seem even dirtier than before. Plus, when you're done cleaning, you can just remove the cloth and throw it in the washing machine.
Promising review: "We live in an old 1790s home with lots of wall trim and moulding. This piece of cleaning equipment makes dusting super easy. All I do is run around the room a couple of times, tackling each level of trim at a time and then shake it out outdoors. When it gets really dusty and dirty, I just toss it in the wash. LOVE IT!" —swissgirl
Get it from Amazon for $11.99.

10.
A steaming microwave cleaner accurately named the "Angry Mama" because it's what your mom would look like if she saw how dirty your microwave was. This gadget works to dislodge the food and dirt inside the microwave so you can easily wipe the mess away. Save the scrubbing for the Scrub Daddy. 

Promising review: "This product is so amazing, I'm going to get one for all of my children. I am a teacher, and I let my students use my microwave. Usually it takes me half an hour of scrubbing after 31 students have made popcorn, and heated up lunches. This time I used the product, and I literally spent less than one minute just wiping down the microwave!!! I will now keep one in my classroom, and one at my home. A miracle product that actually does what it says, remarkable!!!" —Desiree Barlow
Get it from Amazon for $7.99 (available in two colors and also packs of two).
11.
A pumice stone you swish around the bowl to remove all those stains inside your toilet you thought were stuck there for good. Not anymore!
Promising review: "This pumice toilet bowl scrubber is magical. I have beautiful brand new toilets that are clean, but still manage to accrue an unsightly toilet bowl ring of minerals and deposits. It didn't matter how hard I would scrub, I could not remove the disgusting ring. It may be that we are on a 'well' and are in the Colorado Rockies, hence an increased amount of mineral build-up? Anyway, five minutes of scrubbing with this pumice, and my toilets look sparkling white again. I will always keep one of these Powerhouse Pumices on hand. Never again will I get a gross build-up of toilet bowl ring in my toilets!" —JAG
Get it from Amazon for $10.99.
12.
A grout pen that'll transform your bathroom (or kitchen) floor from drab to fab by restoring it to the pristine color of yesteryear with minimal effort on your part.
Promising review: "We moved into our new home, and the shower had a really yellow grout. Cleaning didn't do anything, and I saw this grout pen online. What a saver! Otherwise, I would have just hired someone to replace my shower. I used this grout pen, and my husband was so impressed :D. The tip loses its shape fast, but just pull out the TIP AND FLIP IT OVER, and you'll have a new tip." —jennifer
Get it from Amazon for $8.99 (available in two tip sizes).
13.
An all-natural surface scrub safe to use on all sealed surfaces (even where food touches) to make film, grime, and grease disappear in a single swipe.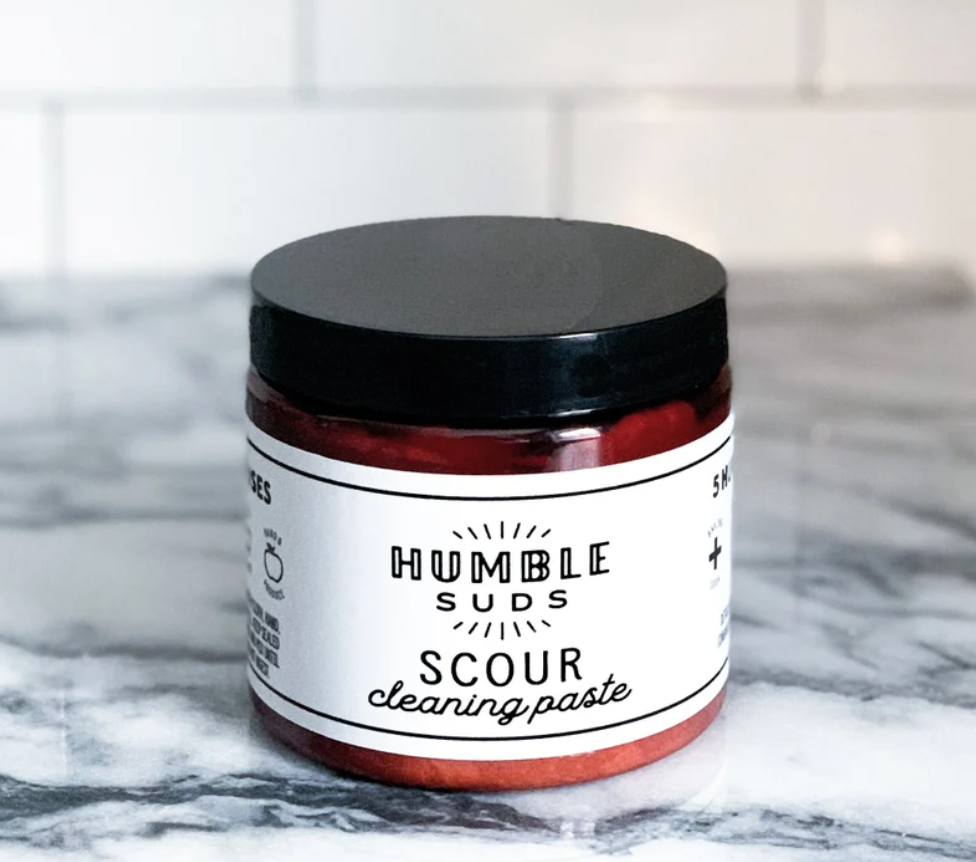 Friends Holli and Jennifer started Humble Suds in 2014 to create trustworthy and clean cleaning products. The cleaners are made with plant and mineral-based ingredients and are always disclosed.
Promising review: "Holy moly, this stuff is like magic. I am allergic to everything, even air, I swear. But I have no issues at all with this product, and it does the job super well. Buy some. I mean it. Like NOW♥♥♥" —Brassy
Get it from Humble Suds on Etsy for $14.95+ (available in two sizes). 
14.
A dryer vent cleaning kit you actually attach to your vacuum to suck out all the dust, lint, and other debris that's hiding in your dryer. This 2.5-foot kit will get in there deep and remove so much stuff you'll be shocked how your dryer has even worked up till this point.
Promising review: "OK, LET'S TALK ABOUT THIS HOSE. My dryer was like one cycle away from catching fire, and my vacuum's skinny hose nozzle was too short to get into my dryer vent because the nozzle widens after 6 inches. So when I saw this product go on sale I bought it and it came the next day. It came in two or three pieces that fit into each other and go over the vacuum hose. It was SO SATISFYING to watch the big clumps come out of the dryer vent! I mean my dryer was nasty. Look at the pictures. I have a German shepherd and a pit bull, so our laundry is always full of nastiness. Well, this little hose got it all and it looks brand new in there. The big clumps were hard to get through the hose at first until I realized I could pinch the opening of the hose to make it circular, which allowed the clumps to fly through. Even the sound was satisfying. I will be vacuuming under my fridge next. No dying in a fire for me." —Bee92
Get a two-pack from Amazon for $10.99 (available in five colors).
15.
A microfiber window blind cleaner designed with three blades that clean the top and bottom of two blinds at once. It'll pick up all the dust you hadn't really realized had been casually sitting in your home.
The cleaner also comes with five microfiber duster clothes.
Promising review: "Where has this blind cleaner been for the past 50 years???? I have struggled to keep my blinds clean for so many years and happily found this item. It WORKS!!! And I love that it comes with extra sleeves, and the sleeves are machine washable. The handle is plastic, but I feel confident it won't break any time soon." —marionvgt
Get the six-piece set from Amazon for $7.99 (also available in green).