1.
A double hand towel holder to make your bathroom seem like it's straight out of the Ritz Carlton — and guests will know exactly where they can dry their hands.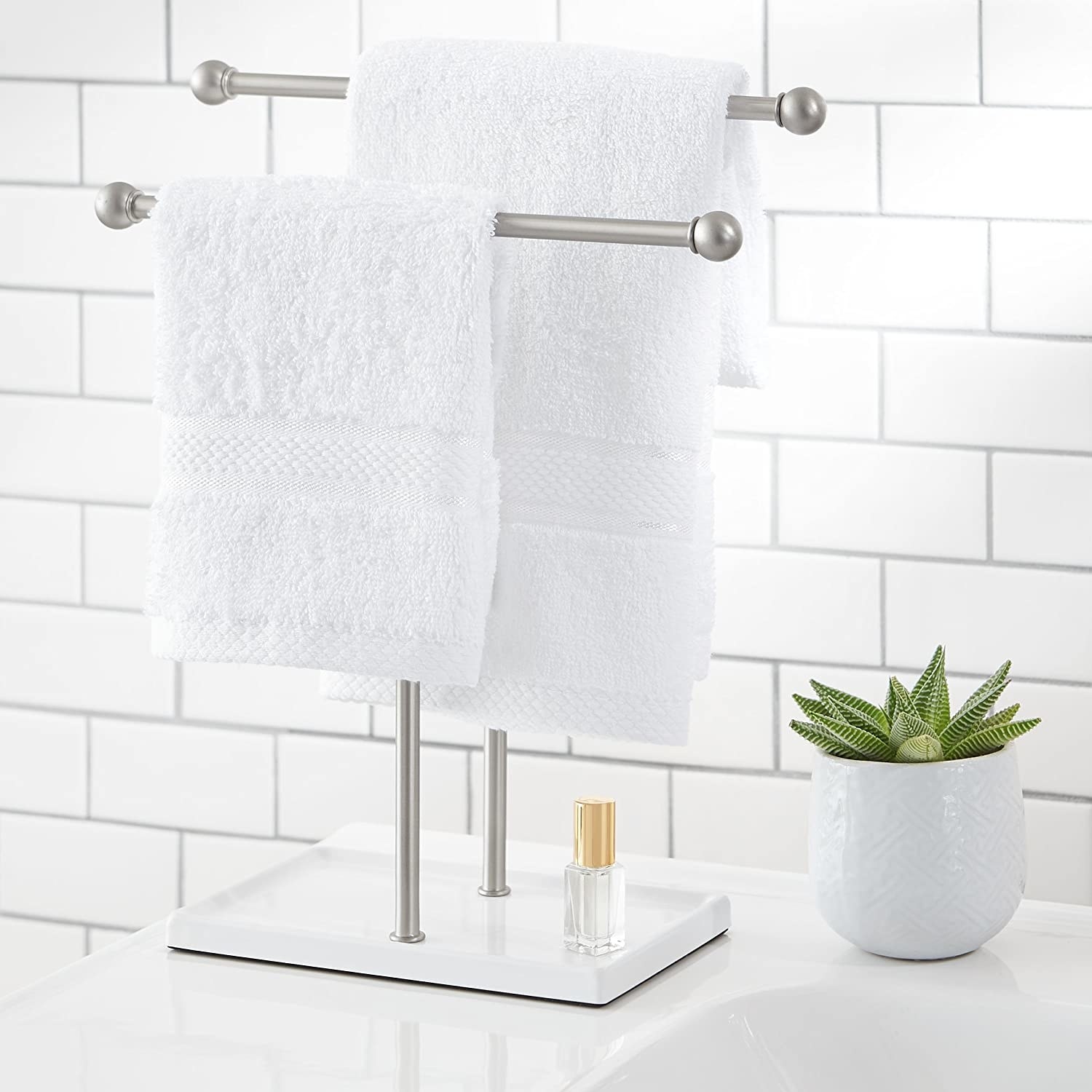 Promising review: "I purchased this for hand towels in the bathroom. It's sturdy. It does not rust or show signs of it being cheap. It's bigger than I expected and can easily fit four hand towels. It looks nice in the bathroom and looks way more expensive than what it was bought for. I have gotten compliments on it. I'm very glad I bought it and have recommended it to others." —Valerie P
Get it from Amazon for $22.45+ (available in three colors).
2.
The Pink Stuff cleaning paste you can use to clean basically anything in your home. But if you've got a little Picasso on your hands who has turned your furniture or walls into their canvas, this will remove that permanent marker and make it look as good as the day you moved in.
Promising review: "My three year old recently decided to channel his inner Van Gogh on our stairwell wall, and red crayon was EVERYWHERE. I tried every possible cleaning solution, and nothing was getting it off. I heard about the Pink Stuff on TikTok and decided it was worth a shot. This stuff is a miracle worker! With a sponge and some elbow grease, I was able to remove all the crayon within 10 minutes. There's absolutely no trace of the crayon left, and it didn't ruin my paint! One thing to note – it seems to work better on certain colors than others. I recently used it to try and remove blue crayon from our white art table, and while it got most of the blue off, there's definitely still a faint stain where the crayon used to be. But hey, it's worlds better than before!" —Casey Blaine
Get it from Amazon for $5.97.
3.
Some cabinet pulls — they'll give your kitchen a complete makeover without you having to spend thousands of dollars installing new cabinets. Reviewers confirm that these small touches make a big difference. 
Just a note that some reviewers recommend getting your own screws instead of using the ones included. 
Promising review: "These are fabulous, and totally changed the look of my kitchen! The price was also great too, as I needed 35, and had to buy to lots, one 25 and one 10, and the total was around $80 for all of them. Which equals out to less than $2 apiece. You can't buy ones of this quality for that price locally. These are heavy, and easy to install." —Debbie Sterrett
Get it from Amazon for $7.27+ (available in various sizes, colors, and styles).
4.
A set of amber soap dispensers because nothing screams "I HAVE A LOT OF MONEY" like sleek nonlabeled soap dispensers, even if you got the soap inside from CVS with your 40% off coupon.
Promising review: "These are amazing soap dispensers. The amber glass is sturdy and strong, and the pump works great. They're easy to fill and they look so good on your bathroom or kitchen countertop. Highly recommend!" —Emily
Get a two-pack from Amazon for $15.99+ (available in four different pump colors).
5.
A wine stain-removing spray so you can enjoy your girls' nights drinking wine and watching The Bachelor without fear that someone will ruin your couch or carpet. You'll basically have Oliva Pope-level confidence because you'll know if you do spill, there will be no ~scandal~ and the spray will get the stain out, leaving no trace it was ever there.
Promising review: "I thought the world had ended!! RED WINE SPILLED ON AN ORIENTAL CARPET!!! The cream fringe took the brunt of the spill. The first thing I did was put white wine on it…after all isn't that what you have heard and read? That white wine will remove red wine from whatever. Didn't work for me. Rush to Amazon…what to do….what to do? I found several products that sounded promising. I read the reviews. So glad that this is what I chose! Worked like a dream. When it arrived the stain had been set for four days, and following the directions on the bottle, the stain instantly started to disappear. My cream-colored fringe was back. Amazing!!! My carpet is back to its beautiful self. Am I happy? So happy words can't convey." —Pat

Get it from Amazon for $7.95+ (available in three varieties).
6.
A set of floating shelves you can use in basically every room of your home — from your living room to the bathroom — to declutter your surfaces and add some (practical) decor to the walls.
Promising review: "These were the first shelves I've ever put up, and a year later, I still love them. They're actually surprisingly sturdy and I never think twice about loading them up with however much I can fit (they never show any sign of strain or move at all). They are pretty small, so check the dimensions, but they are absolutely perfect for displaying photos, art, plants, etc. I've moved them around to three different walls in the past year, and I'm constantly switching out the displayed items yet they show almost no wear or tear." —zebrye
Get a set of three from Amazon for $29.99+ (originally $49.99; available in four colors).
7.
A create-your-own countertop kit ideal if you've been dreaming of adding granite surfaces to your kitchen...until you look at your bank account. This kit has everything you need to transform your kitchen (or bathroom) without having to hire a contractor.
Promising review: "I hated my stock builder counters, a horrible washed out mustard color. Unfortunately, I didn't have enough money to get the real marble counters that I covet. I found this product on TikTok and was immediately intrigued! Of course, I had to purchase it. I bought the 2-pack because the per the instructions, I wouldn't have enough to cover all of my counters. The process took 2 days with the waiting between application, but it was extremely easy to use. I'm giving it 5 stars because of ease of applying, appearance, and the fact that it changes the whole look of my kitchen!" —Amazon Customer
Get it from Amazon for $99.95 (available in five colors).
8.
A set of remote-controlled adhesive puck lights to help transform your kitchen into something you've only dreamed about. If under-cabinet lighting was on your wish list (right under heated floors), this is a cheap way to achieve the same effect. The lights can be secured with screws or 3M adhesive strips and have dimmable options you can control from anywhere with the remote.
Plus, reviewers point out that since these work by battery, they'll still light up even if the power is out!
Promising review: "They're perfect for my small kitchen. They come with double-sided 3M adhesive and screws as options for installing. The remote control is easy to use and can turn on single lights depending on how you point it. You can also turn the lights on manually by clicking the top. These pictures are with two lights at 100 brightness." —Ariana from Jacksonville, FL

Get a set of three from Wayfair for $23.54 (originally $24.99). 
9.
Or an outlet light if you're looking for an option with not as much light for your kitchen. With this, you can add a little bit of light to the room without having to get a big and bulky night-light. And when you turn the lights off at night, you won't end up running into a door you def thought was closed but it was too dark to see...take it from me, that's no fun at all.
Promising review: "I don't like night-lights because they take up the wall outlet, so this was the perfect solution. I put it in the guest bath and at night with the bathroom door open this provides just enough light to guide a person to the bathroom without blinding them. I ended up putting two on my hallway switches as well. What a great product." —LMK
Get it from Amazon for $22.98 (available in two sizes).
10.
A gold watering can and mister you can not only use to water your plants, but then leave out after you're done as a chic piece of decor. Plus, you'll never have to admit to your friends that you used to water your plants with a boring old cup. 
Promising review: "This watering can is so easy to use, and it holds a lot more water than you would think by the size. I also love the cap that comes on the end of the spout — a great way to avoid spills!! Appreciate the pretty mister that comes with it, too. Both look very nice on the shelf where I house my plants in front of a window." —MC Phillips
Get it from Amazon for $26.99+ (available in three colors).
11.
A CovoBox made to look like a stack of books, but it's actually hollow on the inside, so you can use it to cover your Wi-Fi router that's awkward sitting out. Say goodbye to clutter and hello to beautiful (and functional) decor.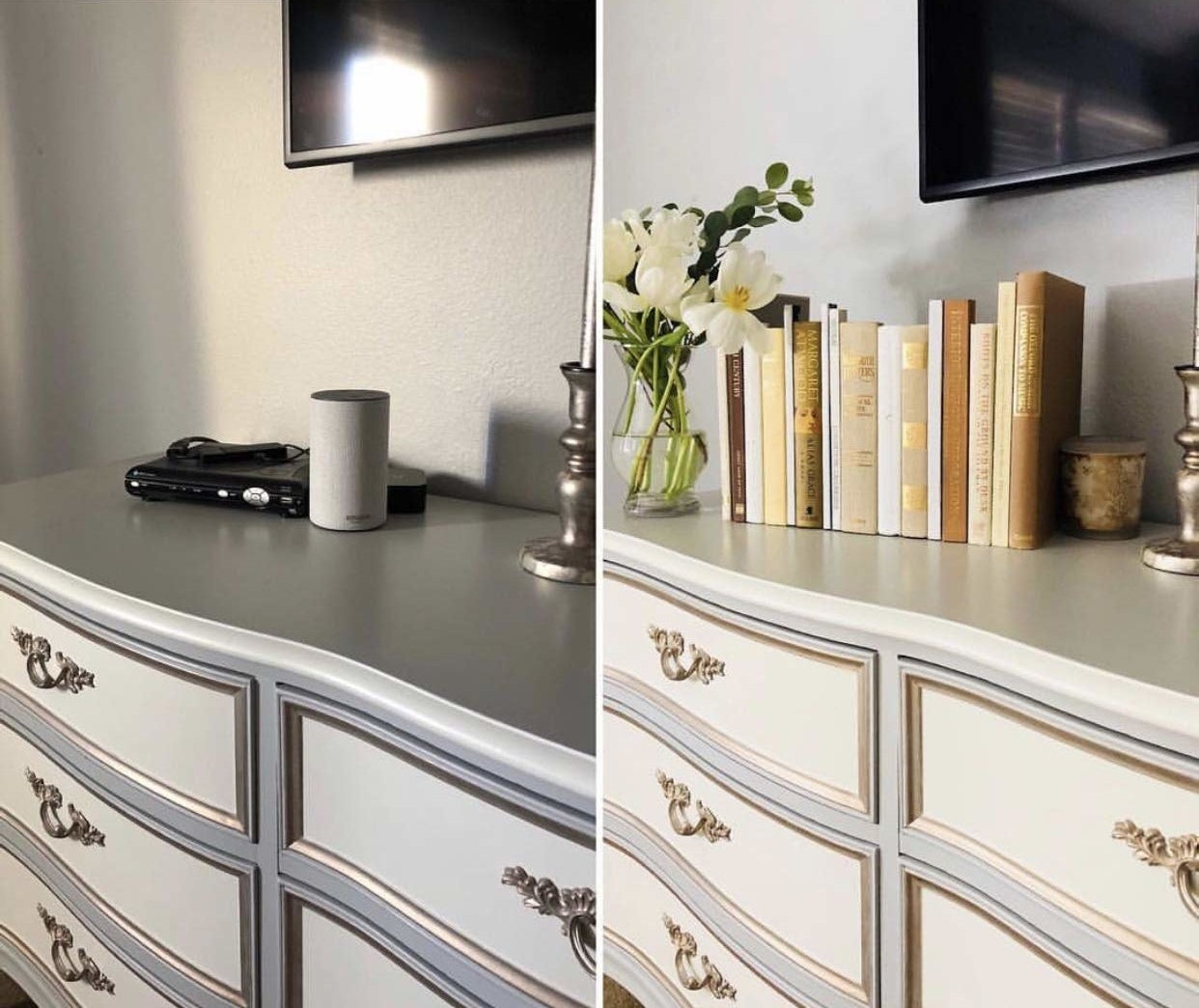 Covogoods / Amazon Handmade
Before adding this to your cart, you have the option to customize it, including selecting from 14 lengths and 15 colors (including custom colors). The CovoBox is made from reclaimed books and sustainable wood.
Covogoods is a small family-owned business creating home decor in Utah!
Promising review: "I'm pretty sure I've never loved a purchase from Amazon as much as I love this one, and I've been a Prime member since Day 1. This product is EXTREMELY well made and very unique. Plus, it does the job of hiding the ugly routers and cords. And the customer service was great and responsive. I was a little hesitant to spend the money on this but after years of living with the husband's pile of technology, the money was well spent!" —AmazonEmme
Get it from Covogoods from Amazon Handmade for $29+ (customization available).
12.
A set of silicone stove-counter gap covers I'm really upset I haven't had in my home for years now because these stop all those tiny crumbs from falling down the crack, and that is so so so impossible to clean up! *shakes fists in the air*
Promising review: "I've been using these for about a week on my new freestanding range. When they removed my old range, I was really surprised to see how much stuff had slipped through! Now when I cook, I can see the splatters and seasonings left on the silicone that would have fallen between the stove and the counter. These gap fillers really do clean up easily, too. Although they are that extra thing to clean, I prefer that to knowing there's a mess hiding in the cracks." —JMom
Get a pack of two from Amazon for $10.95+ (available in three sizes and three colors).