1.
A Take-n-Slide medication tracker reviewers swear by for staying on top of their medication. After you take your pill, you simply slide that day of the week over, and you'll know for sure that you've taken it for the day. No more questioning if you took your pill this morning or if you just remember taking it yesterday morning. 🧐
Promising reviews: "Great idea! I take one pill a day, which is not enough to justify filling one of those weekly caddies. This is a simple solution to stick on to my pill bottle. Perfect." —bob
"Where has this been all my life? I love it. This is a lifesaver! I've been looking for something like this for years. I always forget 10 minutes later if I actually took my medicine or just put it down. I've tried so many different ways, making marks on the bottle, making stickers, and other pill containers. None ever work. And pill containers are so bulky when I only need one pill." —Niki

Get a pack of five from Amazon for $19.99.
2.
Or a weekly pill organizer if you have multiple medications to stay on top of. It's designed with push-through silicone lids to make it easy to organize your meds at the beginning of the week. Each day can be removed from the base, so if you're going on a quick weekend trip, you don't need to lug your whole pill collection with you. There's also a free app that will remind you to take your pills every day!
Sagely is a family-owned small business who spent three years designing this pill storage solution.
Promising review: "I would not call this a traveling pill caddy, but for home use, it is fantastic!!! So much fun to use placing the pills on top and when you see that all of them are lined up, just push them into the container. Great idea. Its quite large, so don't buy it if you don't have the room on your counter or table or whatever. I love it for home use." —D. Angstreich
Get it from Amazon for $34.99 (available in four colors).
3.
An EZ Off jar opener, because I can't be the only one who's abandoned making dinner and simply ordered takeout because I couldn't get a jar open.
This little gadget can not only open jars, but also other hard lids (like on plastic bottles). Just put it in the corner and twist for easy opening.
Promising review: "This is a great idea. Works perfect. Hides under upper cabinets. Ideal for older folks that don't have a strong grip anymore. Seems to work on any lid so far. The adhesive pads are just for temporary placement not for permanent mounting. Depending on your cabinet construction, you might need a slightly longer screw." —JacobHHR
Get it from Amazon for $18.55.
4.
A set of soda "lids" designed to attach to your can to keep your drink fresh and bubbly no matter how long it takes you to enjoy it. Plus, it makes it more portable so you can take it with you anywhere, even the beach or park.

Promising review: "Love these! Such a great idea! Easy to put on and take off. Great for taking soda and beer cans outside or to the beach. I shared with my coworkers, and they liked them so much that they bought some, too. I recommend trying!!" —sd109

Get a set of six from Amazon for $15.99+ (available in six color combo sets and also 12-packs). 
5.
Wad-Free, which is about to change your laundry life. Don't believe me? This seemingly boring square thing attaches to the corners of your sheets to help them dry faster, be less wrinkled, and stop them from encompassing everything in the drier into a tangled mess. It's a pretty ~neat~ tool, if I do say so myself.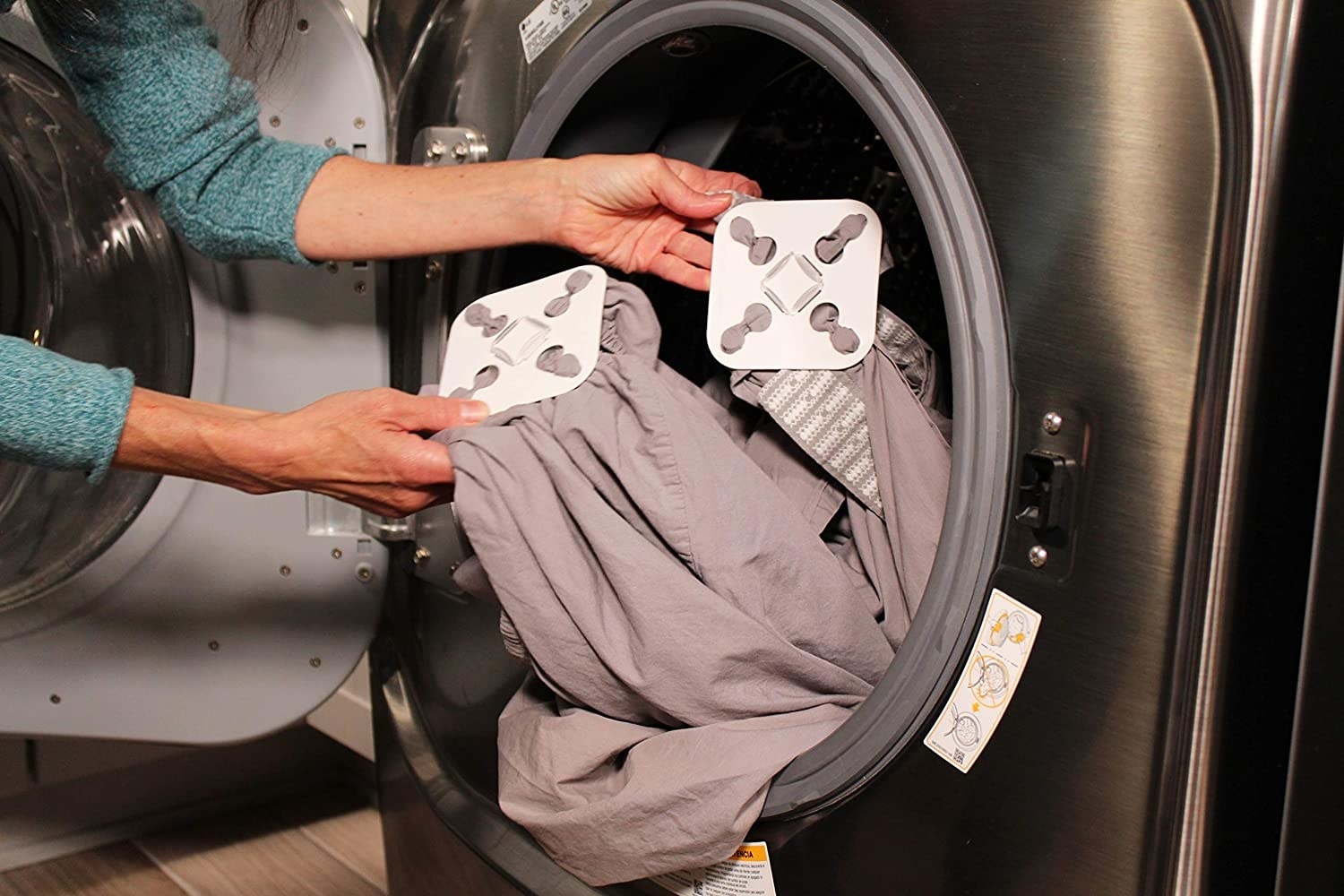 Plus, they're BPA-free, reusable, and created by a small business during the pandemic. 
Promising review: "This is such a great idea. My sheets wash and dry without getting tangled. No 'lost' pillowcases. No having to untangle just to dry some more. Love it!" —Kay McDowell
Get a set of two from Amazon for $19.99.
6.
A 3-in-1 foldable magnetic wireless charger with spaces to charge your iPhone, AirPods, *and* Apple Watch at the same time. It also folds up small, which makes it super easy to travel with. Leave that mess of cables behind because once you try this charger, you'll never go back.

Promising review: "Such a great idea! Replaces a big USB brick and cables. What a great product this is. I typically carry a big USB charger brick and a bunch of cables to charge my devices when I travel. Not anymore. I just bring this, and it charges my phone, watch, and AirPods. Bonus: You don't need to buy an Apple Watch charging cable to make this work like pretty much any other Apple Watch charging stand." —Sam Dowd

Get it from Amazon for $39.99 (available in nine colors). 
7.
A Bracelet Mate so you're never stuck home alone struggling to put on a bracelet by yourself.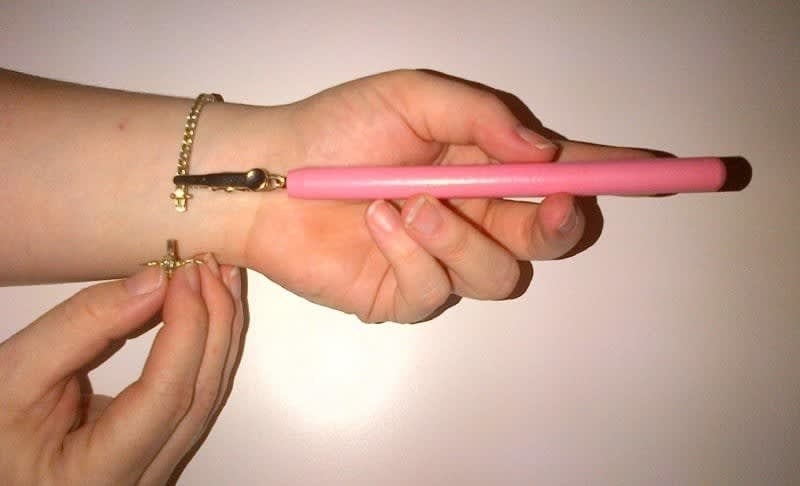 Promising reviews: "Very helpful! Great idea." —WL
"I can't believe I've waited this long to buy one of these. My eyesight is failing, including my depth perception, so wearing bracelets has been difficult unless they are slip-on. This jewelry helper is easy to use. Now I can wear bracelets again." —Cat Mom
Get it from Amazon for $6.99+ (available in four colors).
8.
A Saucemoto dip clip about to transform your next road trip (and the one after that, too). This genius thing clips into your air vent and holds all different sizes of sauces, so you can dip your nuggets and fries while still keeping your eyes on the road.

Promising review: "This is such a great idea! It's perfect for our sauces in the car when my kids are under some strange obligation to spill! Thanks for saving my car from all those messes!" —Amazon Customer
Get set of two from Amazon for $11.99 (available in five pack sizes and three colors).
9.
Baby food pouch tops you can attach to your tot's favorite food puree or applesauce so they can't squeeze all of the contents out and all over the high chair, car seat, or wherever they're enjoying it.
Promising review: "This is a really great product. I have had to be in the car for long trips with my children, and these are great! They really do work. You may want to keep a watchful eye if your child is teething though. My 11-month-old decided to chew it and ripped the opening rendering it useless to stop him from squeezing the entire contents out. Anyway, this has worked perfectly 9.5 out of 10 times for us! Such a great idea!" —Emily
Get a two-pack from Amazon for $8.99+ (available in five color combos).
10.
A set of ceiling fan pulls to make it incredibly easy for you to know which chain is for the light and which is for the fan. Plus, the chains add over a foot of length to your existing pulls, so you don't have to grab a ladder just to turn the fan on.
11.
A cooler light so you can easily grab a hard seltzer without ~fishing~ your hand around the cold ice water for a good five minutes till you find your favorite flavor. It has an auto-shutoff after 20 seconds, so you won't drain the battery. Plus, it will impress your friends who open your cooler and immediately exclaim, "How ~cool~ is that?!?"
One charge is good for 60 hours of white light and up to 31 hours of red light.
Promising review: "Great idea! I should have bought more. You will want one for each cooler and a couple extra to give to friends you camp with because they will wish they had some too. Works as described and great price." —Chairien
Get it from Amazon for $13.23.
12.
A freezer tray to store the extra herbs you buy when your recipe calls for four tablespoons of fresh parsley...but the grocery store only sells it in bushels meant to serve hundreds.
13.
A magnetic air fryer cheat sheet that somehow makes your favorite kitchen device EVEN BETTER. With this nearby, you'll never have to second guess if your food has actually been cooked enough.
Promising reviews: "This is such a great idea. I don't always need a recipe just the timing." —Darrell
"Bought an air fryer several months ago which I haven't used a whole lot because it came with only a few recipes but not enough info on other items to cook. The Lotteli cheat sheet gives you cooking times and temperatures for a lot of your common everyday foods in a magnetized easy-to-read, two-sheet combo that fills in where air fryer pamphlet that came with the unit leaves out. I also bought an air fryer cook book but this only comes with specific recipes, whereas the cheat sheet fills in the void for quick basic needs. Very happy with this purchase! 😁" —B. FRANK SMITH
Get it from Amazon for $11.29+ (available in two colors, in two bundle options, and one Spanish option). 
14.
A pair of wireless sleep headphones so you can listen to music, a podcast, or even white noise to help you fall asleep without having to lay on uncomfortable earbuds that die in the middle of the night and wake you up in a panic with the "doo doot" sound.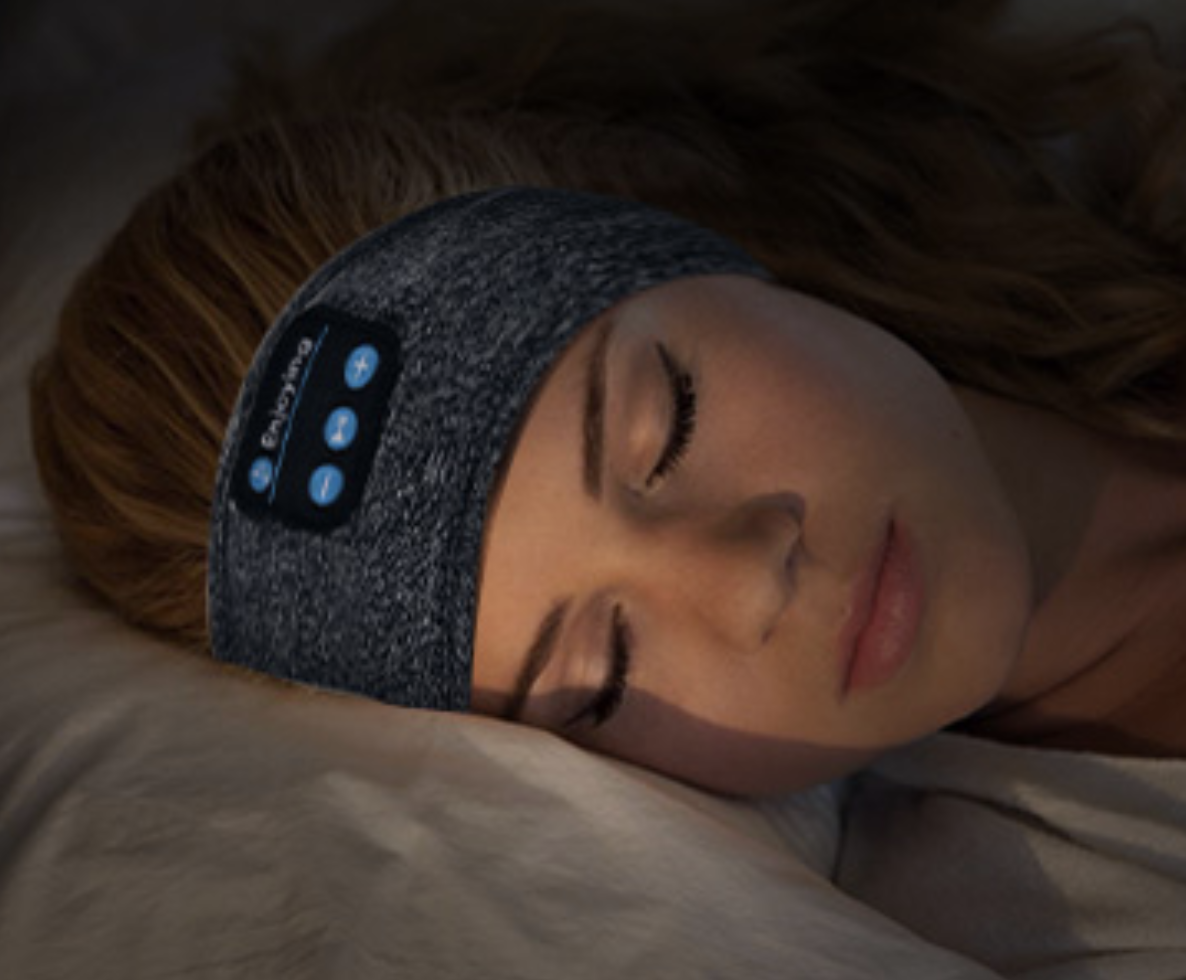 The headphones connect via Bluetooth and have 33 feet of wireless range (meaning your phone doesn't have to be right next to you). The controls are on the forehead, which makes it comfortable for back and side sleepers, and they are made to block out ambient noise.
Promising review: "This is a great idea. I used to fall asleep with earbuds on and search for them in my bed in the morning. These are great and more comfortable to wear while going to sleep." —Lynn p
Get it from Amazon for $19.99 (available in 15 colors). 
15.
A set of clips here to solve the problem of how to wear a racerback tank top or dress without your bra straps showing. No need to pull out that uncomfy strapless bra when this will transform your favorite one in a matter of seconds.

Promising review: "What a simple solution to such an annoying problem! Great idea that works like a champ. It takes a bit to figure out how to put on the strap by myself, but easy when husband can do it for me. Sweet product!" —JK
Get a set of three from Amazon for $8.97+ (available in nine color combinations).