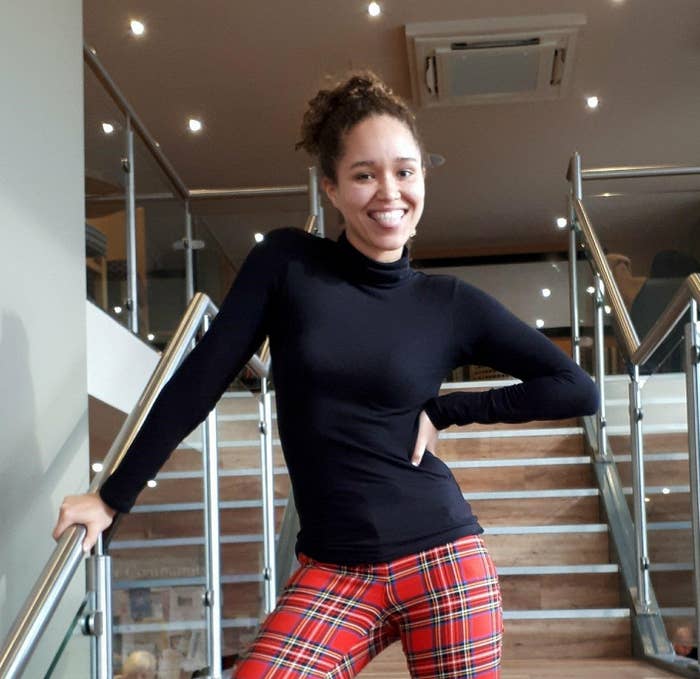 Model Lulu Stone talks about her experiences as a mixed-race model
"Most hair stylists don't know how to work with afro-hair, so I just set it myself," said London-based model Lulu Stone.
At London's Fashion Week last September, the 23-year-old recalled being one of only two mixed-race models on her runway and left alone until the end by the hairstylists and make-up artists.
"None of the artists would come near us," Ms Stone said of her first time at Fashion Week. "The experience made me feel like who I was was problematic."
Although Ms Stone doesn't blame the stylists for not knowing, she didn't feel like they handled the situation well, and believes it is an issue that needs to be dealt with in beauty schools, especially as more models of color are finally breaking the barrier.
According to W Magazine, 2017 saw the most inclusive runways ever. The magazine boasted last spring that: "For the first time, every NYFW presentation consisted of at least one model of color," a fact that still means representation was only 27.9%, albeit an increase from any previous year.
"There's definitely been progress, but there's still a long way to go," said Ms Stone.
Dressed in plaid red pants and a black turtleneck, curly dark hair tied back in a messy bun, and make-up free to display a full face of freckles, Ms Stone sat back in her chair with a cup of tea to talk about her family's concerns about her career, body positivity and her experiences as a mixed-race model.
Last year, during a shoot for a TV commercial in Cape Town, South Africa, Ms Stone discussed racial bias in the industry with a fellow model. The model, who was white, told Ms Stone she believed the company they were working for felt like "they had to include dark-skinned models." The comment threw-off Ms Stone, and the two didn't speak again after that interaction.
Ms Stone wrote of the incident on her Instagram, aiming to inform rather than vent, about the ignorant comment that made her feel like a "token."
"I got a lot of support in the comments," she said.
Soon, however, a photographer friend in the same industry advised her to take it down to avoid potential backlash, which she reluctantly did.
"You're really not allowed to have a bad day," sighed Ms Stone. "If you're not always smiling, the photographer or someone will start saying: 'She's got a bad attitude,' and you might not get as much work after that."
For Ms Stone, the constant pressure to perform can be the hardest part of her day-to-day work. But as a freelancer, she understands the part she has chosen to play and takes most work when she can get it.
"I've been able to start to pick-and-choose my clients," she said, adding that a few years ago she would feel guilty if she turned down or simply couldn't accept a job.
A 4-year veteran of modelling, Ms Stone first attended Huddersfield University, where she got her B.A. in music as a cellist. Although she originally planned to be a teacher, after working as a teaching assistant in a music class for teenagers Ms Stone realized it wasn't her cup of tea. Luckily, coming to the aid of a friend led her to a new passion and career.
A friend in the fashion department at Huddersfield asked Ms Stone to model a few pieces of clothing. The pictures were circulated on social media and soon J'Adore agency signed the college grad to her first contract.
Coming from a tight-knit family, consisting of her mother and 22-year-old brother Lionel, Ms Stone recalled that mother had initial reservations about her daughter's new line of work.
"She came around when she started seeing me in magazines, and realized it was legit," said Ms Stone with a laugh.
In the last four years, she has posed for dozens of brands, including Primark, Fat Face, and Pepe Jeans.
These days, Ms Stone is choosing clients who she feels promote body positivity and acceptance. Two weeks ago, she flew to Miami for a shoot with Aerie, an American brand of women's underwear, famous for ditching photoshopped ads.
"If I could give one piece of advice to a young girl, it would be don't ever think you have to look like those girls, because the girls in the magazines don't even look like the girls in the magazines."