Go Home, Everyone, This Is The Most Elaborate Marriage Proposal Ever
Dancing, singing, volleyball, confetti, dogs, choirs, thrones -- this video has it all!
Holy crap. Tom BetGeorge admits "maybe we watched Glee a little too much, but after six months of planning, voice lessons, and rehearsals with my church and music students...I gave my girlfriend (who loves musicals) the surprise of her life!"
During the middle of what seemed to be a regular volleyball match, music suddenly came on over the loud speaker. The students pretended to be confused BUT WE REALLY KNOW WHAT'S ABOUT TO HAPPEN HERE.
Tom started singing, and his accomplices sat Teri, his girlfriend, in a THRONE.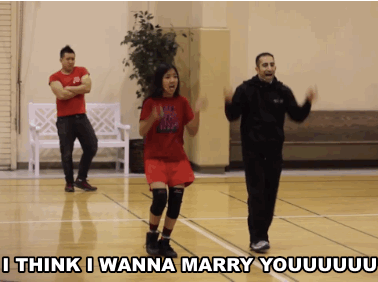 As the song came to a close, Tom grabbed Teri off of her throne. AND A LITTLE CHIHUAHUA CAME TO SAY HELLO.
"I know we have talked about getting married for some time, and I have only kept you waiting because I wanted to do something special for you to show you how much I love you, with more than just words."