Nick Mundy's obsession with The Rock blossomed into a full-blown bromance over the last couple years.
No, but really, Nick was actually a superfan and somehow became super good friends with The Rock! But they have a professional relationship as well.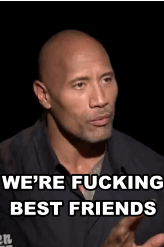 So, when Nick was told he was going to interview The Rock for his new movie, he thought nothing of it. Meanwhile, he had a big surprise in store.
And don't fret — Dilara, Nick's gorgeous fiancée was in on the whole thing!
And his parents had flown in from Texas!
Ironically, while all the wedding stuff was being organized behind his back, Nick was having a terrible day.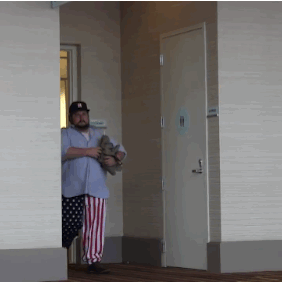 He had been told that the interview with The Rock wasn't going to happen and was super bummed. But, just then, The Rock emerged from behind a closed door.
The Rock ushered him into the room and let him know that his shitty day was about to be the best day of his life!
Nick walked into the room to discover all his family and friends looking sharp and waiting for him.
Nick got a little more buttoned up, and the wedding began!
And you know The Rock walked him down the aisle.
Can you smell what The Rock is officiating?
The surprises weren't over, though! Nick had to make up vows on the spot. And he totally nailed it!
Can you even believe this wedding?! Congrats, guys!