Needless to say, Joe wasn't too pleased to see his daughter Megan get treated like this on the street.
He kept asking her questions, like, "That just happens and you keep on strolling?" and "How often does this happen?"
Joe couldn't believe how disrespectful these men were being to his daughter.
Richard, on the other hand, had a more lighthearted approach to the footage.
He advocated that his daughter Leaura respond by hitting the men with her purse.
Meanwhile, when a stranger called Daniella "very nice," her father Meir had to agree!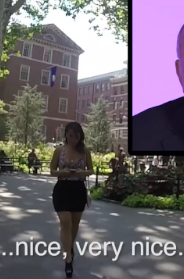 But after watching a man follow Daniella for over three minutes, Meir became visibly upset.
Meir even went on to say that if this were to happen in front of him, "there would be a fistfight."