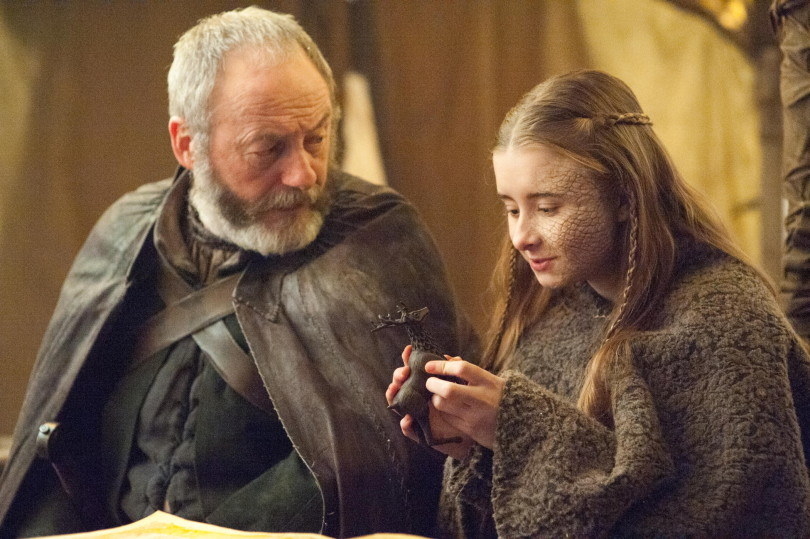 1.

Sleeping sickness is a fly-borne NTD that can cause hallucinations, personality changes and comas. If not treated, it's invariably fatal. 61 million people around the world – largely in Sub-Saharan Africa – are still at risk for this NTD, but we're seeing promising progress: there's been a 90% reduction in reported cases since 1999. Shaking sickness, on the other hand, is a GOT ailment that can cause violent seizures. It's curable by blood leeching… which is probably a better use for these critters than Stannis' weird leech-burning ritual.

2.

Elephantiasis – also known as lymphatic filariasis (LF) – is a mosquito- borne disease that can cause severe disfigurement and scrotal swelling. As a result, many people with LF face deep discrimination. But there's reason to be hopeful – six countries eliminated LF last year, and more than 40 more are on track to do so by 2020. Greyscale is a fictional GOT disease – but, like LF, can cause isolation and stigma because of its disfiguring effects. The final stage of greyscale turns victims into a full-blown evil rock monster – which may or may not be the fate that awaits Jorah Mormont (only season 7 will tell!).

3.

Whipworm is a real intestinal parasite that can cause malnutrition and stunt children's development. Once you're infected, whipworms can grow up to 50mm and burrow in your intestinal wall – both painful and terrifying. Significantly less scary is Wormbone, a GOT ailment that really only infects characters from Sothoryos. None of our favorite characters have yet to step foot on this largely unexplored land, so it's lower on the list of (the many) possible things that might bring down the Seven Kingdoms.

4.

Believe it or not, Snail fever – also known as Schistosomiasis – is a real parasitic disease carried by fresh water snails. Once snail larvae penetrate human skin, they release eggs that can damage vital organs. Snail fever places a significant burden on poor communities in tropical and subtropical areas, so expanding treatment coverage is essential. Butterfly fever is a fictional GOT ailment that isn't pretty. Transmitted by butterflies, this ancient disease causes painful spasms, uncontrollable dancing (you read that right) and skin to melt from your bones. You wouldn't wish this on your worst enemy…unless that enemy is Ramsay Bolton.

5.

You might think that "afflicted with little dragons" is something that happened to Pyat Pree in Qarth – but in fact, that's the translation of Dracunculiasis, or Guinea Worm Disease. Once parasitic worms enter the body, they can grow up to 800 mm in length and eventually emerge through the skin, causing severe pain and a feeling that body parts are on fire. Thankfully, Dracunculiasis is at a historic low: there were 25 cases recorded in 2016, compared to 3 million 30 years ago. If you're curious, Redspots is a GOT ailment and causes exactly what it sounds like – red dots all over the body, similar to chickenpox.

6.

River blindness – or Onchocerciasis – is another disease caused by infection with a parasitic worm. Symptoms include blindness, skin lesions and severe itching. 120 million people, largely concentrated in 31 African countries, are at risk of river blindness, but we're on track to reverse this trend. Four countries have eliminated the disease in recent years, proving it can be done. Greywater fever is a fictional GOT disease endemic to the Neck. Fun fact: Jojen Reed was first visited by the three-eyed crow during a near-death encounter with Greywater fever in his childhood. He survived that infection – but too bad the White Walkers weren't nearly as easy on him.

7.

Trachoma, an NTD, is the leading infectious cause of blindness. The economic burden this disease places on affected individuals is significant, costing up to $5 billion annually. Fortunately, seven countries have recently eliminated trachoma – a strong sign that we're moving in the right direction. Pus-eye also impairs sight, but only for our fictional GOT friends. It's another one of those diseases that's only prevalent in the mysterious land of Sothoryos, so we're not too concerned.

8.

Chagas disease is an NTD that causes parasites to circulate in the blood. Although symptoms can be as mild as a headache or fever in most cases, the disease can also escalate to heart failure and death. Up to 7 million people – mostly in Latin America – are estimated to be infected by the parasite that causes Chagas disease. In the world of GOT, pox is an unpleasant disease often carried by prostitutes. Symptoms are minor – though incredibly embarrassing – so it's no surprise why many will line up at their nearest Maester's to get it treated.
This post was created by a member of BuzzFeed Community, where anyone can post awesome lists and creations.
Learn more
or
post your buzz!