This post has not been vetted or endorsed by BuzzFeed's editorial staff. BuzzFeed Community is a place where anyone can create a post or quiz.
Try making your own!
German Minister Of Justice Crossed By Mario (Yeah; The Very One)
So, apparently this happened:
1.
Refugee crisis hit Europe; Germany got swamped;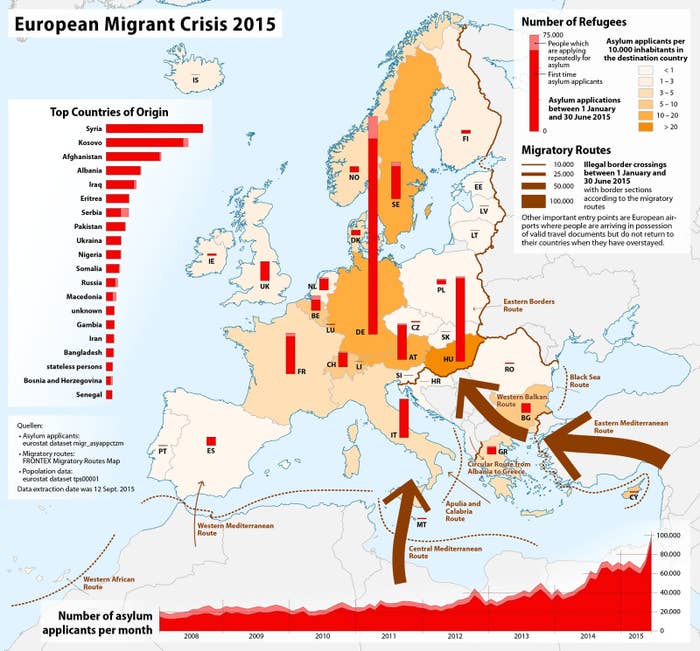 4.
German Ministry Of Justice launched a dedicated "Task Force Against Hate"
[from the official press release (emphases mine):]
" [...] tasked with jointly working out suggestions, under the auspices of the Federal Ministry of Justice and Consumer Protection, on how to deal with hate speech on the internet in a sustainable and effective way [...].

The invitation to join the task force was accepted by the internet companies Facebook, Google (for its video platform YouTube), and Twitter and by the following civil organisations: eco – Verband der Internetwirtschaft e.V., Freiwillige Selbstkontrolle Multimedia-Diensteanbieter (FSM), jugendschutz.net, klicksafe.de, Amadeu-Antonio-Stiftung (Netz gegen Nazis) and the association 'Gesicht zeigen!'

The present record of results sets forth the shared fundamental outlook of the task force members on this matter and contains specific recommendations as to how the dissemination of hate speech over the internet may be countered while fully safeguarding fundamental rights, especially that of freedom of opinion and freedom of expression.
[...]
The participants of the task force are all guided by the conviction that there is no place for hate speech on social media. This must be countered by a united front between the business sector, civil society, and policymakers. The participants of the task force are in agreement that all hate speech prohibited under German law shall be reviewed and removed without delay upon notification ("nach Inkenntnissetzung"). [...]"
[You did notice the bits about fundamental rights in there, right?]
5.
Next, Facebook hired a few hundred workers to implement the guidelines provided by the Task Force
outsourcing this to Arvato, Berlin. So yeah; everybody's serious.
6.
Yet the setup appears to be performing less nobly than professed
according to scattered reports - such as this :
"[...] People start noticing that their contributions are disappearing for often unknown reasons, haphazard obstructions of liking and commenting are being witnessed. [...] publicists known for their often critical stance towards current governmental practice, [...] have been blocked from publishing on their Facebook profiles [...]

We attribute these goings-on to the activities of a recently founded TaskForce which, under the professed purpose of combatting so-called "hate speech" online, has been witnessed to go well beyond that scope and with a notable bias at that. [...]

We do not, to be clear, defend or endorse utterances in violation of applicable law. There's proper proccedure for those. Offences which are actually justiciable can be prosecuted in an orderly fashion, as be they should. Anything .not. actually justiciable, however, must not be prosecuted in any country considering itself a state under the rule of law.
Hence, we object to the apparent suppression of non-justiciable statements of opinion and the display of complete disregard for anything even remotely resembling due process such action/s represent/s. [...]"
7.
Hacktivists take umbrage + confirm hole in censors' dragnet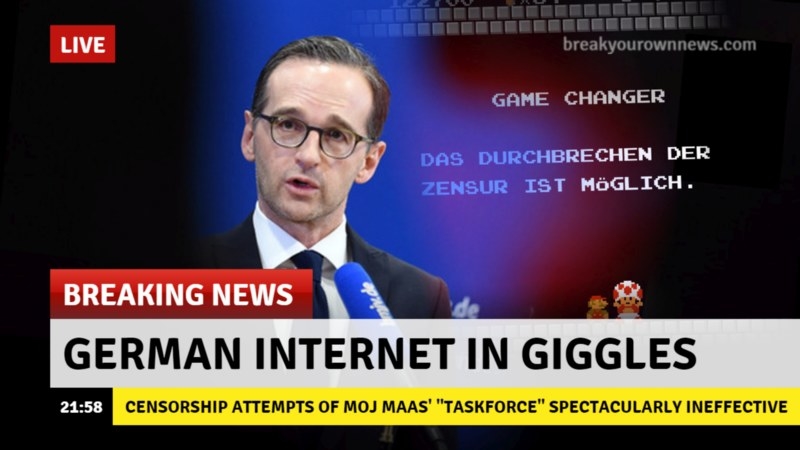 8.
Hilarity ensues :)
I think I know what they did.
Do you?