What you'll need: Mud, hard boiled egg, newspaper or dried leaves, clear container (like a plastic soda bottle, or tennis ball can).
1.
Collect some mud.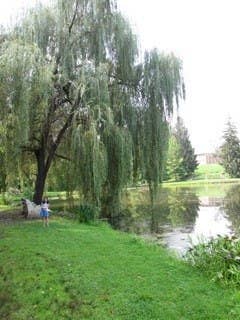 2.
Remove sticks, stone and other large debris from the mud.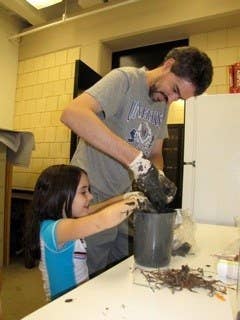 3.
Take the yolk of a hard boiled egg, break it up and mix it into the mud.
The yolk serves as a source of sulfur, which will kick-start the sulfur-cycling bacteria.
4.
Take some newspaper or dry leaf litter and rip or shred or smash it up into tiny pieces.
This will serve as an extra carbon source, and get the carbon cycle going.
5.
Pour the mixture into your container.
A tennis ball can is perfect, but a soda bottle will do. Use a stick to push out trapped air bubbles.
6.
Cover the top but don't close it up tight!
A piece of plastic wrap with a few holes in it, held on by a rubber band works well. Or you can poke holes in the tennis can lid. You want to limit evaporation but you need to allow gasses to escape. This is actually VERY important. Gases, like hydrogen sulfide, will be made by the bacteria in the mud. If the the lid is on tight, the pressure will build up and it could burst, becoming an exploding bottle of stinky pond mud. Yes, I know that sounds fun, but nobody wants to clean that up. The gasses are not toxic at the levels produced, by the way, but they do stink. (Thats the smell of biology in action!)
7.
Place in the sun.
The sun will encourage the photosynthetic bacteria to grow, and these are the colorful bacteria that will add purples, yellows, reds, and greens to your column. I suggest putting them in a sunny spot outside, rather than by a window inside (see comments about the stinky gasses above).
8.
Now you need to patient.
Bacteria will grow, (viruses and other organisms too!) but they are slow. Check on it every couple of days. You should start to see changes in the first few days, but it will probably take weeks to see really big changes. Keep them around as long as you want. I have some that are many years old!
Before and After!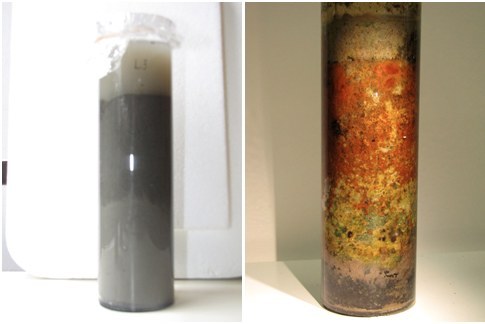 Enjoy getting muddy!
These instructions were developed by David Esteban, Professor of Biology at Vassar College. This is a fun muddy project, but also plays a role in real research! Want to learn more about what we are doing with Winogradsky columns? Check out our current project to read about our work to discover the diverse viral community in Winogradsky columns, and consider backing the project! If you become a backer you can follow along with our experiment as you do your own!