1.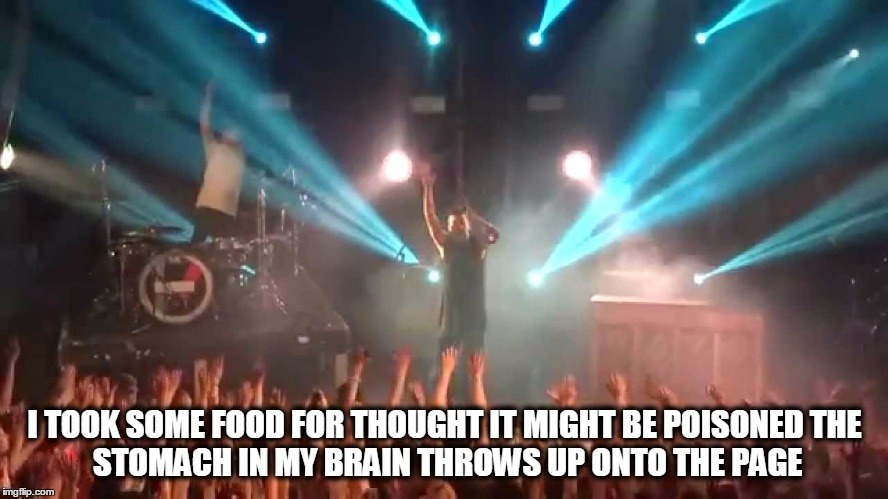 2.
No one else is dealing with your demons Meaning maybe defeating them Could be the beginning of your meaning, friend.
This song is from Twenty One Pilots album Regional at best. Here they are basically saying that you are the only one dealing with your specific demons, nobody else is really going to truly understand. This is relatable because no matter how many people say they understand, they never really do. Next in the lyrics is defeating them could be the beginning of your meaning. That means that once you get through it that is it, it is the start of getting better.
Kitchen Sink - Regional at best
3.
Why am I not scared in the morning? I don't hear those voices calling, I must have kicked them out, I must have kicked them out,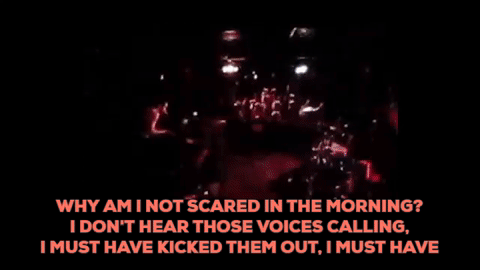 4.
We all are stranger creatures than when we all started out as kids, Culture forbids,
Glowing Eyes - Regional at Best
5.
Dear friend, here we are again pretending To understand how you think your world is ending
This quote talks a lot about how people pretend to understand what you are going through. You know deep down that people do not understand, they think they know how your world is comming to an end, but honeslty they do not. Most people do not understand at all
Lovely - Regional at Best
6.
I must forewarn you, of my disorder, or my condition, 'Cause when the sun sets, it upsets what's left of my invested interest, Interested in putting my fingers to my head,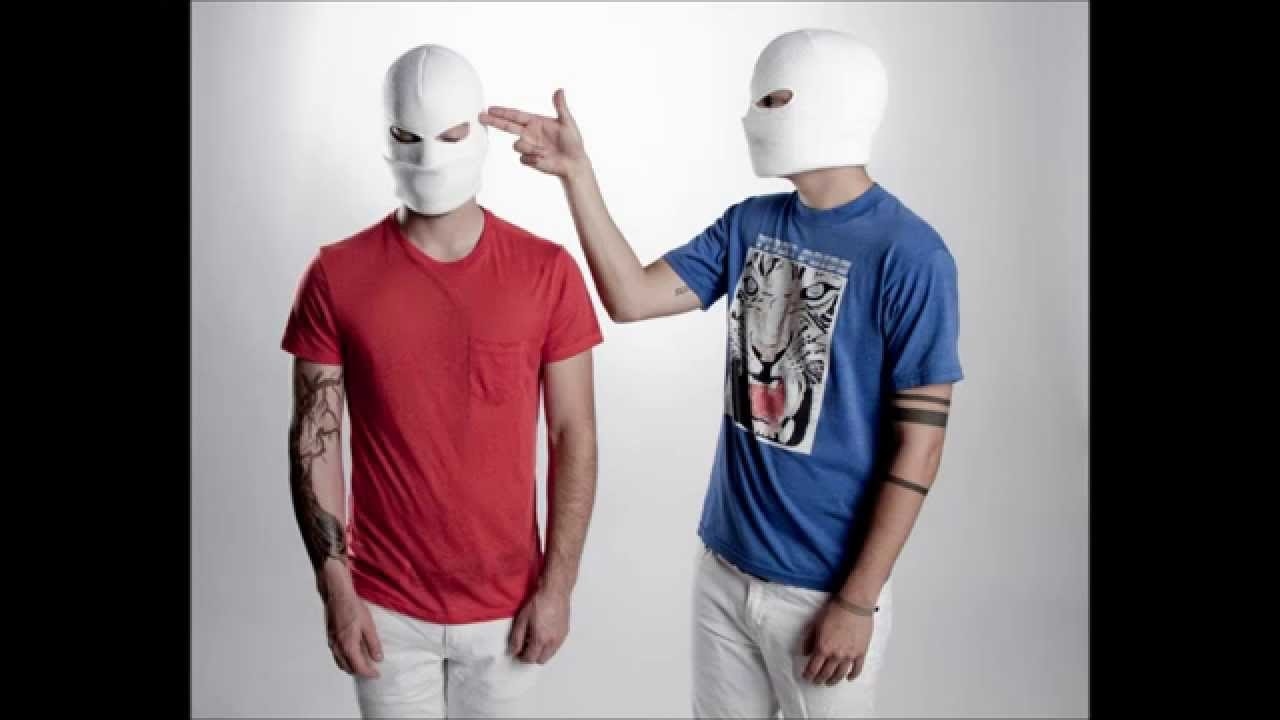 7.
You say I'm not alone, but I am petrified You say that you are close, is close the closest star? You just feel twice as far, you just feel twice as far
Fake you out - Vessel
8.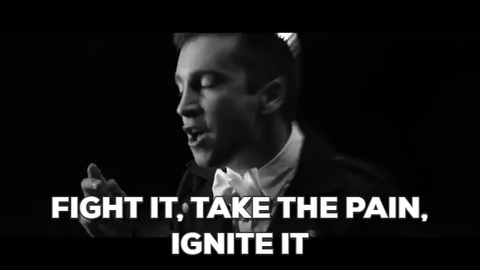 9.
I-I-I I've got a migraine And my pain will range from up, down, and sideways
Migraine - Vessel
10.
I'm never what I like, I'm double sided, and I just can't hide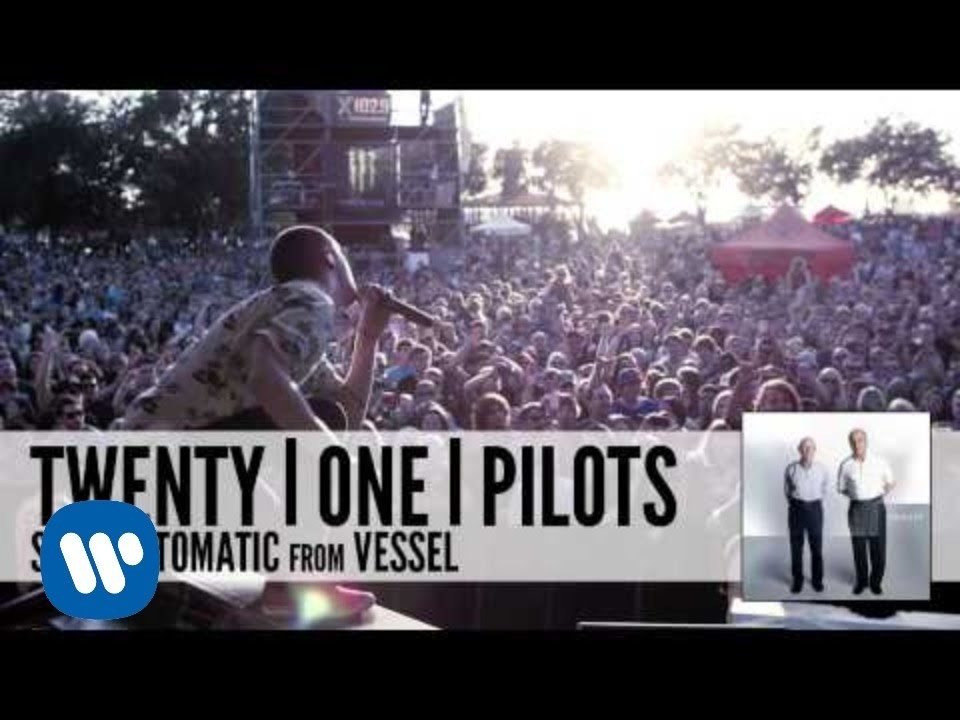 11.
Don't wanna call you in the night time Don't wanna give you all my pieces Don't wanna hand you all my trouble Don't wanna give you all my demons
The Run and Go - Vessel
13.
I've been thinking too much Help me
Honestly what person with OCD or Social Anxeity has not thought to much about something, or some sort of situation. This lyric can speek way farther then intended just because even if you do not suffer from these isues you are still caught with thinking to much sometimes
Ride - Blurryface
14.
Scared I'll die of uncertainty Fear might be the death of me Fear leads to anxiety Don't know what's inside of me
The song Doubt is about the Doubt that everyone goes through not just with other people but with life in General. There is a doubt to everything and that is what causes the anxiety for a lot of people, and because of this doubt, a lot of mental illnesses can occur
Doubt - Blurryface
15.
Heard you say, "Not today." Tore the curtains down, windows open now, make a sound,
Not Today - Blurryface
16.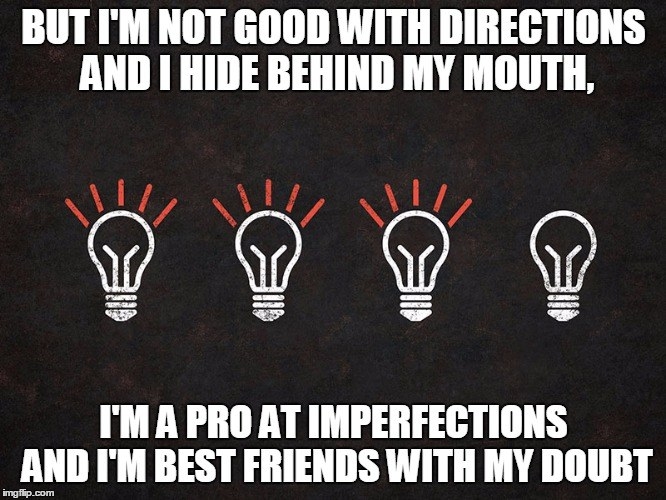 This post was created by a member of BuzzFeed Community, where anyone can post awesome lists and creations.
Learn more
or
post your buzz!