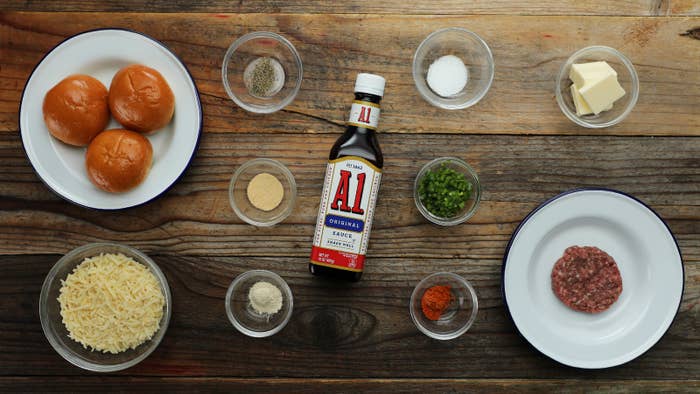 Spicy A.1. Cheese Stuffed Burger
Servings 6
INGREDIENTS:
Jalapeño Cheese Stuffing
6 ounces of cream cheese
1 cup shredded Pepper Jack cheese
½ teaspoon garlic powder
¾ teaspoon salt
1 jalapeño, diced
A.1. Burger Patties
1½ pounds lean ground beef
1 teaspoon salt (to taste)
A.1. Burger Baste
6 tablespoons A.1.
1½ teaspoons garlic powder
1½ teaspoons onion powder
½ teaspoon cayenne
4 tablespoons butter
Salt
Pepper
PREPARATION
Combine
chopped cream cheese, cheese, jalapeño, and all of the rest of the
ingredients in a bowl until mixed well.

Chill
in the refrigerator for 30 minutes.

Form
beef into 12 two-ounce patties of equal shape and place on a
parchment-covered baking sheet. Season with salt.

Cover
with plastic wrap and refrigerate for 15 minutes.

After
15 minutes, take out the patties and place a large dollop of the cheese
mixture in the middle of one of the patties.

Place
another patty on top and pinch to firmly seal the edges. Reshape if
necessary.

Repeat
with the remaining patties until you have 6 patties formed.

To
make the baste, whisk together the ingredients in a saucepan over low heat
until simmering. Remove from heat.

Grill
burgers over medium heat for about 6 minutes per side, basting each side.
Do not smash down!

Serve
on a bun with your preferred toppings. Enjoy!