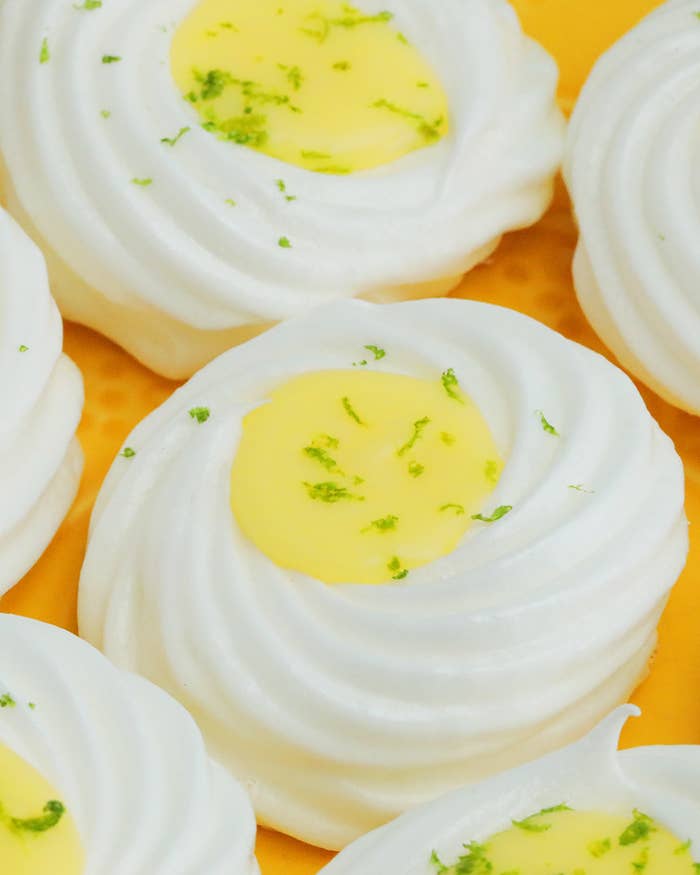 INGREDIENTS
Lemon curd
1 tablespoon lemon zest
¼ cup fresh lemon juice
½ (12-oz) 7UP can
⅓ cup sugar
¼ teaspoon salt
3 large eggs
4 large egg yolks
4 tablespoons butter, chopped
Meringue cups
6 egg whites
½ teaspoon cream of tartar
½ cup sugar
1 tablespoon lime zest, optional
PREPARATION
Lemon curd
1. In a small saucepan, stir together lemon zest, lemon juice, 7UP, sugar, and salt. Set over medium heat and cook until the sugar and salt have dissolved.
2. Meanwhile, in a medium bowl beat together 3 eggs and 4 egg yolks.
3. Slowly pour ½ of lemon mixture into the eggs, whisking constantly.
4. Return the pot to the stove and add the rest of the eggs while whisking.
5. Pour the curd through a mesh strainer into a clean bowl.
6. Stir the chopped butter into the lemon curd until it's completely melted.
7. Press a square of plastic wrap directly on top of the lemon curd. Refrigerate until cold, about 2–4 hours.
Meringue cups
8. Preheat the oven to 275°F.
9. Make certain eggs at room temperature. Beat the egg whites and cream of tartar on medium speed until soft peaks form. Gradually beat in sugar, 1 tablespoon at a time, on high until stiff peaks form.
10. Using a large star tip and piping bag, form small 1½ –2" nests on a parchment-lined baking sheet, making sure to fill in the bottom.
11. Bake at 275°F for 1½ hours or until set and dry. Turn off oven and do not open door; leave meringues in oven for 1 hour.
12. Fill each curd with about 1 teaspoon of lemon curd. Garnish with grated lime zest and serve immediately.